From November 14th to November 17th, GZ Longest participated in the world's leading medical trade fair, MEDICA 2022, in Düsseldorf, Germany. The longest exhibit was located in hall 4, booth G05, and Longest showcased new physical therapy equipment favored by visitors.
MEDICA 2022 is one of the essential annual tradeshows in the medical technology industry. It provides an opportunity for all companies across the globe to share their advancements and new developments in medical equipment.
Hundreds of guests and representatives from different companies and medical facilities visited Longest's exhibit with great interest. Many visitors expressed their appreciation for Longest's dedication to the needs of the industry and wished it all success as it continues to deliver market-changing rehabilitation physical therapy equipment at MEDICA 2022.
Longest Participation at MEDICA 2022
Over the past few months, Longest has fully prepared to attend MEDICA 2022. It shared with visitors the advancements and progress made during the past years. The following is what Longest had done at MEDICA 2022.
1. Exclusive Therapy Equipment
Longest brought high-performance products to attend MEDICA 2022, including the new electrostatic oscillation therapy devices, rehab exercise bikes, and other excellent devices. And all visitors got an experience with their unexceptionable therapy equipment, and most of them were praised for two new products, the PowerOsci LGT-2360S and the RehaMoto LGT-5100P.
PowerOsci LGT2360S is an electrostatic oscillation therapy device that can be used with patients in different places. Longest's experienced staff showcased to visitors how to use this advanced device and how the relaxing treatment process benefits users. With the following unique merits that this up-to-grade physiotherapy machine provides, it is destined to be users' preferred physical therapy equipment:
✔ Powerful but comfortable electrostatic oscillation therapy. The frequency ranges from 50Hz to 300Hz, suitable for most clinical needs.
✔ Immediate treatment after surgery to speed up post-operative recovery.
✔ Easy to use and suitable for patients to manage their chronic condition at home
✔ Customizable protocols can be set according to specific needs.
✔ 2.8″ full-color LCD screen, increasing visual experience and readability.
✔ The rechargeable battery lasts up to 6 hours, recharged in less than 3 hours.
✔ Widely applied in sports medicine, aesthetic medicine, neurological rehabilitation, and pre-and post-surgical recovery.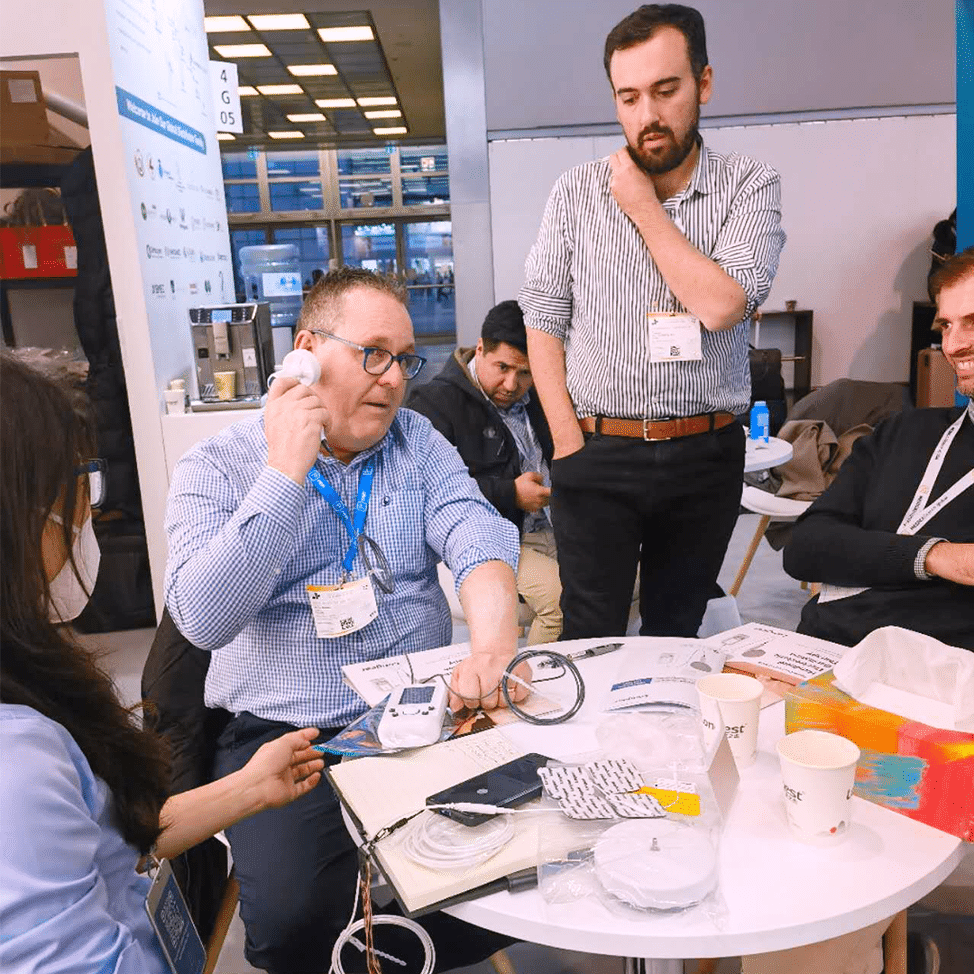 Many visitors were also attracted by RehaMoto LGT-5100P, an active-passive trainer, to improve the function of the upper and lower limbs. They are all amazed at how useful functions this progressive rehab exercise bike provides, which include:
✔ Built-in multiple games, increasing the fun fun in the rehabilitative treatmentLimb and calf protection for weak joints, increasing patient safety
✔ Built-in multiple games, increasing the fun fun in the rehabilitative treatment
✔. 5 training modes to meet different treatment needs
✔ Real-time data feedback to see the progress
✔ 8″ full-color screen
✔ Adjustable heights and lengths
Bluetooth connection with a heart rate monitor to prevent overexercise and ensure safe treatment.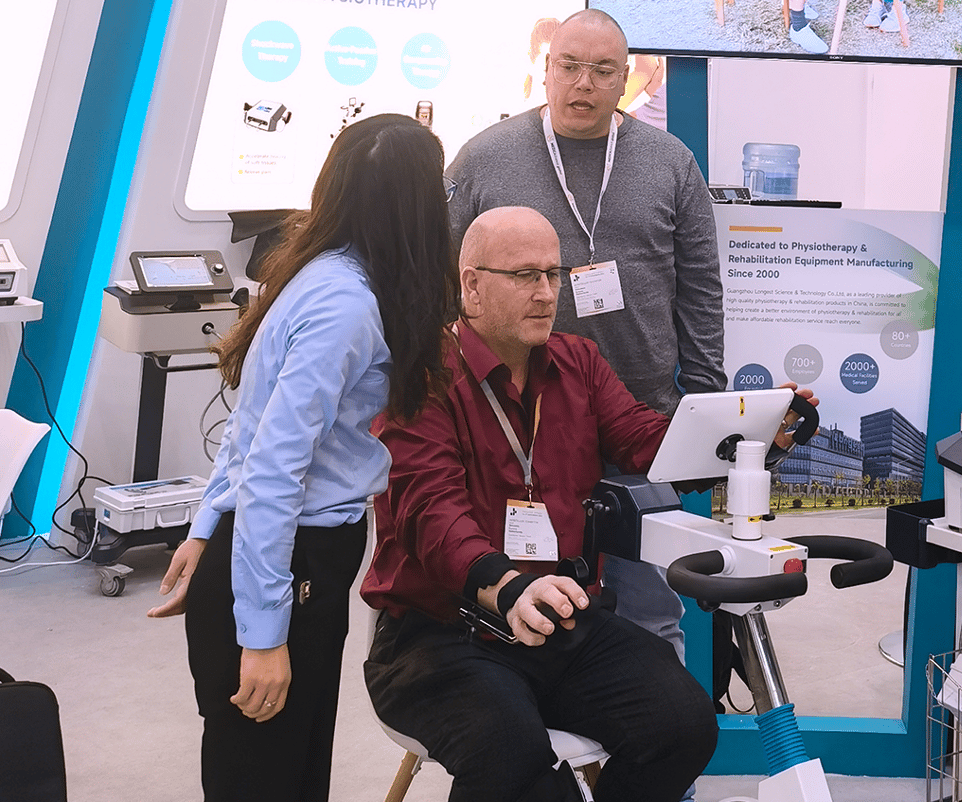 2. Professional Sales Team and Service
Besides distinctive products, Longest allowed its guests to experience the physical therapy equipment with detailed guidance and professional services, making them feel good after each communication. In addition, visitors cautiously listened to the professionals' explanations and took the initiative to operate the physical therapy equipment. Finally, after visitors enthusiastically operated the products, they were pleasantly surprised to find that the practical application value of these products was higher than expected, which made the scene's atmosphere particularly pleasant.
About Longest
Longest was excited to be an exhibitor at MEDICA 2022 and to be able to share its strengths and advancements in its physical therapy equipment. Attending this marvelous exhibition and winning great appreciation enabled Longest to build a trustworthy and professional image, which attracted many potential buyers to create long-term friendships.
Longest is a leading producer of high-quality rehabilitation and physiotherapy equipment in China. Moreover, Longest has been committed to engineering and supplying affordable rehab and physical therapy equipment with the best services for several years. Its products benefit more than 2,000 clients and facilities in over 80 countries worldwide.
Longest is valued and trusted and has provided the highest-quality products for more than 22 years. Its experience and expertise have allowed it to share its in-depth knowledge globally to solve the needs of its clients. If you are interested in its excellent physical therapy equipment, please don't hesitate to get in touch with them.