Blank plastic cards come in a plethora of sizes along with thicknesses for you to choose from. The most common size out of all of them, however, is typically the same size and thickness of that of a standard credit card.
With so many options to choose from, there's plenty that you can use blank plastic cards for.
What can you use Blank Plastic Cards for?
Here's an example of some ways that you can use your blank plastic card:
1. Identification and Security
What of the most common ways to use blank plastic cards is for ID and security purposes. They can be used not just for employees but also guests, students and more. What companies do is they usually buy blank PVC cards and print everything from the logo to the ID number, photograph etc. at once.
Some forms of identification and security that you can use blank plastic cards for include:
ID cards
Photo ID cards
Visitor cards
VIP access cards
Security access cards
2. Memberships and Events
Memberships and events are another way that you can go about using blank plastic cards. Often printed onsite, it's a cost effective solution and they're also typically not difficult to personalise.
Example include:
Membership cards
Visitor cards
VIP access cards
Event cards
Trade show cards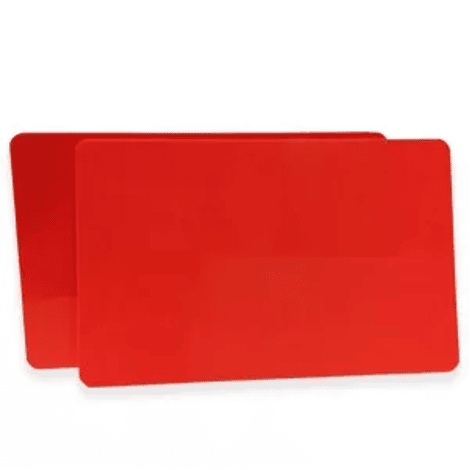 3. Marketing
A popular method of utilising a blank plastic card is to use it as a gift card or store credit card. For these, they need to come with either magnetic stripes or scannable barcodes. Since they're also basic plain cards, you can easily add a design or logo of your choice.
While great for the above, you can also use them for a social media campaign, fundraise or even as part of a loyalty program.
Here's the full list:
Gift cards
Store credit cards
Social media campaign cards
Fundraiser cards
Loyalty program cards
Cards with a magnetic strip
Do you need a Special Printer for Blank Plastic Card Printing?
Yes, you would need to get a special printer as using a regular printer to print your plastic cards could cause damage to the equipment.
There are many brands of plastic card printers out there and most of them are able to do everything from ID cards to membership cards and more. Just make sure that you're selecting a printer that's long-lasting, durable and made of high-quality material.
Ready to Get your Blank Plastic Cards?
As seen from the above, you can use your blank plastic cards for plenty – whether that be for an event, internal use or as a gift card. Blank plastic cards also come in a wide range of thicknesses depending on what you require.
In terms of colours, you can also select from a plethora of colours ranging from yellow to blue, pink and even orange. In some instances, blank plastic cards can even come in metallic colour options. Whichever colour or thickness you choose to go with, just remember to ensure that your printer is able to print that particular thickness or design you'd like.