Many manufacturing leaders and business owners are eager to invest in the booming extrusion market. This irresistibly higher value of plastic extrusion machines attracts people to earn some profit in this industry. However, this value can only be evaluated if the buyer deeply understands the different types of plastic extrusion machines.
Therefore, this article is here to help you distinguish different plastic extrusion machines and make a wise investment decision.
What Are the Two Major Types of a Plastic Extrusion Machine?
The following are the two prominent plastic extrusion machines that are making the diverse plastic products stand out in the crowd :
1. Single Screw Extruder
A single screw extruder is a piece of industrial equipment largely employed to perform different manufacturing techniques for producing a plastic product. Technically speaking, a single screw extruder is composed of five crucial components: the external heaters, the resin feed arrangement, the control system, the drive system, a hollow cylindrical barrel, and a screw.
2. Major Applications
A single screw extruder is majorly involved in various manufacturing processes conducted by different industrial sectors for multiple application areas. One of those industries is construction, which extensively uses this plastic extrusion machine to produce numerous plastic pipes, including PE, PPR, and corrugated pipes.
Advantages
A single screw extruder can execute many common materials quickly while maintaining superior extrusion quality.
This particular plastic extrusion machine is cheaper and more cost-effective than other types of screw extruder machines.
With the simplified operating structure, a single screw extruder delivers a consistent throughput and a high-efficiency performance.
Disadvantages
The feeding system limits the frictional forward processing movement of the raw plastic resins in the single screw extruder machines.
Paste or powder materials that are hard to mix can cause an interruption in the production flow and operating cycles.
The material transportation in the single-screw extruder is mainly based on friction, so the barrel and screw edges get torn quickly after becoming worn out.
It is not suitable for some complex plastic industries.
Double Screw Extruder
A twin screw extruder, also named a double screw extruder, is specialized industrial equipment predominantly used when manufacturing requires a well-mixed powder blending with raw material. Mechanically, a double screw extruder is composed of a twin screw design that is assembled to move in a parallel rotation, moving against each other in a closed cylindrical barrel.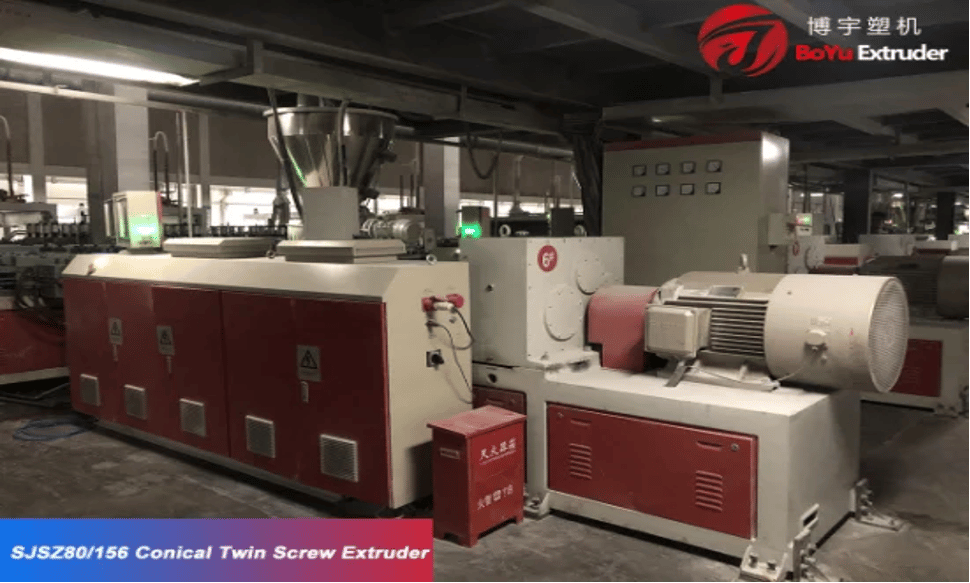 3. Major Applications
A double screw extruder is popular for its impeccable contribution to the plastic industry. For instance, the double screw extruder can process complex materials (complicated ingredients of synthetic plastic compounds) to a degree of utmost perfection. Therefore, the industrial experts strongly recommend this plastic extrusion machine for applications like manufacturing types of flooring, including SPC flooring, LVT flooring, PVC flooring, WPC flooring, and other types.
Additionally, the continuous profile formation process of the double screw extruder combines its comprehensive mixing properties with extensive extrusion functions that confirm incredible outcomes under extreme pressure. This is why more businessmen prefer double screw extruders.
Advantages
This type of plastic extrusion machine has the potential to deal with more complex and intricate products.
The outstanding mixing features work well and result in higher productivity than the single screw extruder.
A double screw extruder has self-cleaning functions, which allow flexibility in the motion of part operations.
The double screw extruder has a wider range of outputs than other plastic extrusion machines.
The double screw extruder is known for its modified control system that can smartly process parameters with easy operating tools, guaranteeing the desired outcome with great precision and outstanding performance.
Disadvantages
A double screw extruder requires frequent maintenance, which tends to have a higher operating expense than the single screw extruder machine. However, a reliable plastic extrusion machine provider will offer fewer maintenance machines to satisfy your unique needs.
The heating capacity inside the barrel is insufficient, and the high discharge rate of bearing implements often causes problems in this plastic extrusion machine. But this circumstance will disappear by choosing a capable provider.
Major Factors to Consider When Investing in Plastic Extrusion Machines
Before reaching any decision, it's always best to do your research and then begin evaluating the factors you come across. Therefore, let's take a look at three highlighted pointers that can help you find the best plastic extrusion machines:
Application Requirement: if your target customers are people who want to produce flooring, it's wise to choose double screw extruders since they are experts in producing types of flooring.
Brand and Service: a well-known brand can offer you the best services and guarantee you will get a satisfying user experience.
Budget Range: check your budget and make the final investment decision.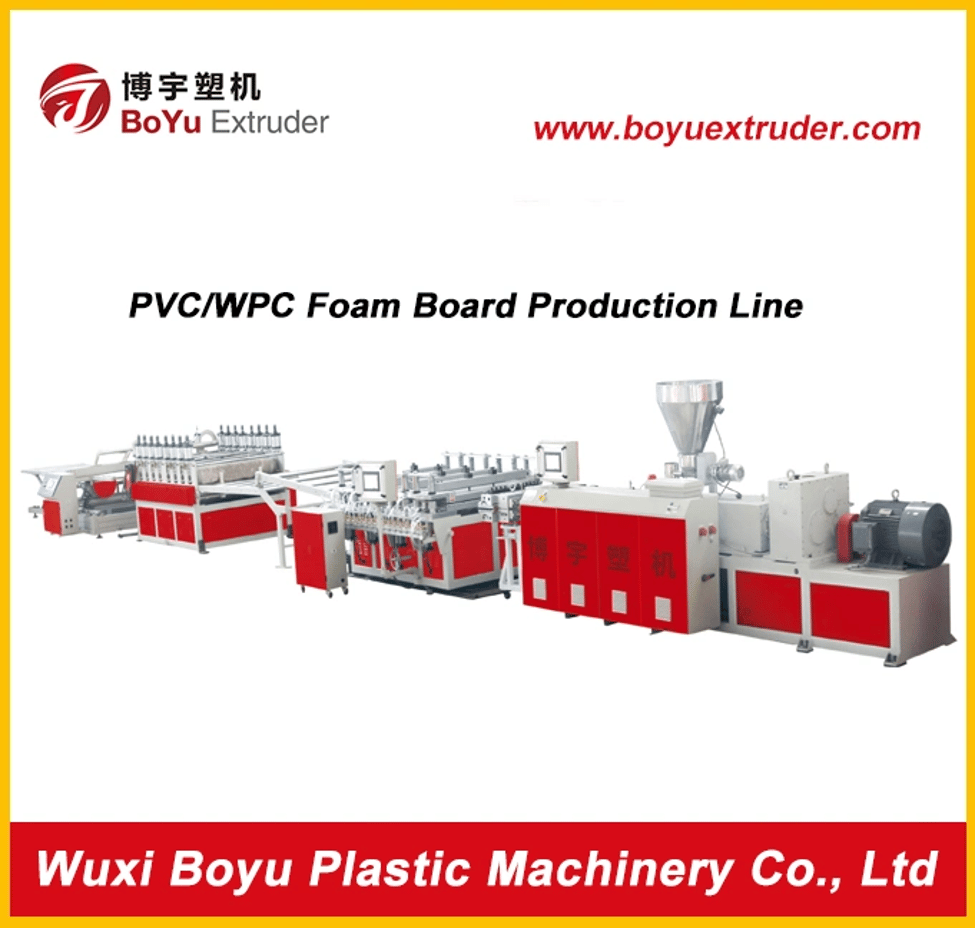 Boyu: The Best Plastic Extrusion Machine Manufacturer
After getting detailed insights into the different plastic extrusion machines, it's time to pick a trustworthy plastic extrusion machine specialist for a long-term collaboration.
Boyu can prove to be a useful assistant for your business. Struggling in the plastic extrusion machine market for more than 20 years, Boyu is an expert who can offer a full set of systematic solutions to serve many different plastic manufacturing needs. In addition, Boyu is a famous brand that has already succeeded in gaining the trust of international buyers. For instance, some customers praise their plastic extrusion machines are cost-effective choices with high performance. Therefore, for any further information about plastic extrusion machines, please get in touch with them immediately.