The handheld mobile computer is one of the great boosters of efficiency and productivity in the manufacturing sector. The advancing mobile computer technology and wider application have made the portable device an important tool for automotive, electronics, and other manufacturing industries.
In this article, we will introduce major applications of handheld mobile computers in the manufacturing industry and discuss the potential benefits of using such devices.
Applications of Mobile Computers in the Manufacturing Sector
Handheld mobile computers are becoming increasingly popular, providing numerous benefits to the manufacturing industry. Here are major applications of mobile computers in the manufacturing sector:
1. Inventory Checking and Asset Maintenance
Inventory checking, an integral part of the manufacturing industry, is where handheld mobile computers are mostly applied. Thanks to the barcode scanners or radio frequency identification (RFID) tag readers, the computers equip, they can reach high accuracy and precision, which are the major requirements in this process. The data collected from these systems helps to verify the correct quantity of available goods in stock at any time.
Besides, they also provide real-time reporting on stock levels and availability across all branches, thus helping to reduce wastage, improve margins and increase productivity at every level of the production process.
2. Production Scheduling
Production scheduling, a process that ensures optimizing resource utilization, is another area where handheld mobile computers can help streamline operations. Mastering the information of all available resources can help manufacturers plan their production schedules more efficiently, allowing them to meet demand without overstocking or underproducing products.
Various apps on the computer help to create schedules that are in sync with desired timelines and requirements. These schedules help them monitor the progress at each stage and set appropriate goals for each activity along with benchmarks required for completion by each period or phase during the production process. What's more, they can help to identify bottlenecks, breaking them with the help of appropriate time management strategies.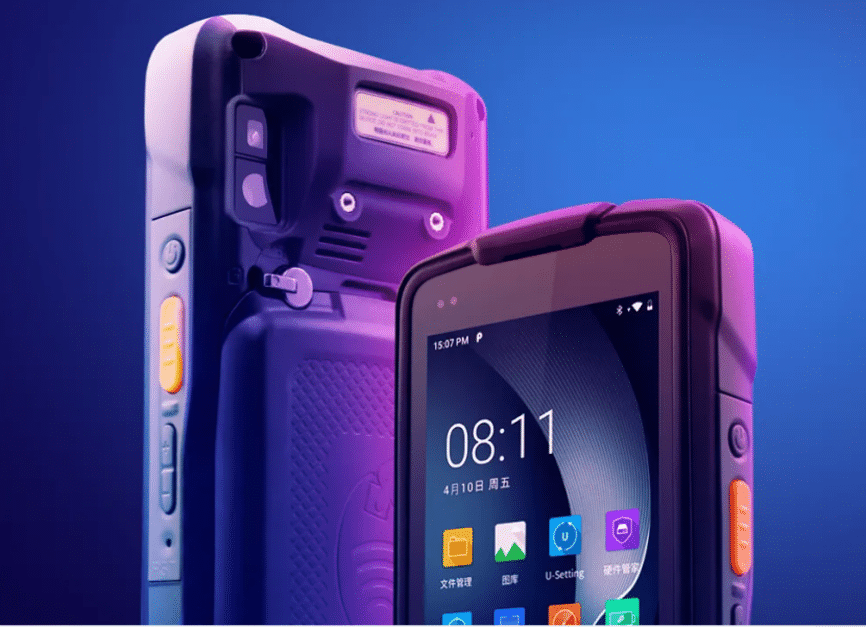 3. Trace and Tract throughout the Production Line
Tracing and tracking throughout the production process is time-consuming and prone to errors. Handheld mobile computers can maintain complete quality control and timely error-proofing, smoothing the production process.
4. Warehouse & Material Management
The portable device helps track the materials' location through GPS technology or RFID tags, making sure that different parts are staying in their predetermined zones. Clear identification of materials is vital since it is related to the quality of the products. In addition, the goods should also be tagged with their location information in case urgent changings are needed. And they are included in the warehouse management.
For material management, the computer provides access to their storage and usage situation, keeping close eyes on their condition to cut down the cost caused by careless preservation.
Solutions for Using Mobile Computers in the Manufacturing Sector
The UROVO DT50 5G is a high-performance handheld mobile computer that combines the latest technology, advanced processing power, and security standards to provide users with a complete solution for their data collection and analysis needs.
This rugged mobile computer is equipped with a Qualcomm 2.2 GHz Octa-core processor and Android 12, upgrading the performance and liability. The device features 8GB RAM and 128GB ROM, allowing it to work efficiently. Besides, a 5000mAh battery capacity allows up to 12 hours of moderate use.
This handheld PDA has 5G network support for faster speeds and better connectivity. It supports VONR HD voice calls, so workers can make calls from anywhere without worrying about dropped calls or poor audio quality. It also has 2.4GHz/5GHz dual-band WiFi for improved connectivity throughout the office space or warehouse environment where it's being used.
With these features in mind, the handheld mobile computer is suitable for many applications in manufacturing, retail, logistics, and other industries.
Conclusion
UROVO DT50 5G has been developed by UROVO, a renowned international mobile computer and payment terminals manufacturer. The company started its business in 2006 and has been committed to providing customers with high-quality products at affordable prices. Moreover, they have invested heavily in research and development to make their products better than other brands on the market today.
For more information about the experienced company and their reliable handheld PDA, you can visit their website: https://www.urovo.com/
References
https://en.urovo.com/products/mobile/dt505g.html
https://en.urovo.com/blog/mobile-computers/373.html