The kitchen is the heart of the home and is often overlooked when it comes to décor. If you are reading this post, you must have decided to give your kitchen a facelift.
Window treatments form an essential part of your décor plan. Whether you go for custom curtains, custom roman shades, blinds, or even shutters, these add aesthetic value along with their range of functionality to your kitchen space by not just providing light control and privacy, but also adding a stylish accent to the space. Window treatments can inject color, texture, and pattern while also lending softness to hard surfaces and appliances. What should you consider before choosing window treatments for your kitchen? Read on to find out.
Important Considerations for Kitchen Window Treatments
When selecting window treatments for kitchens, you must choose options that can withstand the wear and tear of everyday use. Your choice should also add warmth to the space. Here are some things to consider if you are in the market to shop for curtains for your kitchen.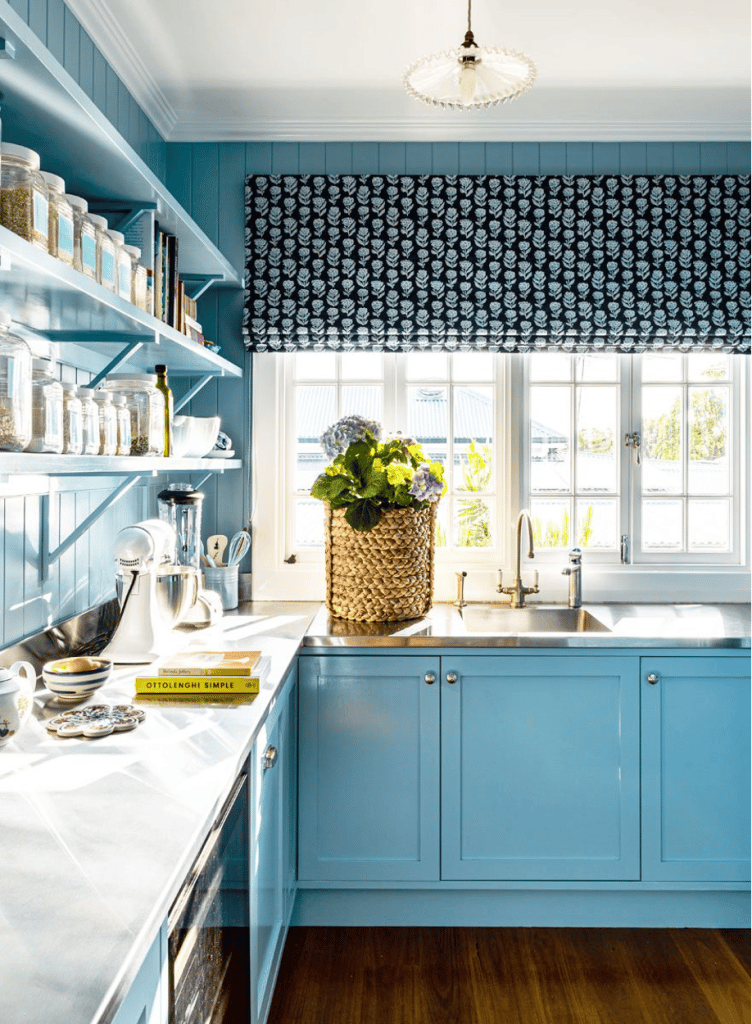 #1: Light and Sunlight Control
The amount of sunlight your kitchen gets will determine your choice of window treatments. If your kitchen enjoys abundant sunlight, you need window treatments that protect you from UV rays. You can choose cellular and solar shades because they offer excellent UV and UVB protection.
They do not completely block out sunlight. Instead, they diffuse sunlight across the room. Pleated shades are another good option. They allow ample light into the room while protecting against sun rays. Opaque window coverings or blackout shades with lining offer complete light control.
When you close the shades, it blocks the sun and light from your kitchen. If you have a small kitchen window, an opaque window covering will not be ideal because it will block out the only light source and make your kitchen look dreary.
Bamboo or slatted wood blinds may be a choice. You may want to spend a couple of days watching how light filters in and out of the kitchen during the day before deciding on a treatment style.
#2: Need for Privacy
Before choosing window treatments, you must determine how much privacy your kitchen currently has. The easiest way to do this is to perform a privacy test. To do this, switch on your kitchen lights at night and go outside behind your kitchen window to see if you can see through the windows.
If you can, then you need window coverings that enhance the privacy of the space and block inside views without cutting off external light completely. Again, custom roman shades and roller shades are good options if privacy is an issue.
#3: Location of the Window
This is where you ask the all-important question – what are the window treatments that will suit your kitchen functionally based upon the location of the window? For instance, if your stove is installed directly under your window, you may want to reconsider using curtains.
Installing window coverings on such a window increases the risk of fire. Secondly, you need all the brightness you can get in your kitchen and if your kitchen curtains cut it off, you may want to reconsider using them in the first place.
If your kitchen window is over the sink or other busy areas, you are better off with custom roman shades to protect them from splatters.
#4: Maintenance Requirements
Kitchen window treatments are prone to getting dirty fast, so they must be cleaned regularly. The location of your kitchen windows also determines the frequency of maintenance. Window coverings around a sink or stove will soak up their fair share of cooking oils, splatters, dishwater, food odors, and more.
You need to wash them regularly to maintain their cleanliness and hygiene. Knowing the maintenance requirements of a particular window covering will help you determine if it is the best choice for your kitchen window.
Your choice of fabric for curtains makes a huge difference in the maintenance requirements. When you choose an easy-to-wash fabric, it becomes easy to maintain your window treatments. For instance, you can wipe down vinyl blinds, shutters, and solar shades with soapy water and cotton material. You can also wash and re-hang most fabric curtains and valances.
However, real wood blinds are not that easy to clean because they need a special wood cleaner. Also, Roman shades and panels with trip and lining require dry cleaning. If you are using high-maintenance window treatments for your kitchen, ensure you install them away from potential spills and splatter.
#5: Consider Adding Curves
Kitchens are often designed with straight lines. Take a look at your kitchen cabinets, counters, and appliances. They are either square-shaped or straight lines. One way to add soft curves to the space is to choose window coverings with soft edges.
You can install a box-pleated valance with curved lines at the bottom of your kitchen window or arch a valance over the kitchen sink. You will be amazed at how transformed your kitchen would look with this treatment.
Other Tips for Choosing Kitchen Window Treatments
Use cooler colors for your custom curtains or shades to visually enlarge and brighten your small kitchen and warm dark colors to make a big kitchen more welcoming.
Use cell shades to achieve a chic and contemporary look.
Aluminum blinds are very durable and budget-friendly. They also come in different colors to complement your kitchen décor.
Shutters or blinds are good kitchen window covering choices as they repel grime and kitchen odors. Humidity-tolerant faux wood coverings are examples of materials you can consider.
Conclusion
Finally, take your kitchen décor into account when choosing window treatments. If your kitchen is mostly white and black, fabric shades with patterned color pop will add a stylish colorful accent to the monochrome kitchen space. A natural bamboo shade will look good in a countryside-themed kitchen.