The global volume of Big Data in healthcare is growing rapidly. In 2013, the industry generated 153 exabytes of information, by 2020, it had grown to 2314 exabytes. If compared with physical objects, let's assume that a gigabyte is equal to the size of the Earth. Then an exabyte is the size of the Sun. Medicine faces the necessity of learning how to work with such a stream of data and single out valuable information in it. This can be done with the help of Big Data. Let's talk about the opportunities that this technology opens up for healthcare.
Data science seeks to transform the data collected by healthcare into structured information that is convenient to work with. It is used for:
optimization of work processes;
improving patient care;
predicting certain events;
diagnosis of diseases at early stages;
creation of virtual assistants, etc.
Let's consider some areas of medicine that are affected by Big Data more than others.
Medical imaging
In medical imaging, a smart algorithm detects specific features in images and finds patterns in the collected data. As a rule, the results of computed tomography (CT) or magnetic resonance imaging (MRI) are analyzed to identify pathologies and plan treatment. To analyze the volume of data in a distributed environment, special analytical platforms are used.
Let's take an example of how it works in practice. Big Data was used on a project implemented by Andersen, an experienced company developing custom healthcare solutions. It is an interoperable device program providing surgical assistance. It tracks, archives, and manages images of joints during surgery. A surgeon evaluates the position of a preoperative point, operates on the joint while focusing on the images, and sees the corrected postoperative point.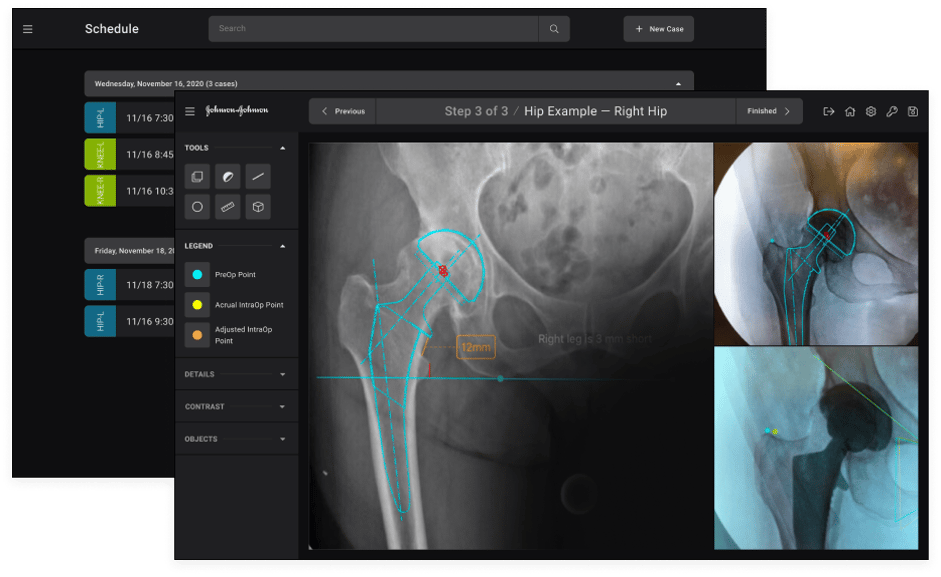 The program includes the necessary tools: cameras, main and secondary displays, a digital color printer, arthroscopes, tubes, and other equipment.
Predictive Medicine
Modern healthcare is developing in a new direction – predicting diseases before the onset of serious symptoms. To predict a disease, a doctor needs a large amount of data about a patient's health status.
Wearable devices and sensors become valuable assistants in collecting information. These are smartphones, fitness watches, and devices for measuring pressure and other physiological indicators of a person. By complementing the collected information with the results of CT, MRI, and medical ultrasound, a healthcare professional sees a complete picture of one's health and predicts the patient's response to certain types of treatment and the risks of developing diseases.
If doctors involve deep machine learning algorithms in the process, AI will predict the development of a disease in cases where the human brain cannot detect a problem. For example, an AI system developed by the Scripps Research Institute and Intel Corporation identifies people at high risk of cardiovascular disease that cannot be detected by traditional statistical methods.
Predictive medicine based on Big Data development will help patients adjust their lifestyles and prevent the development of serious diseases. When people know that they may have heart problems, they consult doctors and follow their recommendations to avoid complications in the future. Big Data is paving the way for a new type of healthcare delivery – personal healthcare.
There are software solutions for the in-depth diagnosis of skin diseases on the market. Some of them are based on Big Data and image analysis. Take, for example, the platform that connects patients and dermatologists and allows doctors to analyze photographs of problem areas, make a diagnosis, and prescribe treatment.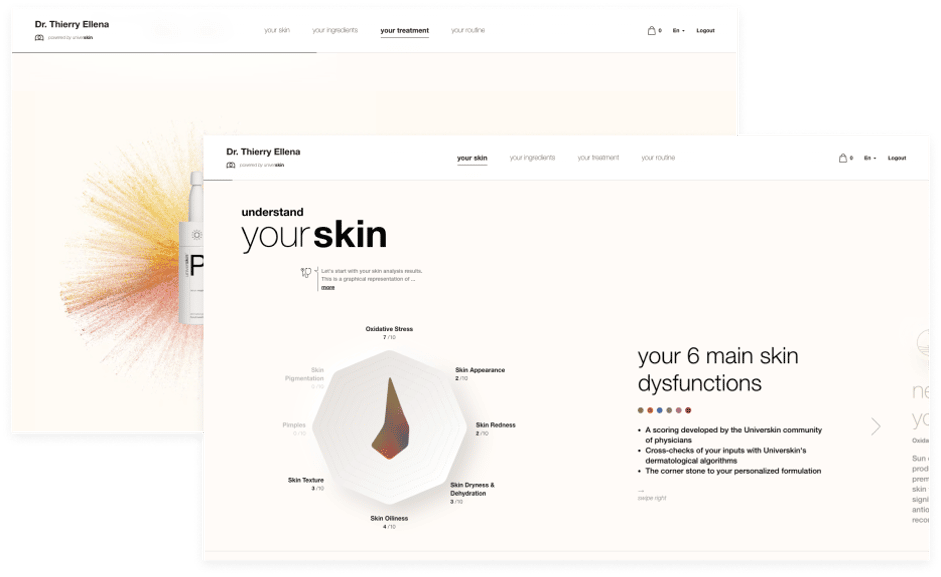 A patient creates a personal profile that serves as a medical record. They indicate personal data and general health information and download medical files necessary for treatment. The user can view the details of the diagnosis, treatment plan, and prescribed drugs. The platform guarantees that patients will improve their skin condition in 5-6 weeks.
Chatbots
Based on Big Data, developers build dialogue programs to support patients. These are chatbots. Virtual assistants are trained on Big Data. They are configured for various types of requests and provide answers to key questions. Chatbots contain many scenarios for efficient communication with a person. These are general descriptions, answers prepared in advance for each situation, or data stored in corporate systems.
The ability of a chatbot to imitate human speech is used to make appointments with a doctor, give advice on the symptoms of a disease, and support people with mental disorders. Big Data is leading to more sophisticated bots that will bring more value to patients and healthcare.
For instance, the Youper app chatbot helps people cope with negative emotions and improve their mood. The virtual interlocutor initiates personalized dialogues using psychological methods.

The program also gives advice and offers calming meditations to help patients control their emotional state. In the course of communication, the chatbot improves itself as it learns more facts about users. Over time, conversations become more personalized and interesting to people.
Conclusion
Big Data is a technology that will allow medical organizations to collect and manage the flow of incoming information reasonably. Healthcare professionals can extract valuable information for patients and businesses from the dataset. It will help treat people, manage clinic workflows, get a reliable base for scientific research, and invent new drugs. By 2025, the global market for Big Data analytics services in healthcare will grow six times compared to 2016 and amount to $29 billion.
To create a software solution for working with Big Data, you need to contact an experienced custom healthcare software development company. Data scientists, together with developers, will create an application that will help collect and structure incoming data.