In a world where the advertising industry is driven by methods such as social media marketing, Google ads, SEO, and other digital marketing methods, it may seem less advantageous to use in-person advertising methods. Reaching people at places they go may even seem primitive compared to traditional advertising through mass media such as radio and television. However, since January 2019, I have been discovering the power and efficacy of out-of-the-house or OOH advertising, especially for reaching local audiences in specific locations.
OOH advertising is designed to reach people when they're not at home, online, or in front of a television. Instead, we design messaging to reach them at places they visit, including gyms, restaurants, malls, and supermarkets. OOH advertising can include billboards, posters, banners, and other public displays. Well-designed OOH advertising campaigns can also overlap with online and social media advertising since people can be motivated to take snapshots of in-person ads and share them online.
Though my background is in sales and computer science, I found a way to leverage those skills into a career in advertising. Subsequently, I learned how to apply OOH advertising during a campaign I did for a supermarket in 2019. I noticed that the average person visits a supermarket 2-4 times a month and waits in line for an average of 15-35 minutes. I realized that this was more than enough time to communicate almost any type of message to supermarket customers. My company eventually partnered with supermarkets to add new displays to checkout lanes using our technology. On a daily basis, these displays let shoppers know which products were on sale in real time, generating more income and helping supermarkets get rid of inventory.
This illustrates one of OOH advertising's advantages over more traditional marketing methods. When practicing OOH advertising, you won't have to compete as hard for your intended audience's attention. Digital marketing is a competitive field. Due to the Internet's ubiquity, nearly every successful company recognizes the potency of reaching customers through the Internet. Furthermore, TV advertising has been a competitive, fairly expensive option since the 1940s. In contrast, OOH advertising reaches audiences in mundane, everyday moments when they may not be focused on anything else.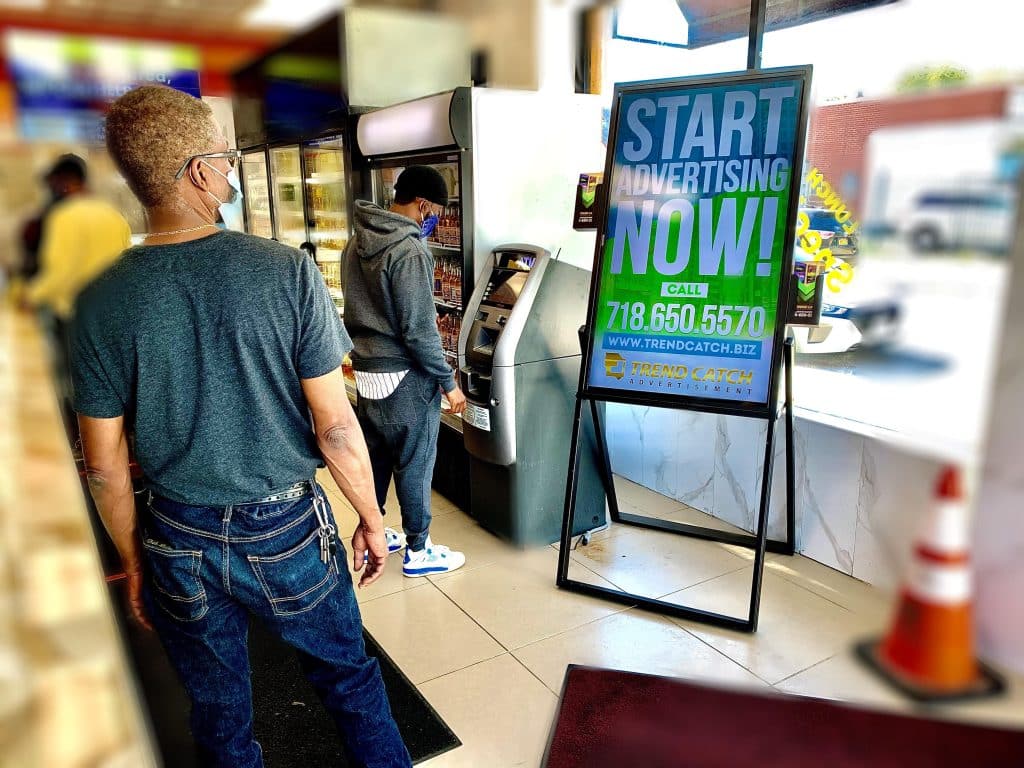 OOH advertising's other main advantage is providing repeated exposure to advertisements, which makes the ads more likely to convert customers. Studies have shown that repeated exposure to an ad makes it more effective in the eyes of viewers. By placing advertisements in regularly-visited places, you can achieve more consistent and frequent ad exposure. With the right technology, you can even add audio and visual components to your ads, making them even more memorable and effective.
OOH advertising's ability to reach people in real-life locations also makes it ideal for location-based campaigns. I observed this during the time I worked on the election campaign for current New York Mayor Eric Adams. For this project, we had to focus on reaching the During the campaign, we noticed that there weren't enough African-American New Yorkers who were familiar with Eric's impressive track record and well-earned qualifications. In response, we began advertising in frequently-visited shopping areas around town. We did this in Brooklyn, the Bronx, Queens, and Manhattan. Through our efforts, we ended up reaching an average of 50,000 people per week. I really think we made a difference in helping Eric get the nomination he deserves as mayor of New York.
OOH advertising is often overlooked because people assume the Internet or mass media are always the best approaches for advertising. However, OOH advertising may be an even better option for your business, depending on its needs. If you don't have the budget to pay for repeated impressions through Google Ads, OOH advertising can be a more affordable and impactful way to communicate your messages to your intended audience.
The price of OOH advertising campaigns can be scaled according to your needs. For example, my company bills customers using a subscription system. Pricing can be adjusted based on factors such as location, audience size, campaign length, and the type of campaign. Based on these conditions, our pricing starts at $350 monthly. If you can afford to spend more, you may also choose to do a lead generation campaign in multiple locations starting at $40,000 monthly. You may want to consult with your chosen advertising provider before committing to a specific campaign plan. This is why our company offers free consultations so we can determine the best solution for your business's needs. Be sure to choose the OOH advertising plan that addresses all your current business goals.