Every minute, a new cryptocurrency token is launched on blockchain networks. Unfortunately, the vast majority of these initial coin offerings (ICOs) are frauds perpetrated by unscrupulous developers. Scammers are always thinking of new ways to deceive people and Rugpull is the most common cryptocurrency fraud at the moment. This con's method of operation is rather straightforward. To put it simply, token developers must create liquidity pools and employ them at decentralized exchanges like UniSwap or PancakeSwap to allow investors to purchase and sell their tokens instantly. Fraudulent crypto developers introduce a new token, add a high-value liquidity pool, engage in aggressive marketing, attract a large number of investors, and then withdraw the liquidity pool, leaving buyers with coins that are worthless.
By transferring the liquidity pool or LP tokens to a time-lock smart contract, the developers forgo their withdrawal rights. This is known as liquidity lock, which benefits not only the investors but also the token developers by allowing them to establish the project's credibility. The concept of liquidity locking has led to the introduction of a variety of platforms that provide this feature. In 2021, here are a couple of the top liquidity lockers:
Unicrypt
Unicrypt Network is a multi-chain platform that provides token and liquidity locking services. It was launched last year in 2020. It is one of the older lockers, with a number of useful features such as incremental locks and ownership transfer. Unicrypt locker is presently used by over 3000 projects. However, the Unicrypt locker's main flaws are its clumsy user interface and exorbitant fees. Unicrypt not only charges a high flat fee but also requires token producers to burn Unicrypt utility tokens, incurring additional expenditures.
Mudra Locker

The market's newest entrant is Mudra Liquidity Locker for Binance Smart Chain. Mudra, despite being young, has secured liquidity for over 1000 projects in just a few weeks. It allows you to lock liquidity pool tokens instantaneously, withdraw them when the lock expires, and add more tokens to the lock. You pay the lowest fees and It does not force developers to use their utility tokens, unlike the bulk of platforms.
Token owners can create a verified lock certificate with a QR code, which they can distribute on the token's website and social media platforms. Mudra Liquidity Locker features a user-friendly interface that focuses on the developer experience. Simple yet critical features like the ability to distinguish between a token address and an LP address contribute to the platform's efficiency and usability. The Mudra ecosystem as a whole is strong, with a comprehensive array of solutions for cryptocurrency developers (BEP-20 token generator, PancakeSwap liquidity configuration) and investors (token research tool, token discovery tool).
Feature Comparison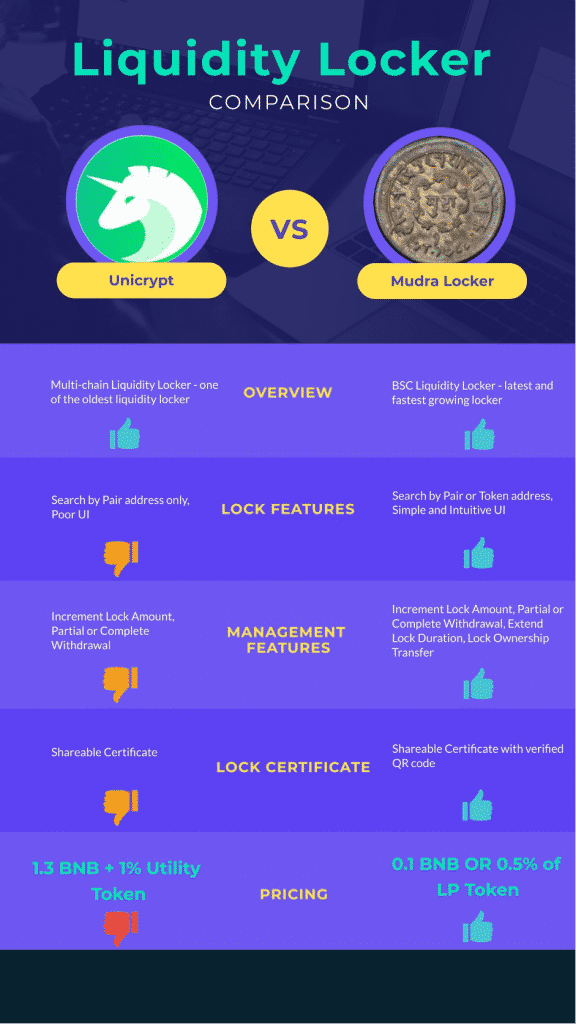 Closing Remarks
With the introduction of fast and cheap blockchain networks like BSC, the entry hurdle for new creative cryptocurrency projects has been significantly lowered. As a result of this progress, new investment options for the general public have arisen. The availability of unscrupulous developers, on the other hand, has enabled fraud and theft of investor funds on these networks. Liquidity locking is the lowest level of security for today's investors. Mudra Liquidity Locker has posed a serious threat to platforms like Unicrypt, which have long dominated the liquidity lock provider space. Mudra has democratized the liquidity lockers. Mudra Locker's feature set and pricing set it apart from the competition. It's the best liquidity locking platform currently.