Main Draws:
· Vast amounts of desktop surface space, storage space, legroom; height adjustable
· Incredible affordability considering how all-encompassing the setup is
· Should hold widespread appeal (design & functions benefit large cross-section of people, from gamers to music producers to techies)
· Vibe-y controllable RGB lighting feature
· Cold rolled steel frame & angled shape give rise to peak stability & ergonomics; supports up to 400 pounds
· Convenient, movable keyboard tray
· Fitted full-surface, micro-woven mousepad
· Other smaller cool features: controller stand, dual slots for mobile devices or iPads, headphone hook, cupholder, some organizational implements to keep everything in its right place
If the list above got your attention but somehow you're still skeptical, hear me out…
I work in tech. I'm a creator second. Then I'm a gamer. In that order. Naturally, my favorite investments: tools and products that serve multiple purposes. Never mind. Scratch that. My favorite investments are always multipurpose things that are AFFORDABLE. Maybe you're looking for a gaming desk, maybe you're looking for something you think will have more to offer. I'll spare you the extensive internet research I had to do and recount, in short, how I arrived at the AED70 Studio Gaming Desk, and what my life has been like since (it rocks).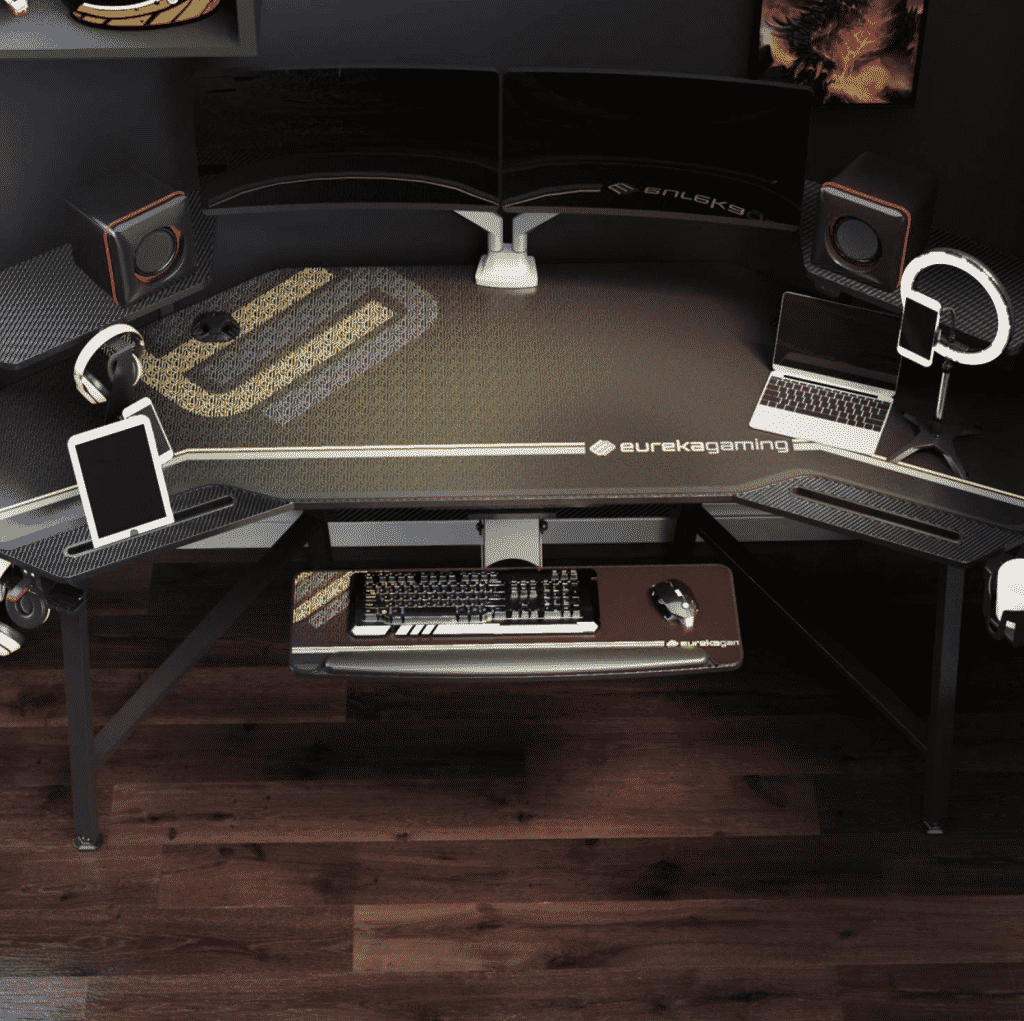 Enter: yours truly. Just so happened recently I was looking for a new workstation that, due to limited house space, might also serve as a general setup for things I like to do as well as need to do. Work and leisure and everything in between. So, down that internet rabbit hole I went. Before long, I was looking at gaming desks. Since I'm something of a gamer myself (though not before my other priorities), instead of arching an eyebrow and closing the tab, I clicked to investigate.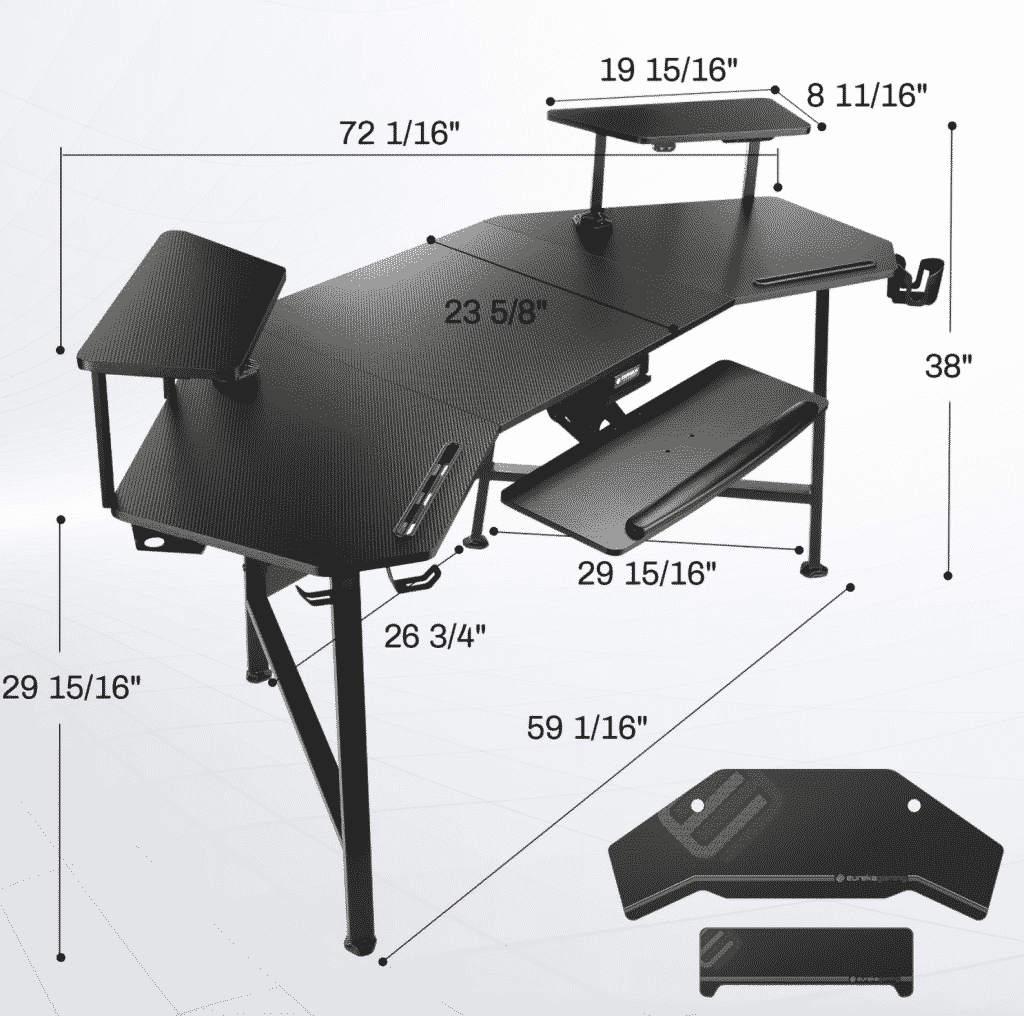 The fruits of my investigation: discovering the AED70 Studio Gaming Desk, which has not only added unprecedented levels of awesomeness to my gaming life but has also (and I'm not kidding when I say this) revolutionized every important aspect of my daily life. For obvious reasons, its size suited my needs—but also the shape, it turns out, is very clever, too. I've had no problem adjusting to the keyboard tray, cupholder, headphone hook, controller stand, and dual slots for my phone (!!!) all readily within reach. The height adjustability has been a lifesaver on my back and reminded me to tap back into my body throughout the workday.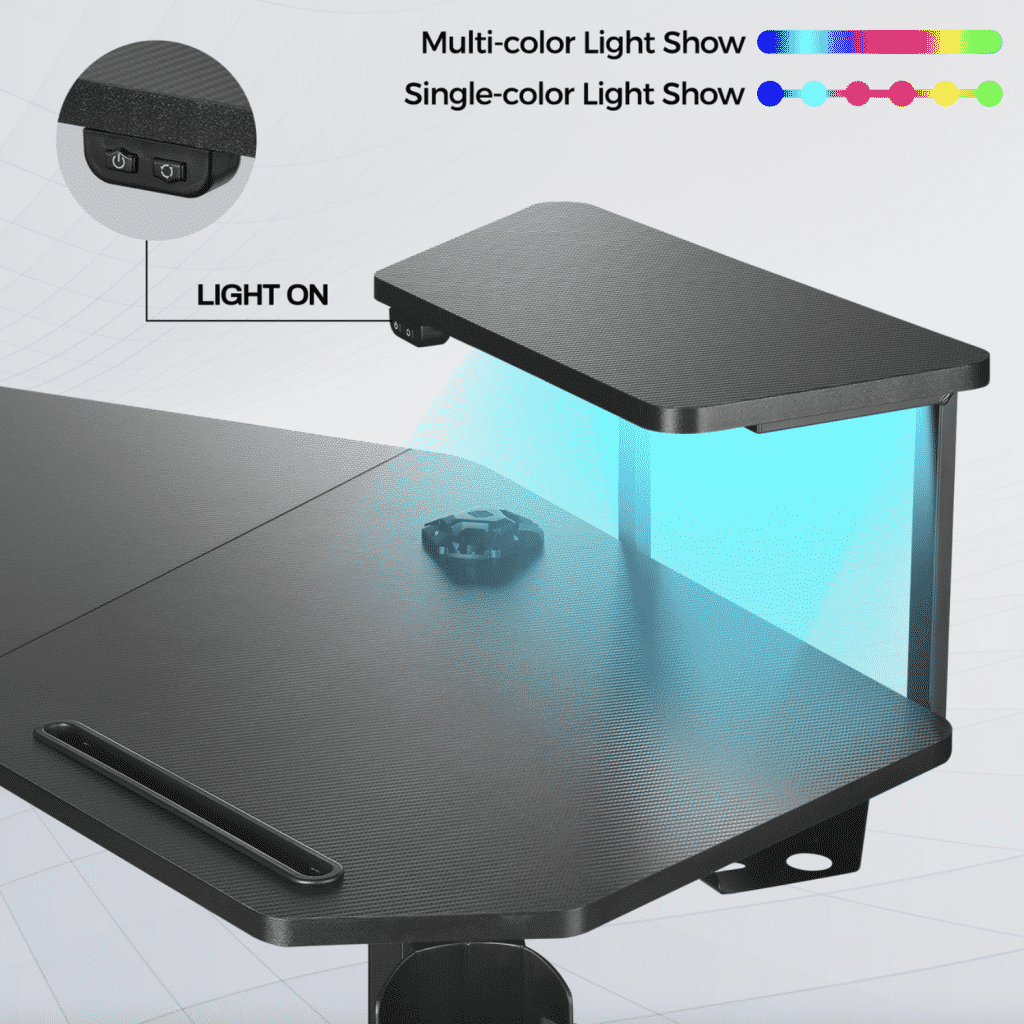 But whenever I do hit that midday slump, or need a pick-me-up, I just hit that RGB, pick a random color and/or pattern, and it's like a shot of positive adrenaline. I admit it's made me want to game (and sometimes cave to) gaming when I shouldn't.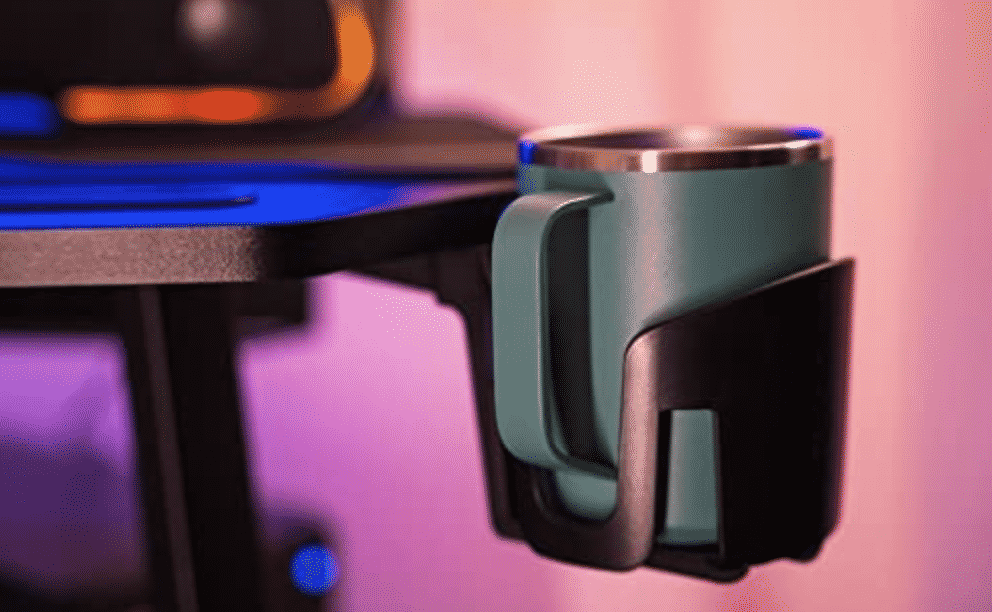 In addition to a day job in the tech world, which demands a couple monitors and a lot of computer-y accommodations, I also run my own (irregular) podcast, edit videos and sound, do digital illustration, whatever strikes my fancy honestly. When I'm not doing any of that—that's when I game. Which is funny because the AED70 Studio is advertised as a gaming desk. And yet here I am, a person whose first priority isn't gaming, the proud owner of an AED70 Studio Gaming Desk. It's not hard to see why.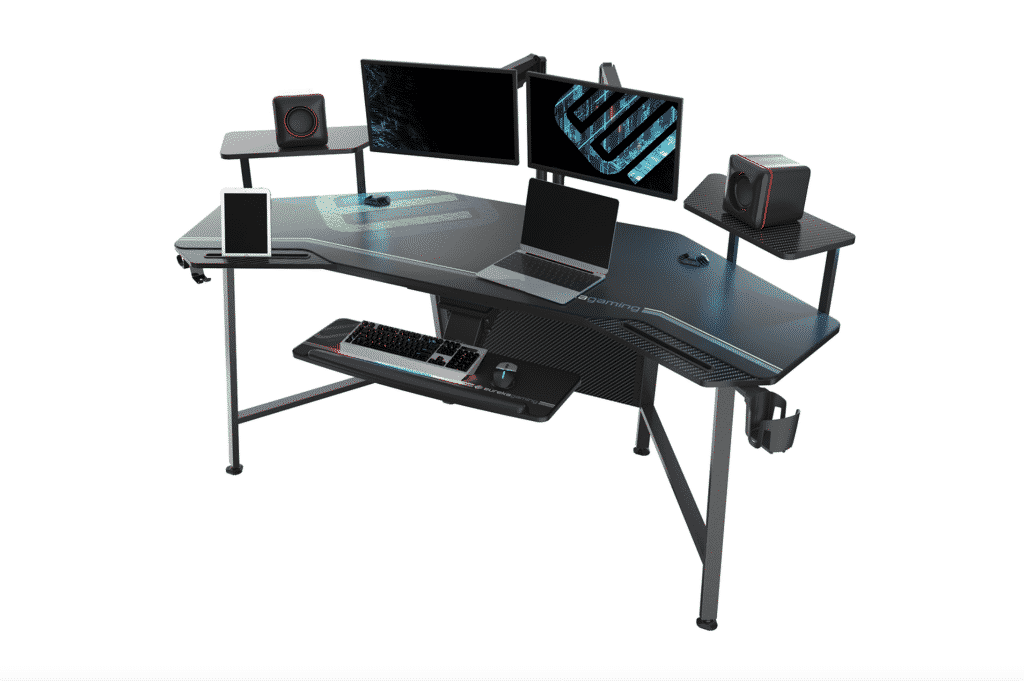 The two monitor shelves came especially in handy, because as I said, I need two monitors for work. But the extra space granted by the monitor shelves doubling as storage shelves has been a real perk. On one side, I lined up some favorite books. Beneath the other shelf, I have my PlayStation. It probably won't be the last curation I do, and looks-wise everything has gone really well with the full-surface mousepad. Height adjustable leveling feet keep this gaming desk from ever budging while cable management grommets and a socket holder keep you (me) from being a slob. I have really appreciated the aesthetic variance the AED70 Studio Gaming Desk allows me, but I love just as much how all-around solid it is for a multitude of activities and purposes.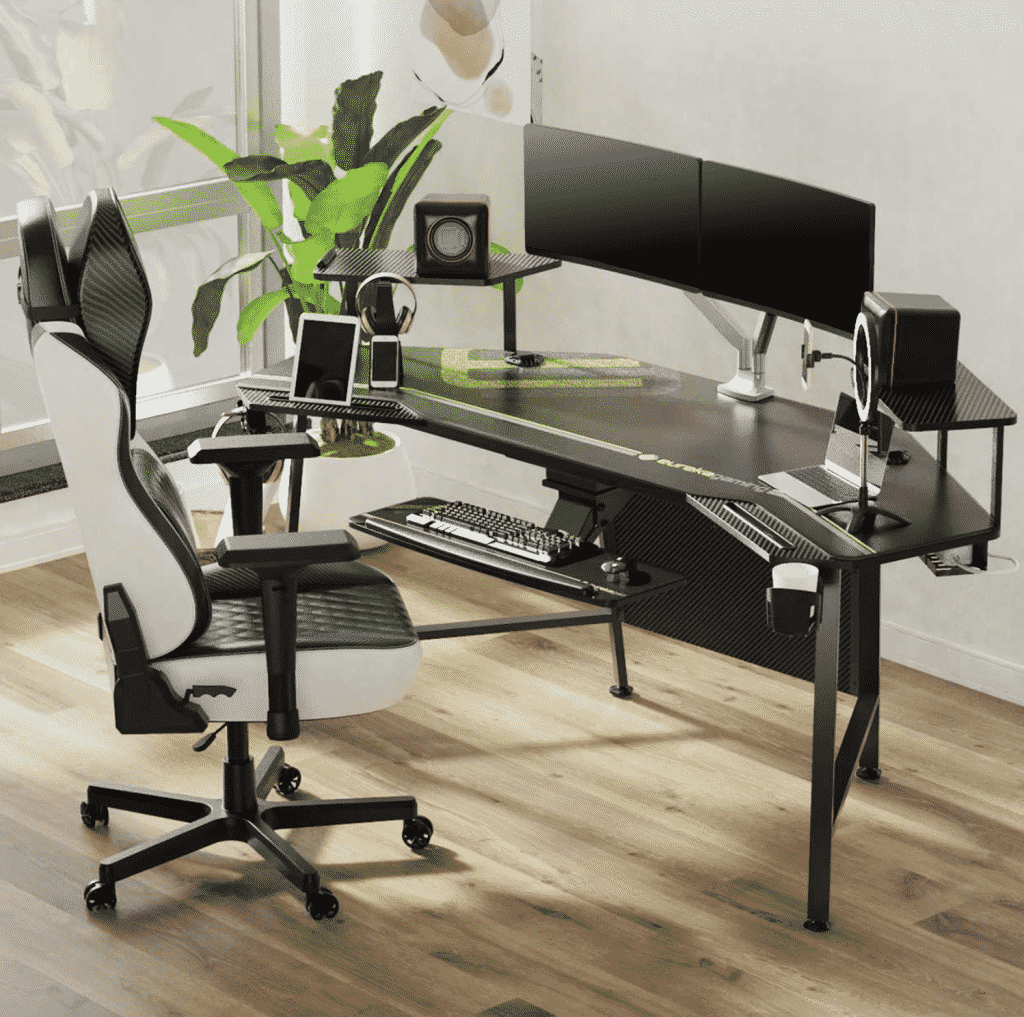 If I had any overall criticism of the AED, it's that it does itself a disservice by solely identifying as a desk for gamers—not a standing desk, not an L shaped desk, not an all-in-one temple of sorcery. No, it's advertised as a gaming desk, just a gaming desk. Tragic.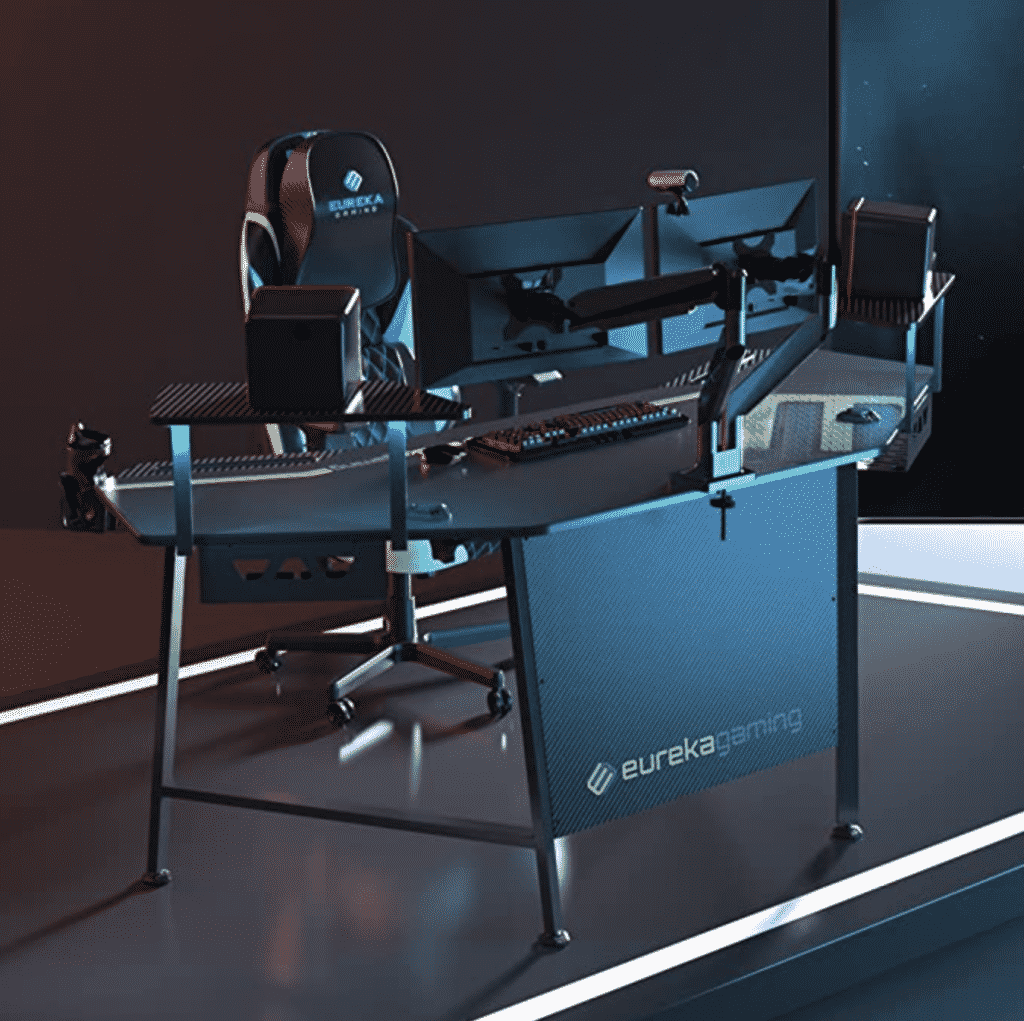 The greatest thing about the AED70 Studio Gaming Desk is that no matter what I sit down to do, I'm never sitting down unprepared.