To transfer WhatsApp chats from Android to iPhone is not a handy task because risks are involved. The article has brought an easy solution for users to restore WhatsApp from Android to iPhone with a third-party application.
If you are thinking of moving fromWhatsApp Android to iPhone, then choosing iPhone 13 Pro Max will be an innovative step. The iPhone 13 Pro max has a 6.7'' screen with Graphite, Silver, Sierra Blue, and Gold choice of colors. It contains surgical-grade stainless steel along with a ceramic sheet. This first-class iPhone has an industry-leading IP68 water resistance which adds to the brilliance of this iPhone.
Therefore, if you are interested to transfer WhatsApp from Android to iPhone, the article will present a smooth solution of a third-party transfer application, MobileTrans.
Part 1: How Different are the WhatsApp Versions of Android and iOS?
WhatsApp is the most widely used application all over the world. Be it for messaging purposes or entertainment intention; everyone uses WhatsApp for it. Even though WhatsApp is available to be installed on both Android and iOS, every feature of WhatsApp is not available on both operating systems. If you are thinking of doing WhatsApp Transfer from Android to iPhone, then look at the difference between both OS WhatsApp versions.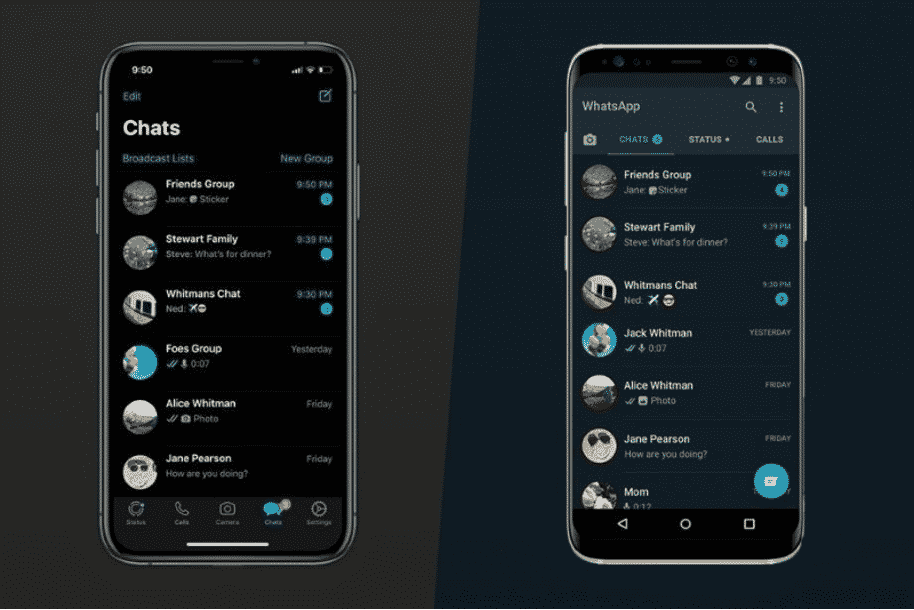 Features like chat preview without the read receipts are available on iPhone but not on Android phones. Similarly, blurring the image with a drawing editor is achievable on iOS, but Android users cannot take this benefit.
In an iPhone, the user can play voice notes from pop-up notifications without triggering the receipts. This feature is also only present in iPhones. In Android, the feature of uncompressing photos directly as documents and selecting all chats in the edit mode is available. These two features are not present in the iOS version of WhatsApp.
You can also download images in WhatsApp directly from the URL and trim videos while staying in the application in the iOS version. Yet again, these quality features are not available in the Android version of WhatsApp.
Wondershare MobileTrans is the most powerful and reliable tool that helps in transferring all the mobile data from one device to another in no time. This makes it super comfortable for users to shift their files, videos, photos, and important messages from one place to another.
The application enables 3x faster speed for transferring the data among devices as compared to other conventional ways. Moreover, it restores data seamlessly for more than 6000 devices. The commendable features of this easy WhatsApp transfer solution application are as follows:
1. MobileTrans Backup:
You can backup all your data of WhatsApp from your Android phone to the new iPhone with one mere click.
2. MobileTrans Restore:
Backup files can also be restored from one phone to another with MobileTrans. It includes the transfer of iTunes and mobile backup.
3. Phone Transfer via MobileTrans:
The user can transfer music, videos, SMS, contacts, and photos from one phone to another.
4. WhatsApp Transfer via MobileTrans:
With MobileTrans, you can move WhatsApp from Android to iPhone by transferring the backup from the old phone to the new one and also shifting social applications to computers and restoring them.
Now, we will be discussing the desktop solution of MobileTrans- WhatsApp shares to transfer WhatsApp messages from Android to iPhone.
Step 1: Head over the Application and Select WhatsApp Transfer
Open the Wondershare MobileTrans on your device and select the feature of "WhatsApp Transfer" from the home page of the app. Now, you are required to make a connection between your computer and both Android and iOS devices.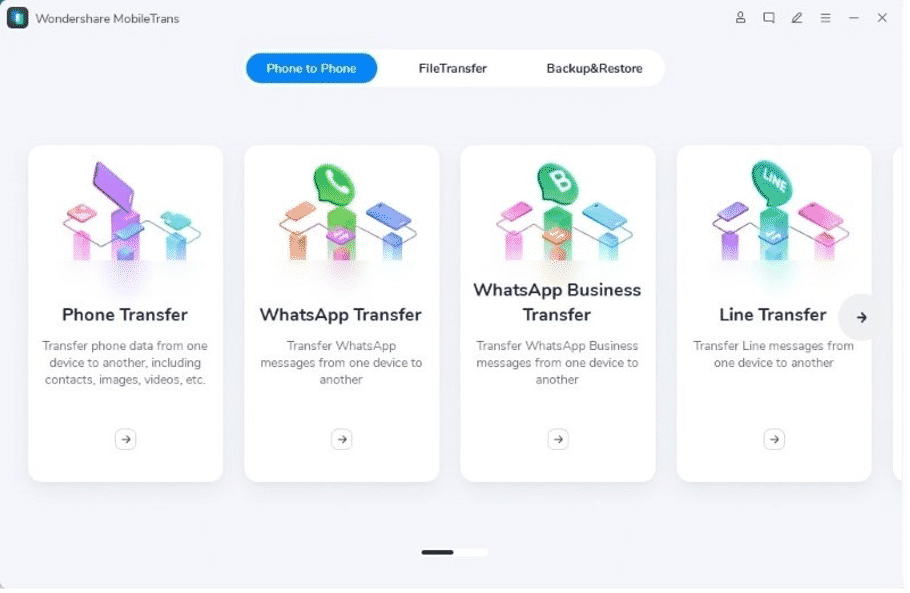 Step 2: Select Transfer WhatsApp Messages Feature
The next step requires you to select "Transfer WhatsApp Messages" from the pop-up menu of the screen. Now, the software will consequently develop a connection between the computer and both Android and iOS devices.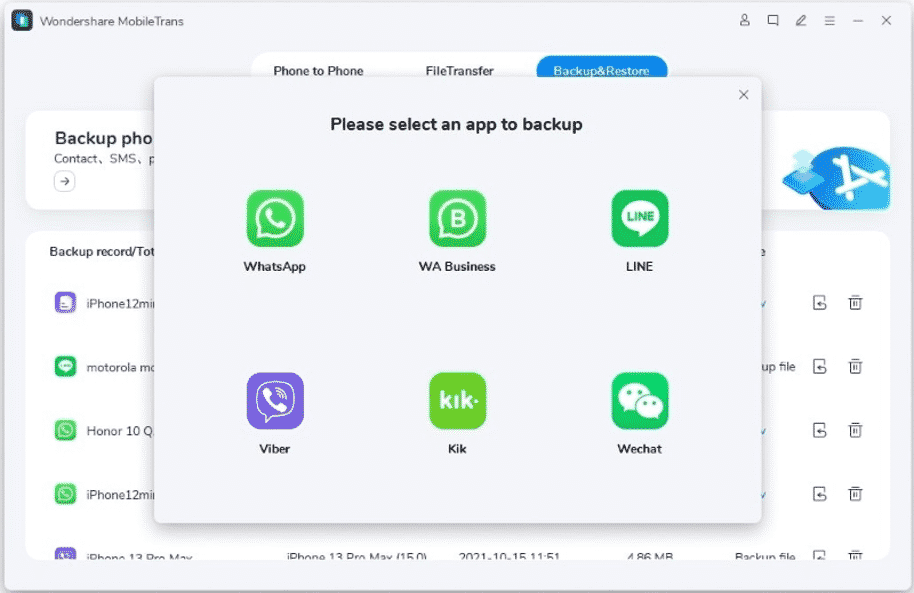 Step 3: Begin Transferring WhatsApp Data
Adjust your iOS device as the destination and choose the "Start" button to start the procedure. Now, the data in your current phone will be erased. And, you will get success in the transfer of WhatsApp data from Android to iPhone.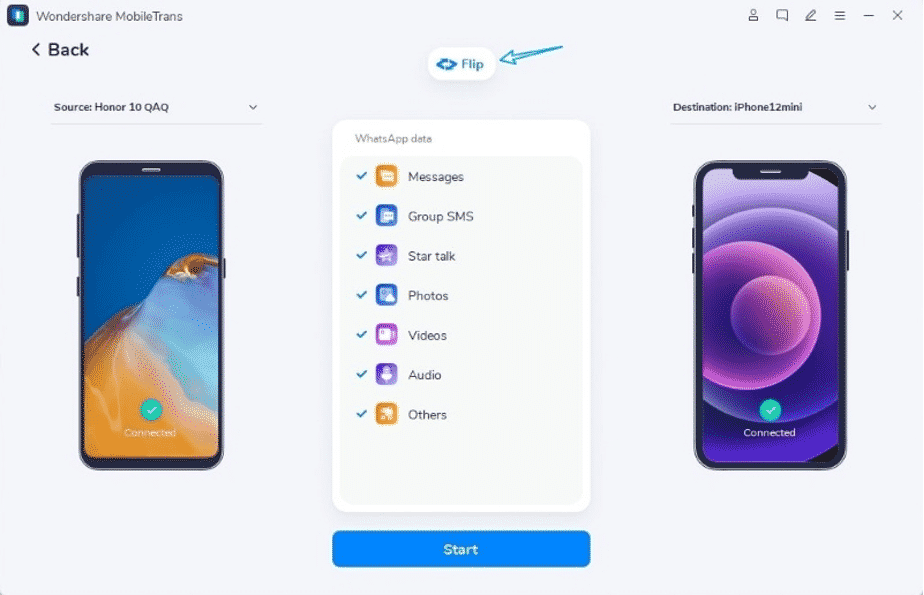 Part 3: How to Transfer WhatsApp Data from Android to iPhone with Mobile Application?
People frustrated with complicated procedures of transferring data from their old Android phone to iPhone now have a solution. Be it iPhone to Android or Android to iPhone, MobileTrans allows you to do WhatsApp Transfer quickly.
The availability of Wi-Fi or mobile data is not necessary. Transfer of data can take place without the obligation of the internet. Moreover, there is no limitation on the brand of Android phones. Transfer can be carried on one plus, Huawei, Oppo, and Xiaomi easily.
Now, we will put forward the two simple steps to learn how to transfer the WhatsApp data from Android to iPhone through the MobileTrans Phone application.
Step 1: Select the Transfer Option
After you download the MobileTrans application, tap the "Android to iPhone" feature from the screen. Now, log into the WhatsApp account by providing the relevant phone number and selecting the "Next" button.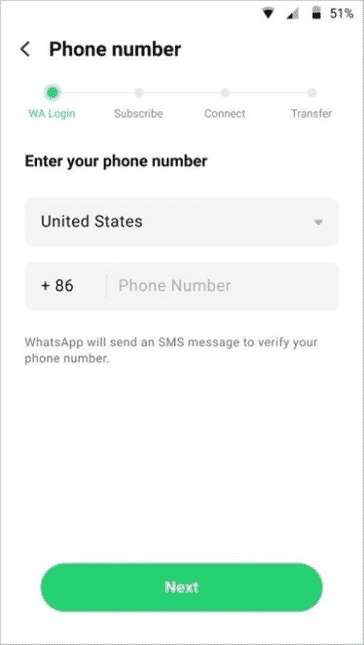 Step 2: Initiate Transfer Process
You are required to choose the "Using USB-C to Lighting Cable" and continue the procedure with one click. Abide by the on-screen instructions and initiate the transfer of WhatsApp messages from
Android to iPhone.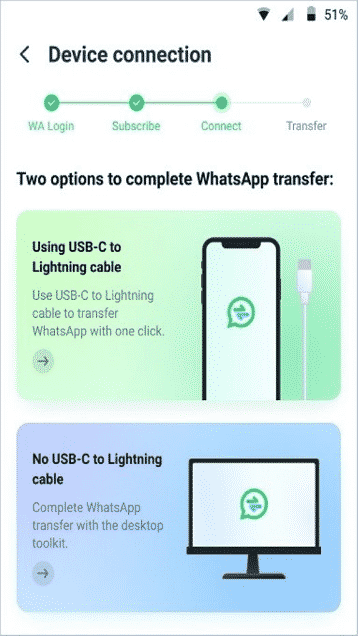 Wrapping Up
To migrate WhatsApp from Android to iPhone can be an alarming task because one wrong step can lead you towards the loss of your entire WhatsApp data. However, it doesn't seem much scary as we have a MobileTrans application.
For this cause, the article readily elaborates how to transfer WhatsApp chat from Android to iPhone and successfully back up all the data.