Golf courses were designed to be walked.
Why would you drive down an asphalt path when you could be strolling through the fairway? Buy the correct lightweight golf bag and you can ditch the cart forever.
Lightweight golf bags give you freedom. The freedom to walk a quick 9 in the afternoon or to play golf during your weekend getaway. You'll be able to get exercise when you play without leaving the golf course with a sore back. Once you convert to a lightweight golf bag, you'll never go back. Less is more.
Get more out of your next round by carrying less!
8 Best Lightweight Golf Bags In 2023
1. The LOMA Bag By Sunday Golf
The LOMA bag by Sunday Golf puts the "lightweight" in the phrase "lightweight golf bag." This Sunday bag weighs less than 2 pounds and is perfect for the casual golfer that likes to have a good time. It can hold 5-7 golf clubs, has a cushioned shoulder strap, and a "frosty" pocket to keep your favorite beverage cold. The LOMA looks great and is available in 11 colors (we love the Ron Burgundy & the Coral Reef). It can be yours for $129.99.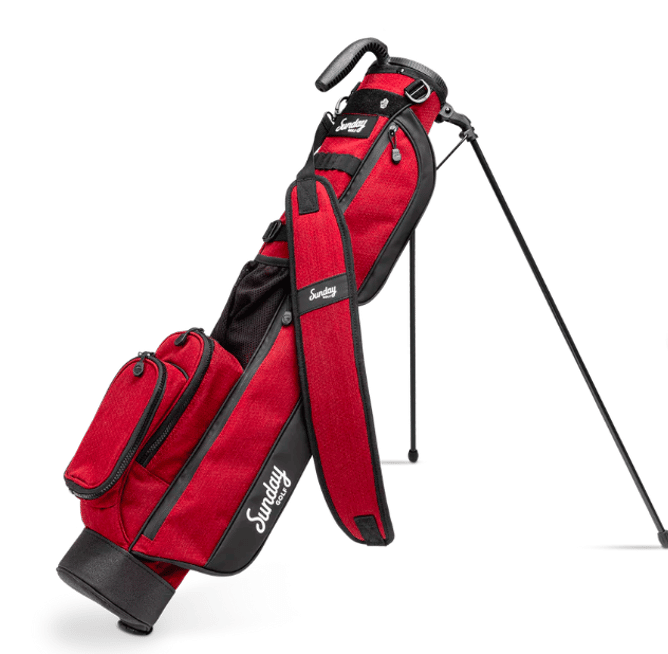 2. Titleist Players 4 Carbon Stand Bag
If you're an avid golfer, you know the brand Titleist. They've been making high-quality golf products for decades and the Players 4 Carbon stand bag is no exception. This lightweight carry bag weighs less than 3 pounds and has a 4-way top with full-length dividers. You have 6 pockets to store all of your golf gear and it comes with a double-shoulder strap. The Players 4 Carbon is designed for serious golfers and comes with a serious price. You can choose from 11 different color schemes for $270.
3. TaylorMade FlexTech Lite Stand Bag
The next lightweight golf bag on our list is the FlexTech Lite by TaylorMade. It weighs 4 pounds and has a self-adjusting double shoulder strap that makes it easy to carry down the fairway. Creatively designed storage options include a top pocket for the items you need quick access to during your round (wallet, cash, etc.) – you never know when the snack cart will be coming around the corner. Select from 5 colors for $190.
4. Callaway 2021 X-Series Stand Bag
The Callaway X-Series is a bit heavier (5 pounds) than others on our list, but you do get additional storage options including a velour-lined valuables pocket and a large apparel pocket. The 14-way top ensures all of your clubs have a specific home. It includes a rain hood in case you get caught on the back 9 in a quick shower. Six basic color schemes are available for $190.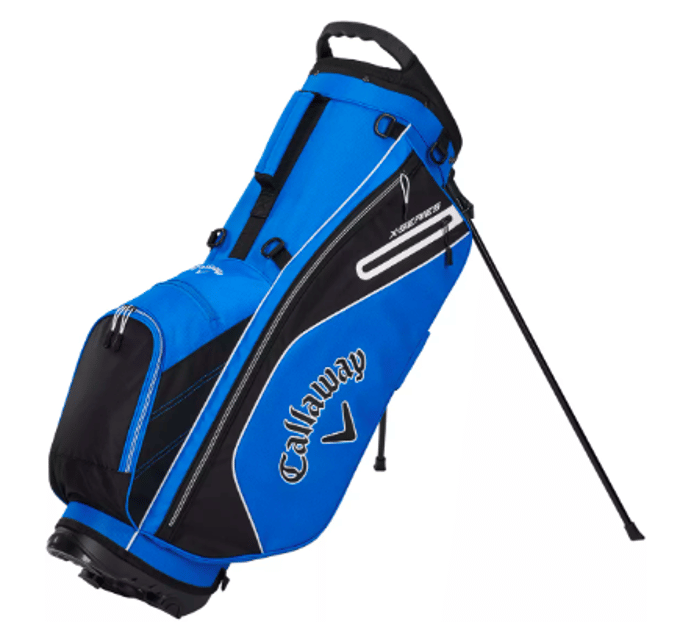 5. Orlimar Pitch & Putt Lightweight Golf Bag
The Orlimar Pitch and Putt is the most economical lightweight golf bag on our list, but there are some trade-offs. It's very small (less than 2 pounds) and won't hold more than 4-5 golf clubs. The shoulder strap isn't terribly comfortable and most players end up carrying this bag by its handle. It's a great bag to take to the driving range or play a par-3 course, but is not the best if you plan to play 18. The Pitch and Putt has one storage pocket for balls, tees, and gloves. There are plenty of options to choose with 17 color options starting at $50.
6. Izzo Ultra Lite Stand Bag
The Izzo Ultra Lite is an interesting option from a brand you may not be aware of – it weighs 3.2 pounds and has a 4-way top to help you organize your clubs. We'd describe this bag as simple and plain (lacks bells & whistles), but one that'll get the job done. It's available in 6 different color schemes for $130.
7. Frogger Golf Function Stand Bag
Frogger Golf made its mark with their innovative golf brush and two-sided towel, but they've now expanded into lightweight golf bags. The Function bag has seven pockets, a 5-way club management system, and weighs just under 5 pounds. It's designed to be carried, but includes a "cart strap" if you decide to ride. The integrated magnetic Catch Latch receivers with accessory attachment keyrings are unique and a cool feature. This "aquatic-looking" bag is available in 6 colors for $230.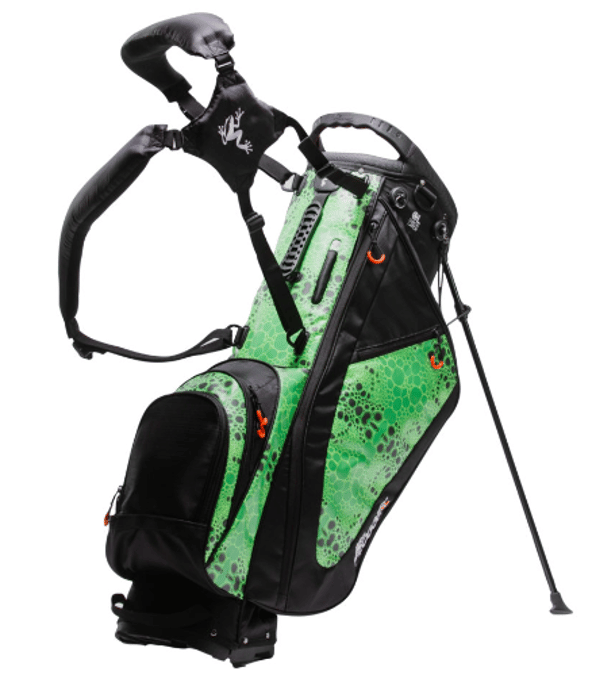 8. Cobra Golf Ultralight Sunday Bag
If you love Rickie Fowler, we're guessing you'll love the Ultralight Sunday Bag by Cobra Golf. It weighs 3.8 pounds (a bit heavier than it looks), has a 3-way divider, and includes an apparel pocket and a mesh beverage pouch. The double-shoulder strap is comfortable and this Cobra lightweight golf bag is available in 5 color schemes. The price is $90.
Choosing The Right Golf Bag
We can tell you our favorite lightweight golf bags, but you need to decide on the perfect product for you. Consider the following before pulling out your credit card.
Key Features
There are several features that all lightweight bags have in common – comparing these can help you make your decision. What's the weight and size (how many clubs does it hold)? How much and what type of storage is available?
Always take a look at the straps and the quality of the stand.
Personal Preferences
Now that you've compared the standard features, it's time to look at what makes each bag unique. Do you enjoy a cold beverage on the course?
Look for a pocket designed to keep it chilled/frosty. Do you plan to play in the rain? If so, look for a way to attach your umbrella and a rain hood.
Never forget to consider your personal sense of style. It's important to look good on the course. You want to be confident in the appearance of your lightweight golf bag. A confident golfer is a better player. Look for a product that gives you options on colors and designs.
Budget
We all want a great deal. Price is a critical component of your decision. Get a great product for a great price and use the money you save on a new putter or some sweet golf apparel.
Find The Perfect Lightweight Golf Bag For You
We'll paraphrase a line from Robin Williams in "Good Will Hunting." You're not a perfect golfer; there's no perfect lightweight golf bag.
The question is whether or not you're perfect for each other!
Select your lightweight golf bag based on how you enjoy playing the game. Find the "right" product for you and enjoy your afternoon in the sun.
Good luck and play well!