Weighing yourself regularly is a crucial part of an exercise and diet program. It can help you stay focused and motivate you to achieve your goals. However, a traditional body fat scale doesn't provide the full picture of your overall health. The good news is, recent developments in connected health technologies have introduced incredibly accurate smart body fat scales that make staying healthy easier to accomplish.
How Does a Smart Body Fat Scale Work?
A smart body fat scale uses bioelectric impedance analysis (BIA) to collect measurements, which it can share with other devices. BIA involves passing a harmless, undetectable electrical current up through the user's feet to estimate the relative percentage of different substances and tissues within the body. The results are very accurate and consistent.
Factors That Affect the Body Fat Rate?
Before we understand the accuracy of smart body fat scales, we could first take a look at the affecting factors of the accuracy of the body fat rate and the scales both.
Many factors could affect the body fat rate. These include the state of your body, e.g. skin dryness, hydration status, etc. Changes in water balance are the primary cause of fluctuating body fat rates. Hormonal fluctuations are another contributing factor. Time of day also plays a role in affecting body fat percentage reading. Because of these factors, you should only consider your body fat percentage values as an estimate and frequent measures are not encouraged.
Factors That Affect the Weight Result of the Body Fat Scale?
Different body fat scale tools give different readings. This can happen due to many reasons. The two primary reasons include the following:
Sensor & Strainometer: High precise sensor and sensitive strainometer will give accurate weight reading
Current: The electrical current used by body fat scales is affected by the hydration levels and your body position. The data change of these two factors will affect the current change and thus affect accuracy.
Current Frequency: In general, the accuracy of multi-frequency currents is greater than that of single-frequency currents. The accuracy of AC currents is greater than DC currents. In turn, segmented currents will be greater than cylindrical types.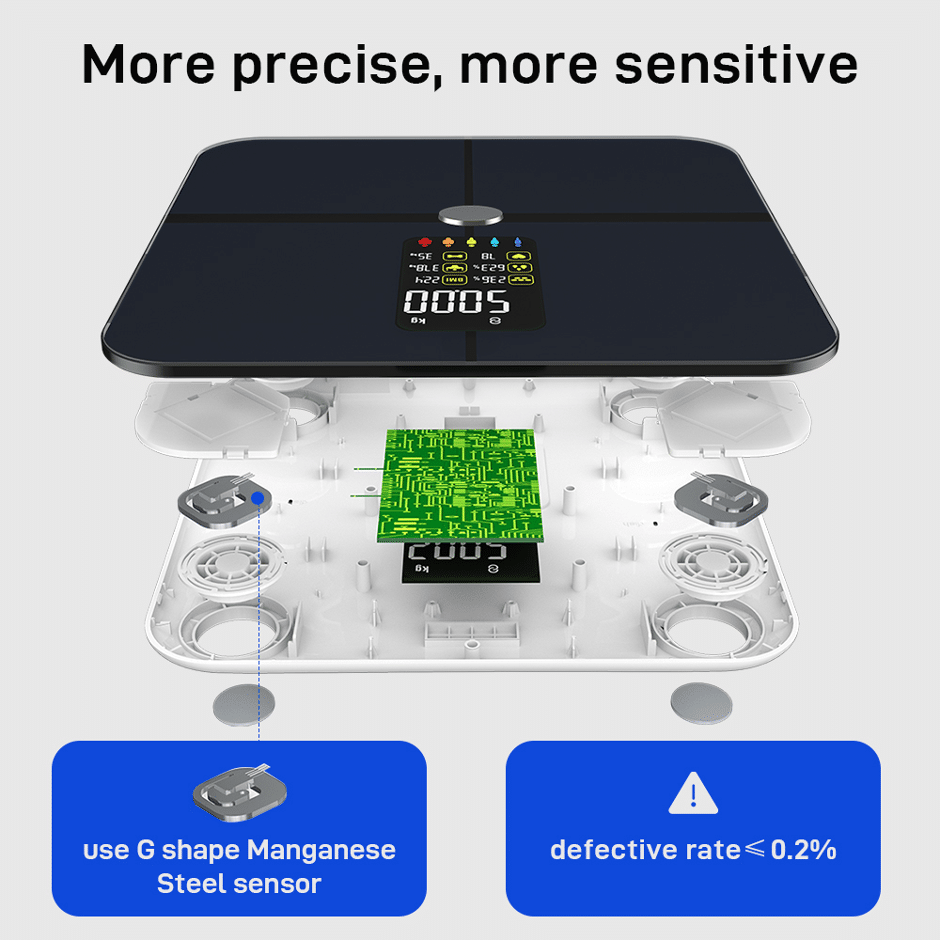 Because of these factors and its convenience, accuracy, and affordability, a smart body fat scale is a reasonable alternative to traditional body fat scale products.
Welland's Smart Body Fat Scale Products
If you're looking for worthy smart body fat scale products to invest in, Welland specializes in manufacturing innovative smart household health measurement products, including smart body fat scales. These smart products, e.g. FG2019LB-A, FG220LB, FG2015, etc. are compatible with the popular "Fitdays" app for an enhanced experience.
Some of the top reasons to choose Welland's smart body fat scale products include the following:
Independently developed Strainometer and G shape Manganese Steel Sensor: The overall defective rate is ≦ 0.2%, which makes the weight measurement more accurate. And the variance of the results obtained from our self-developed solutions for fat measurement and similar products of medical grade > 0.97.
Certified Products: All the smart household products from the brand are certified and approved by CE, RoHS, FCC, and more.
ODM and OEM Custom Service: Welland also offers ODM and OEM services to facilitate custom designs, app development, and more.

Conclusion
Established in 2014, Welland specializes in manufacturing and supplying high-quality smart health measurement products. All of their products feature the latest technologies and detailed digital displays to make it easier for consumers to track their measurements. The contemporary design of these products makes them suitable to be used in all indoor spaces. Welland strives to offer great value through its innovative products, excellent customer service, and a strong commitment to quality. For more information about smart body fat analyzer products, visit Welland's website.