More and more industries have adjusted to a semi-remote and remote only future following the Covid-19 Pandemic and companies such as Amazon and Food Ordering Apps have seen a huge surge in users and time spent, but it's not only E-commerce and Food Delivery businesses that has seen a nice spike, but also the gaming industry with a huge online presence.
In this article we will list a few Gaming stocks to watch closely.
5. Kambi Group PLC (Kambi:SS)
Kambi Group has a Sports Betting Platform that has taken the world by storm which you can clearly see in the 1Y comparison graph below. According to their website – Kambi was created to improve the sports betting experience for players across the globe and they are well on their way to complete their mission. Being the go-to sports betting platform for online casinos around the globe they have seen a good boost in numbers in recent years with no signs of capping. At this point you can find the Kambi Product on Las Vegas Casinos and Popular Casinos within Europe.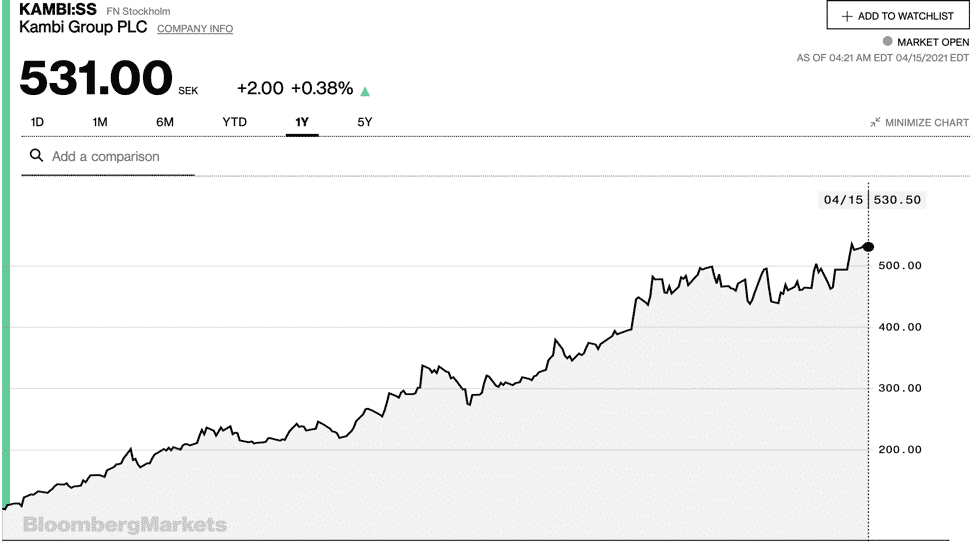 Playtech is a power house in Gaming and a one stop solution for Casinos. Their products include Casinos, Slots, Live Casinos, Compliance Tools and Sport Betting. They are currently trading on the London Stock Exchange and can have had their share value doubled year on year. Despite the covid-19 pandemic they have still managed to show solid numbers and can be considered a safe bet in the long term.
3. Evolution Gaming Group (EVO)
Evolution Gaming Group started off as a Live Casino Studio and has since then acquired NetEnt AB, the premier slot supplier in Europe for the past ten years and can now add Slots to their offering. If that is not enough, they also acquired the Australian Slot Provider Big Time Gaming for a sum of nearly $540m. The stock is one of the fastest growing stocks on the Stockholm Stock Exchange and the price per share has grown 199% year on year when this article was published. Evolution is closely following the US Market and a successful launch in the US can see the stock price go up even higher.
2. Trustly
Trustly is a FinTech company that recently announced their plans for IPO. This means that they are not available to trade with yet but should be available sometime in Q2 2021. Trustly is a company that has grown exponentially the past few years, mostly due to their innovative product called Pay N Play. This feature has since the launch in 2016 become the most popular payment feature for Online Casinos in Scandinavia and countless casinos have opened up exclusively using this payment option. According to Finland's Premier Casino Portal Laatukasinot.com more than 50 casinos operating in Finland are using this method, and even more world wide.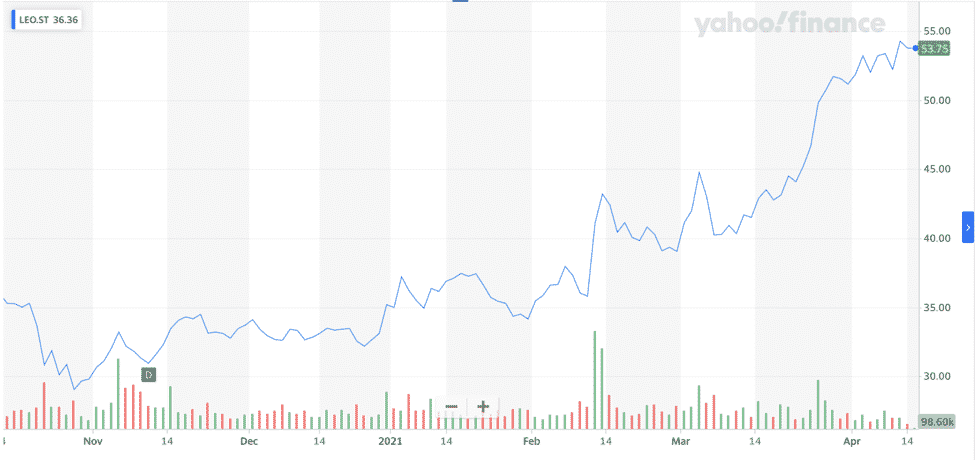 1. LeoVegas AB (LEO.ST)
LeoVegas is the only online casino on our list as the other companies are working mostly on B2B and funny enough, all of the mentioned companies are working with LeoVegas. LeoVegas is an Online Casino with a huge reach, their popular markets include Scandinavia, Germany, Canada, United Kingdom, New Zealand and India and they have since the start in 2012 had a Mobile First Approach to everything they do which has made them a market leader in the Gaming Industry.
They are currently trading on the Stockholm Stock Exchange and have had a rocket growth year on year that is highly impressive.
If you are a trader or if you are looking to start trading, we would recommend you to keep a close eye on these five options. This is by no means a recommendation to buy or invest heavily but out of the many listed Gaming Companies out there, we believe that these offer a good mix of short term and long term growth for your portfolio. Be advised that trading shares does not mean that you will earn money so tread carefully and make decisions based on smart judgements.