The successful convening of the SADA Congress and IDEX 2023 opened up a new world of dental care, providing industry experts and customers with a platform for promoting internal exchanges. As one of the outstanding exhibitors, endodontic instruments brought by Dental Perfect saluted both exhibitions.
Dental Perfect in SADA Congress and IDEX 2023
SADA Congress is held in Cape Town on 25 to 27 August 2023. The Congress is one of the most prominent dental conferences in Africa, attracting dental professionals, researchers, and industry leaders worldwide. This annual event is renowned for its commitment to dental education, innovation, and best practices.
Dental Perfect's endodontic instruments were brought to Congress by Wright Millners, the most significant dental company in Africa. Dr. Ahmed Shawky, a senior lecturer in endodontics at the Faculty of Dentistry of Cairo University in Egypt, delivered a two-day lecture containing a demonstration of D-Perfect RE TREATY SYSTEM.
IDEX is a globally recognized dental exhibition and trade fair that attracts dental professionals, manufacturers, and suppliers from all corners of the world. This event provides an invaluable platform for Dental Perfect to showcase its products and services on an international scale.
At IDEX 2023, event that took place in InterContinental CitystarsHotel Cairo -Egypt, on 16 to 18 August 2023, Dental Perfect unveiled its latest innovations in dental technology, emphasizing its commitment to global dental excellence. Visitors to the Dental Perfect booth can explore a wide range of dental solutions, engage with industry experts, and gain insights into the future of dentistry.
Introduction of Dental Perfect's endodontic instruments
Three boutique products of Dental Perfect are selling well as follows:
i. ZR Touch:
As a Dental Perfect star product, ZR Touch, clinically used for shaping in root canal treatment (RCT), is more comfortable to hold and facilitate the operation. The new generation suit is for left-hand and right-hand use with its adjustable LCD screen, and buttons display in the same direction. It boasts eight silky and smooth switching modes to adjust to clinical use.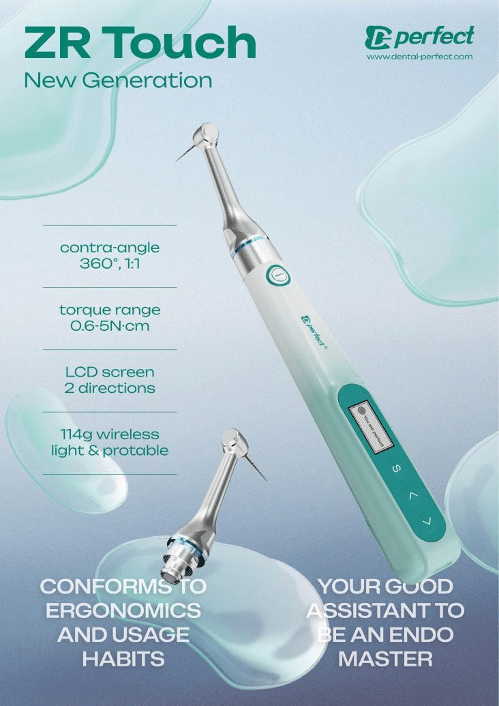 This endodontic device supports presets, with a total of 5 manufacturers and 8 modes. The speed and torque are all precisely set based on sound research, and the maximum torque can reach 5NCM.
ii. BR RAP:
BR RAP is one proud work of Dental Perfect, characterized by its brushless motors, two-in-one root endo motor motor, 360°rotatable contra-angle motor shank, and high speed with high torque.
Compared with other similar endodontic instruments on the dental market, it has a surprising reduction ratio of 6 to 1. The torque is between 0.4-5.0NCM, making two kinds of reciprocating motions come true, and the angle can be adjusted. Through dynamic control, it can effectively prevent needle breakage. Root canals can be measured and shaped, showing high efficiency. Meanwhile, its low heat generation, vibration, and noise make users more concentrated. Most importantly, the battery capacity is larger, bringing longer working time.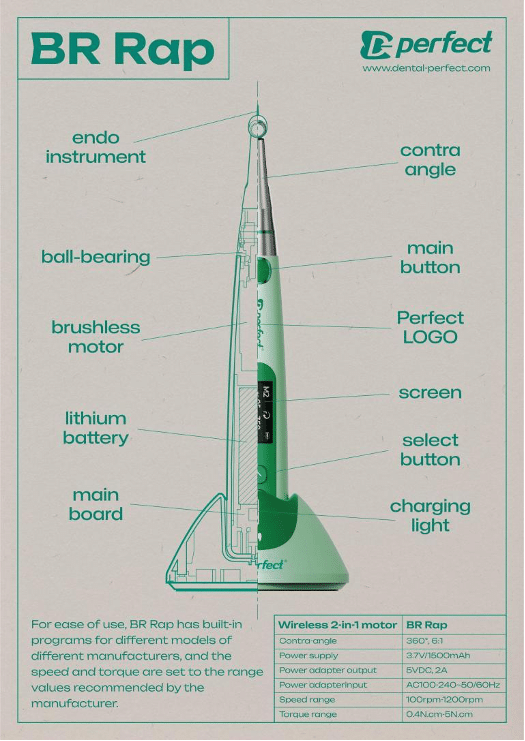 3. 3D File:
3D File, Perfect Rotary Instrument, is famous for its extreme flexibility and super elasticity. After a revolutionary design, these root canal files can be considered a masterpiece in the current market of endodontic instruments.
The File adapts perfectly to the shape of the root canal, providing unprecedented cleaning thoroughness. It treats the remaining uncleaned parts of the channel with a scraping motion, and the turbulence it creates increases the efficiency of the irrigant, allowing people to treat a large surface area of the dentine wall, effectively removing biofilm.
Conclusion
Dental Perfect, also known as Perfect Endo., is an outstanding dental instrument supplier dedicated to creating professional dental tools. Dental Perfect is determined to be the most positive, influential dental healthcare brand. To create an exceptional global dental brand, promoting innovations through state-of-the-art manufacturing, Dental Perfect is fighting.
With the factory building of 25,000 square meters, 45,000 taper files can be produced daily by highly mechanized automation. As an experienced dental instrument supplier with more than 15 years of experience, Dental Perfect has a market-leading R&D team! It is an excellent choice that business-end buyers can trust.
Visit their website to get in touch with the evolving dental market.