Content is king – and we all know it by now. But as custom behavior is evolving, so should the approach we take to deliver our content. For example, as Google gets smarter by the day and understands user intent, stuffing keywords is not a solution anymore. Smart work and thought leadership are the need of the hour.
A lot more time is spent on researching on a product or service before they fill up that contact form. And they're not going to use just one medium to carry out an investigation. Focusing solely on SEO or social media marketing or blogging, won't just cut it. You have to make your presence felt everywhere they look for you.
In this article, we won't be talking about new content strategies that you can implement right away and see the difference in 7 days. Rather, the intention is to emphasize on some content strategies that work for you while enhancing the workings of some to make way for a brighter future.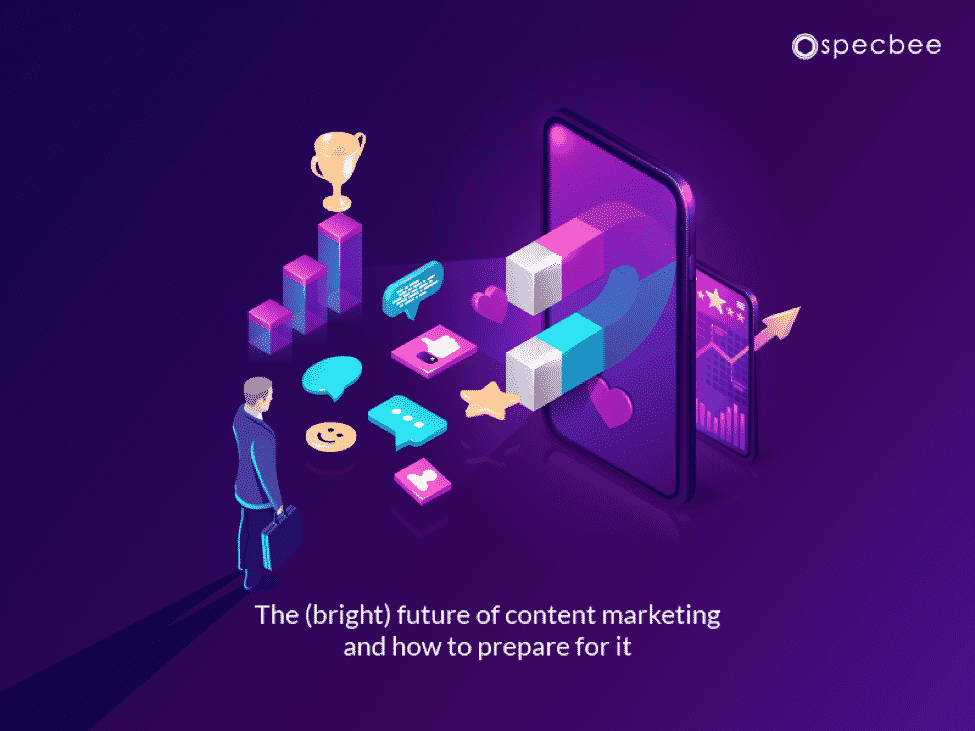 What's here to Stay…but with a Difference
The Power of Storytelling
Content marketing is not about what you can offer, it is about the stories you can tell. And good storytelling can never get old. There's too much content clutter around these days and it gets harder to draw attention towards your brand. Good storytelling can take your user on a journey through your brand, touch their pain points and offer them a solution that will make all their problems disappear.
What can you do differently – Be real. With customers getting bombarded with fake promises every single day, you cannot fool them anymore with unreal claims at the end of your story. It is time to show what you can genuinely do for them. Use attention grabbing hooks like an intriguing quotations or questions they can relate to. Throw in some statistics to prove your point. Display thought leadership by being original and a trendsetter.
Blogging – Out of Style?
For those who think that blogging is not relevant anymore or is going out of style, let me brief you on some cool statistics –
Every month, more than 20 billion blogs are read by more than 400 million users.
When websites have a blog section, they have 434% more indexed pages.
The internet has about 77% of blog readers.
Blogging is here to stay but there are a few things that you can stop doing right now and a few that you can start doing.
What can you do differently – Spend more time on write a head-turning, eye-catching headline for your article. Write more detailed blogs with fresh and original content. Include a lot of rich media (images/videos/infographics) to engage your users. Publish blogs regularly – maintain a content calendar. Don't focus on stuffing keywords. Instead, make sure your content is relevant and of high quality.
Watch Out for more Video Marketing!
Did you know that people spend about 16 hours a week on an average watching videos online? According to the same study, about 66% of people want to learn more about a product or service via videos.
What can you do differently – Keep it real and not too flowery. Videos should be short and engaging. Don't beat around the bush. Personalize your videos to very niche segments of your audience. Display trust, creativity and thought leadership throughout your video. Storytelling must be powerful, address pain points and provide solutions to them.
Wise to invest in a good CMS?
To be able to captivate your audience and keep coming back from more, you will need to churn out fresh new content updates. Successful brands have their marketing teams and content teams working in tandem towards the same goal. Or sometimes, it is only the marketing team strategizing all of the brands content initiatives. Now, without a good Content Management System, this is almost close to impossible.
What you can do differently – Choose a CMS that suits your business requirements like your budget and customizations. It should also allow you to create and update content easily and must have features like a good editorial workflow, user access control, SEO compliance, security and many other features that you will find in a CMS like Drupal. Hiring a trusted Drupal development company can give you the flexibility to build and customize a website of your choice while keeping your content relevant.
Is Social Media Dying?
This is definitely debatable but yeah, the fact remains that user are changing their behavior towards social media. About 32% of social media users in the US and UK have closed all or some of their social media accounts since 2020.
What you can do differently – Produce more engaging content. Attract your audience with stuff like videos, Augmented Reality and Virtual Reality. Users are more drawn towards experiences and will continue to do so in the future. Leverage influencer marketing. Track your best performing content and create similar content that works best for you.
Final thoughts
While content trends come and go, you need to identify what strategy works best for your brand. Measuring success of your strategies should never be overlooked. The thing about implementing content strategies is that a year from now you would wish you had started today. But it's never too late. Plan, organize, strategize, implement, and evaluate – are the five keywords to successful content marketing.