In the post-pandemic era, business trips are getting back. Some jobs may take people to the four corners of the world, but no matter where the destination is, chances are that a laptop or tablet is an indispensable device for people in business.
It is agreed that people should travel with a laptop and take care of it on a business trip. After all, working off a laptop gives you loads of freedom to live and work however you'd like. Additionally, the best laptop bags are not just about practicality; they help establish a personal image to some extent.
Then what should one expect when selecting the best laptop bags that suit one?
What to expect from the best laptop bags for a business trip
While looking through the best laptop bags for a business trip, one needs to determine his desired core objectives. The article compiled the 3 most fundamental functions a laptop is supposed to boast as follows.
1. Practical & stylish design
Remember that the whole purpose of the bag is transporting the laptop, so make sure that practicality is the priority in selecting the best laptop bags so that the transportation experience is as comfortable as possible.
Refrain from discounting the style, too. The bag reflects you and your standards and style and sets the tone of what your employees, clients, customers, or employers expect from you. Make sure the bag matches the image you want to display.
Regarding practical and stylish laptop backpacks, Bagsmart offers a wide range of options to cater to personal preferences.
2. Durable
A laptop backpack should not only be strong enough to safeguard your device against any jolts and knocks, but must also resist the extremes of weather you may encounter along the way. If a waterproof option is available, it would certainly come in handy during sudden downpours or other wet conditions. Ripstop fabrics are ideal for providing long-lasting protection from wear and tear over time, while ensuring that cleaning is easy so your bag can look fresh even after many trips!
3. Multiple storage compartments
Multiple storage compartments allow the separation of personal stuff and, therefore, the easy extraction of various items. Along with multiple pockets designed, the laptop bag protects the laptop from being knocked or pressed against the other items within the bag. For instance, a charger can damage a laptop if both are not suitably stowed.
The Best Laptop Bags From Bagsmart
With 17 years of experience, Bagsmart laptop backpacks enable people worldwide to access affordable, high-quality bags. So far, Bagsmart laptop backpacks have reached over 150 countries, and millions of parcels have been delivered.
This article presents 3 of the best travel laptop backpacks from Bagsmart for your review.
1. Bonchemin 15.6-Inch Laptop Backpacks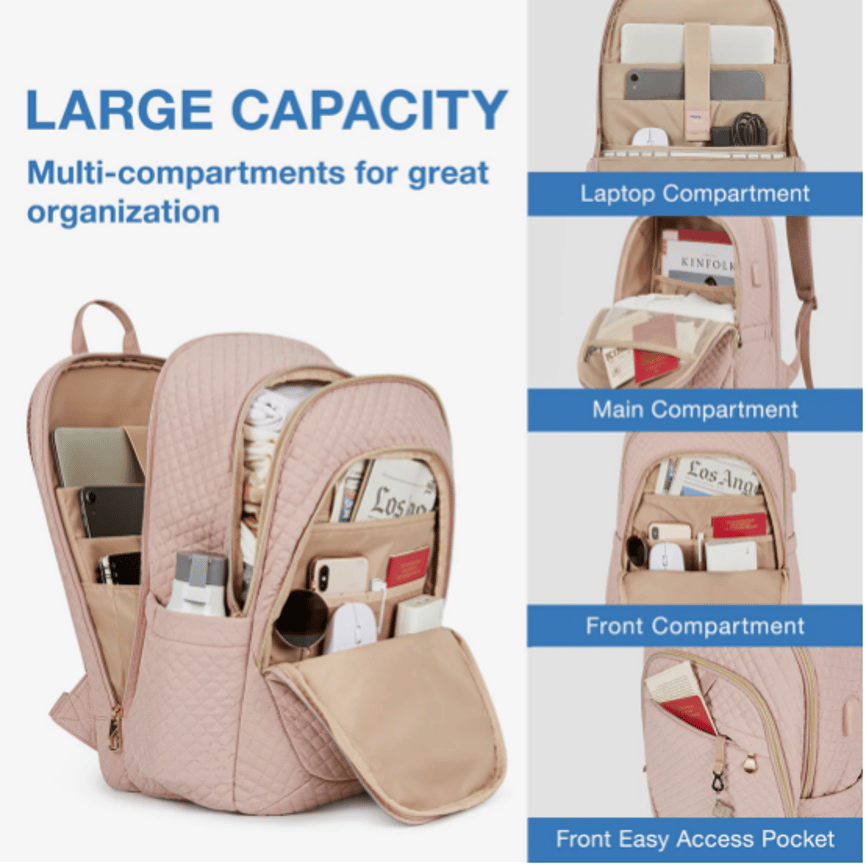 The Bonchemin 15.6-inch laptop backpack combines functional elements with a modern and practical design. It is made from durable quilted fabric and embellished with the 'Bagsmart' logo on the front. Featuring a two-way zip closure, the large, versatile women's backpack provides easy access to all your essentials. The quilted backpack has multiple storage compartments to accommodate laptops up to 15.6 inches.
In addition, the bag has multiple storage compartments with numerous pockets and a hidden zipped pocket on the back for storing valuables to prevent theft.
2. 17.3-Inch Laptop Bag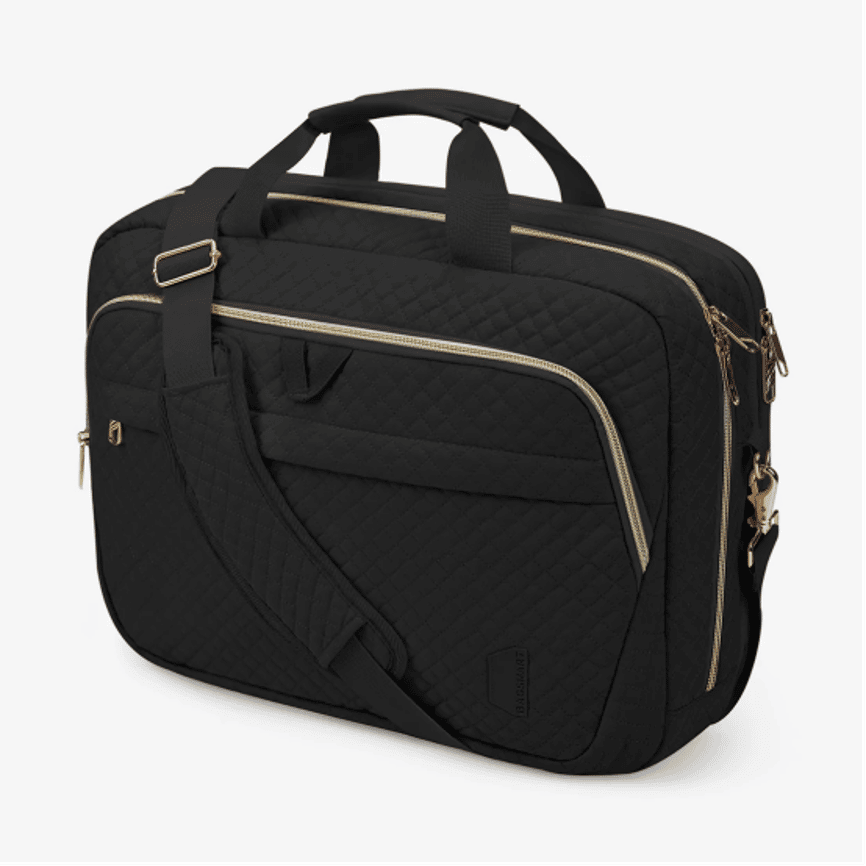 The 17.3 Inch Laptop Bag in a simple shape perfectly suits commuting and travel. Made from durable, water-resistant polyester fabric, this sturdy expandable laptop bag is equipped with multiple storage compartments for all your daily essentials.
The large capacity and separate tech compartment with a large opening zipper design make it perfect for professional office work, business travel, weekend getaway, or school life.
3. Falco Office Briefcase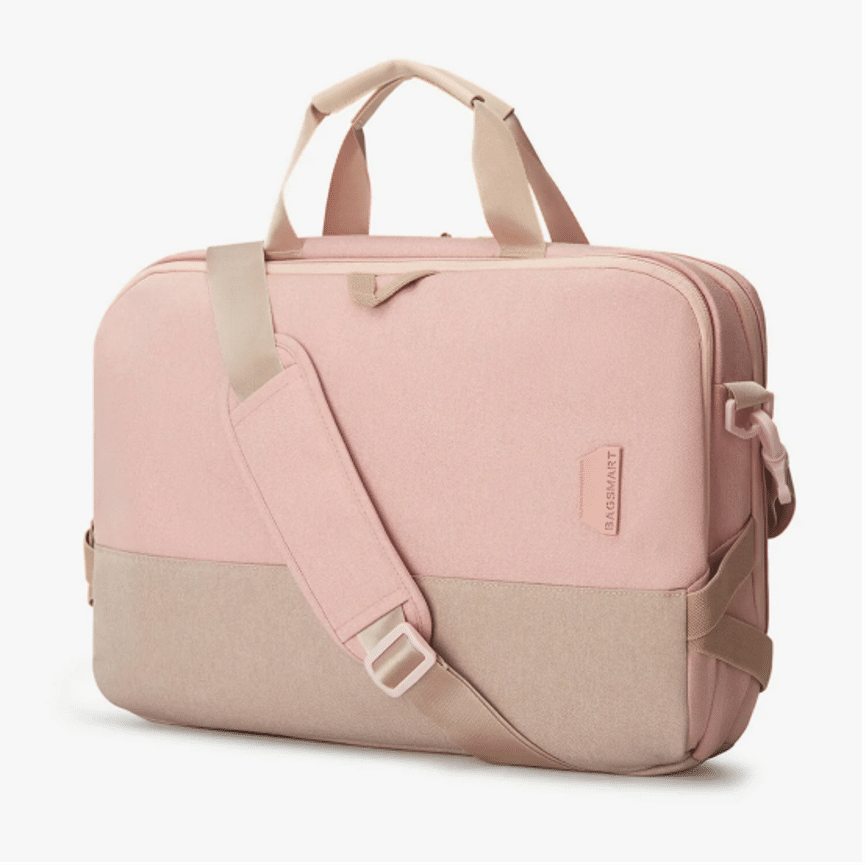 The Falco office briefcase offers a confident style and everlasting style. The functional design uses EVA foam to protect the edges and interior contents. With multiple storage compartments and RFID-blocking pockets, this stylish office bag can hold all daily essentials and laptops up to 15.6 inches. The soft handle and shoulder strap allow this simple style to be held in hand, worn on the shoulder, or slung over the shoulder.
Final Thoughts
Despite different criteria for what makes the best laptop bags, all three recommended bags are practical and durable to wear for an entire commute and look stylish. Apart from laptop backpacks, Bagsmart provides a wide range of bags, such as toiletry bags, camera bags, packing cubes, electronic organizers, etc. If you are in need of a bag, have a look at Bagsmart's products.