Imagine the year 2040: You're smoothly cruising in an autonomous vehicle on a bustling Black Friday weekend, anticipating your next purchase. But as technology races ahead, one can't help but wonder: will our age-old brick-and-mortar stores still exist in this transformed landscape?
"It's common to view technological advancements in isolation, like the rise of autonomous cars. Yet, it's crucial to recognize the interconnectedness of these innovations with our habits, lifestyles, and urban environments," says Saurabh Nimsarkar.
Echelon, a retail space provides a visionary snapshot of this future where transportation isn't just about moving from one point to another but an experience.
Saurabh Nimsarkar and the Origin of Echelon:
Saurabh Nimsarkar, a renowned experience designer and strategist, has pioneered advancements in transportation and product design, championing inclusive futures. Currently at Wisk Aero LLC, a Boeing subsidiary, Nimsarkar is at the forefront of designing autonomous air taxis, with a keen emphasis on accessibility for those with disabilities.
Previously, he worked for many high value clients like Godrej and Boyce, Honda R&D, KittyHawk, Mayor's office of Los Angeles, Urban Movement Labs, and Michael Neumayr Design. Mr. Nimsarkar possesses a double masters degree in transportation design from the prestigious Indian Institute of technology, Bombay and ArtCenter College of Design, Pasadena.
To clarify, Echelon isn't an actual space or in construction. It's a visionary concept from Mr. Nimsarkar, exploring the fusion of autonomous vehicular futures with the enduring allure of in-person shopping and its impact on urban landscapes.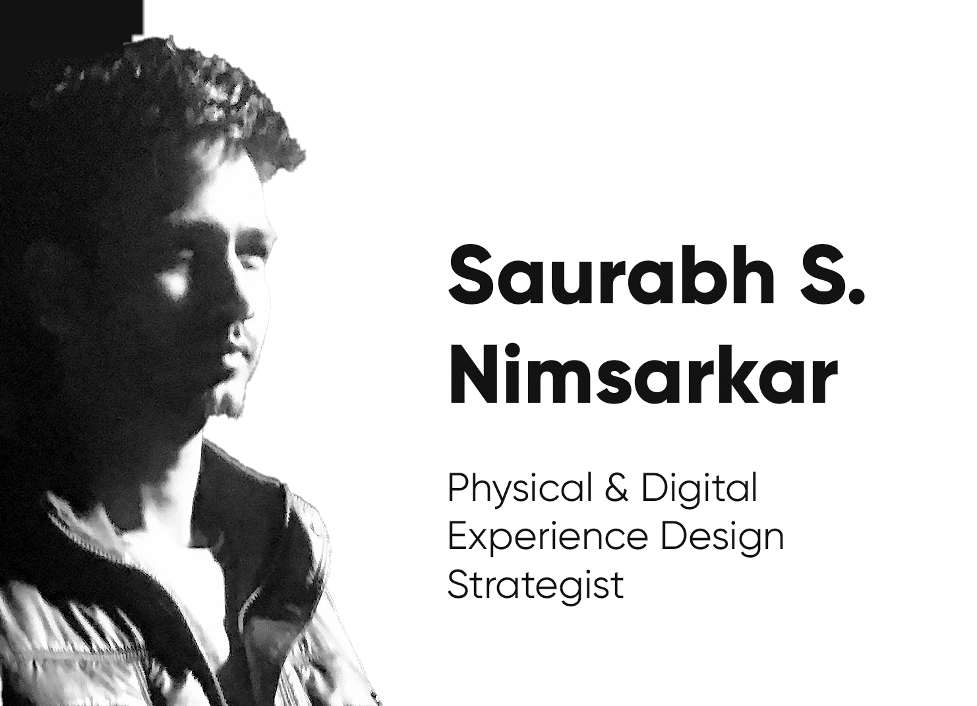 "Are Autonomous Vehicles and Bots Revitalizing the 'Dying' Brick-and-Mortar Retail Space?"

Prior to the COVID-19 pandemic, reports suggested brick-and-mortar stores were in decline, a perspective I found surprising given the joy of in-mall experiences. A deeper look revealed America has a retail footprint double any other country, with three new shops opening for every one that closes. The occupancy rate is a robust 92%, reflecting pre-recession stats. A vast 85% of consumers, including 58% of Generations Z and Y, prefer physical shopping, drawn by tactile experiences, service, food, discounts, and community ambiance.
Technological strides are reshaping this landscape. Innovations, such as autonomous cars and bots, are merging retail and transportation sectors. For instance, Amazon employs bots like Proteus for inventory, while Waymo and Walmart collaborate to offer customer rides. These trends suggest a shift in urban shopping experiences, aligning with modern preferences.
Echelon was a result of rigorous research studying social, technological, environmental, economic, and political STEEP parameters over the scale of time from present to future. This was coupled with ethnographic research of in-field observation of going to a shopping mall and talking to people and being a fly on the wall. And yes it also comes with the perks of shopping and enjoying ice cream myself as a researcher.
These insights were then formulated into design principles and design stories for Personas.
For Echelon, I sketched out two types of shoppers' persona. One who is a shopaholic, impatient, and impulsive shopper who loves retail therapy and who values tangible experiences of trying before buying. And another, one who is a very methodological buyer, wait and watch, online wishlist buyer who checks everything online but buys in-store.
The design principles and user persona led to the ideation of over 90 ideas relating to how people travel to shopping malls, in-shop experience, travel back to home, unpack, and deliver – basically catering to an omni-channel travel experience.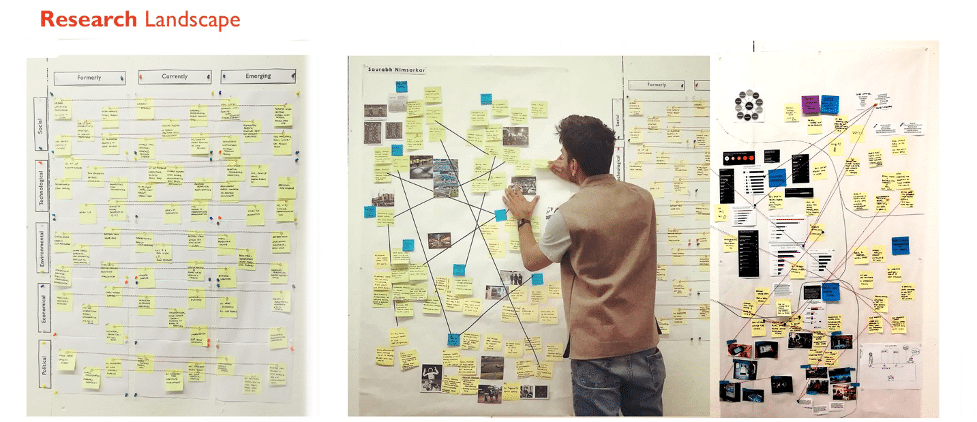 What's the strategy behind generating such a wealth of 90+ ideas? Do you have a secret formula for this level of creativity?
Discipline is the secret – no mystical formula required. For me, idea generation is akin to a gym workout, where imagination is the muscle to be flexed. Sometimes, I impose a challenging pace on myself, like aiming for one doodle per minute and holding myself accountable if I fall short.. I don't think anyone was ever criticized for having too many ideas. Be audacious in your creativity.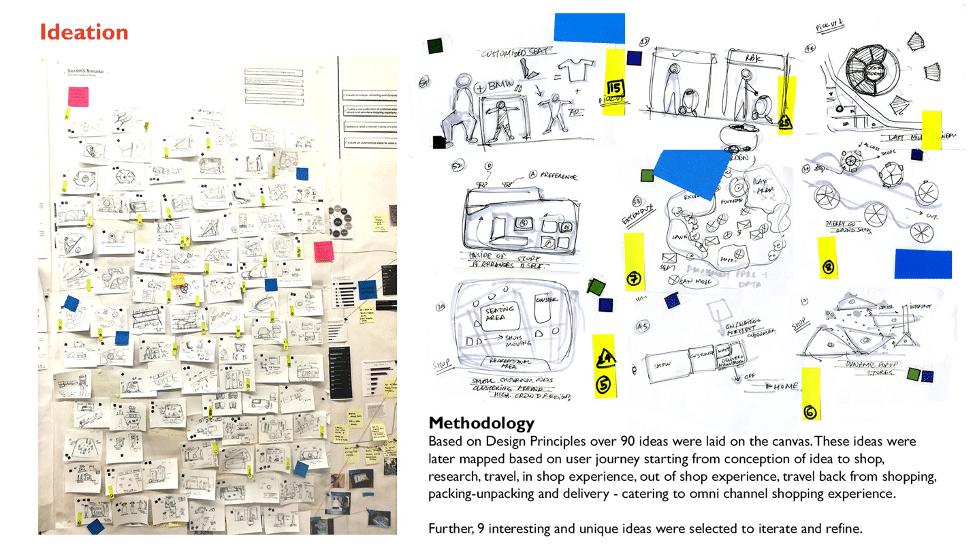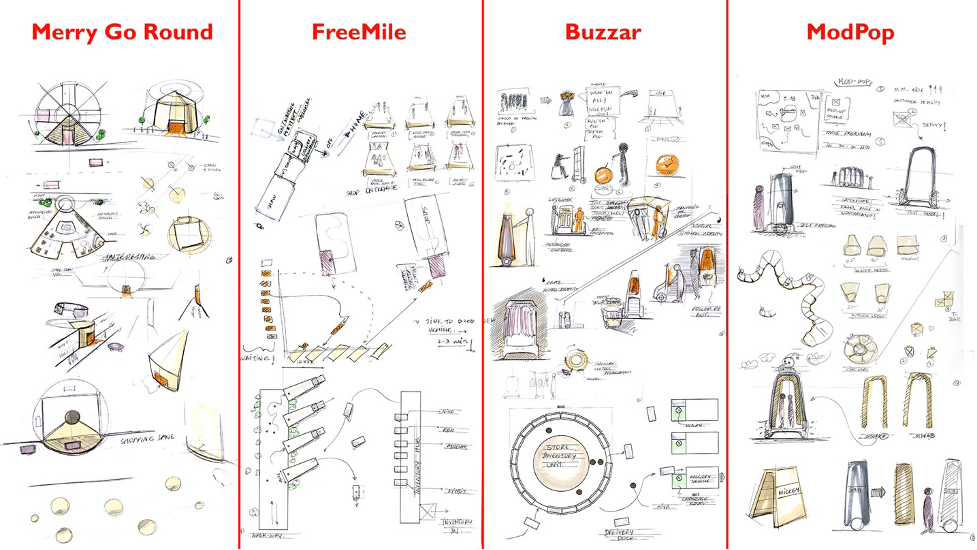 Could you elucidate on the concepts behind Merry-Go-Round, FreeMile, Buzzar, and ModPop? What are the driving principles, functionalities, and target demographics for each, and how do they interrelate or differ from one another?
Merry Go Round
Facing the drawbacks of traditional drive-thrus, like long waits and minimal engagement, Merry Go Round revolutionizes the shopping landscape. Positioned at Echelon's corner, it's a rotating circular space with four storefronts. Two face the roadside, accommodating autonomous vehicles. After customers disembark, the structure rotates, presenting the alternate shops. Leveraging v2v technology, these vehicles synchronize for efficient movement, offering shoppers a seamless experience and the choice to return to their vehicle or another. Merry Go Round's dynamic design optimizes space and enhances shopper engagement, heralding a new era beyond conventional drive-thrus.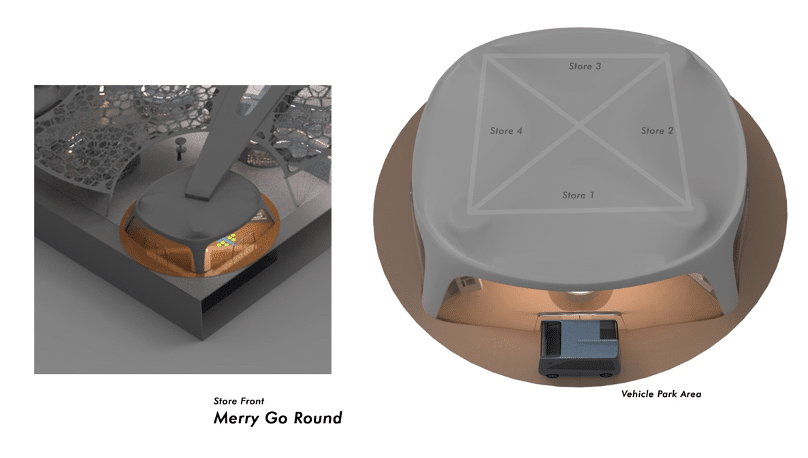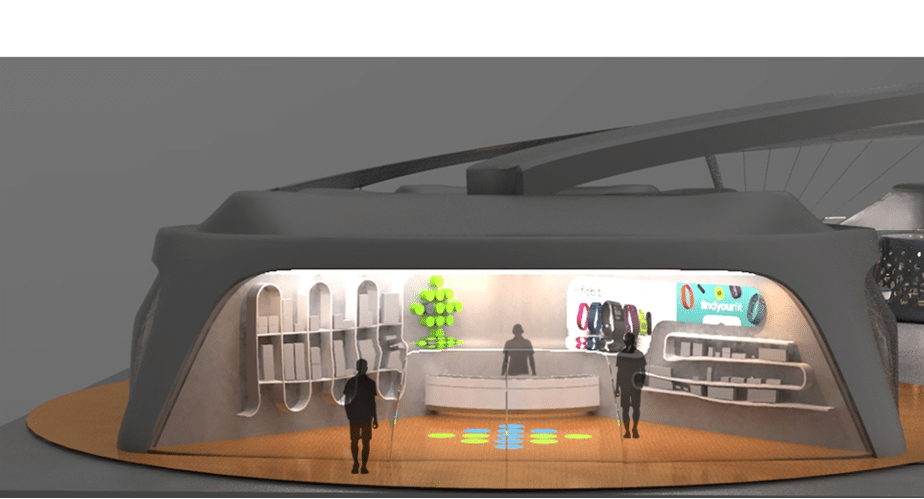 FreeMile
In a world where vehicles transcend transportation, FreeMile redefines shopping. Part of the Echelon ecosystem, imagine a journey where your vehicle kickstarts your retail experience. En route to the store, onboard technology scans your feet, optimizing size and fit, while even pampering you with a foot massage. At the store, you test shoes perfectly tailored to you, but they're merely prototypes. The climax? Your chosen pair is 3D-printed in your vehicle, merging impeccable fit with personalization. FreeMile isn't just about buying; it's an orchestrated blend of experience, convenience, and innovation.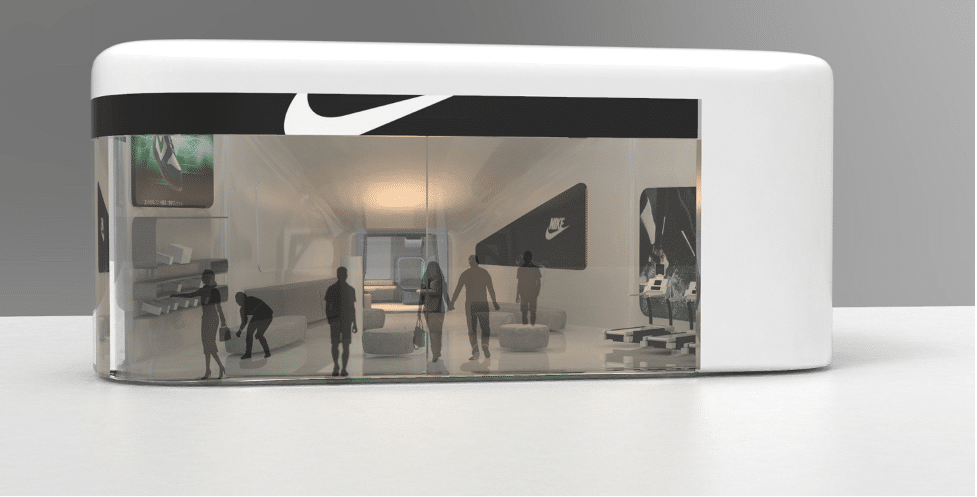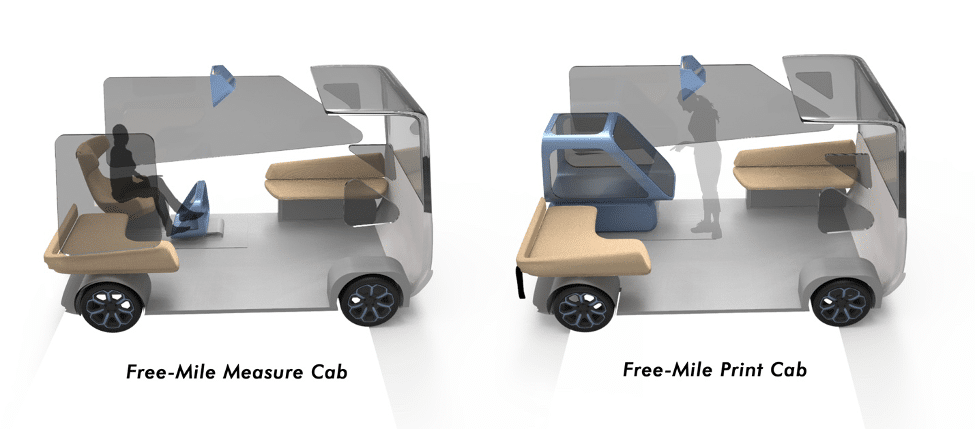 Buzzar
Buzzar 2040 is where Echelon's future-facing technology reshapes shopping, melding the charm of traditional bazaars with the future's innovations.
Imagine this: Seeking a new dress, your personalized shopping adventure starts in an Echelon vehicle. Here, you preselect outfits from your favorite brands. On arrival at the Buzzar hub, autonomous bots, serving as roving mirrors and hangers, showcase your choices. The highlight? A digital mirror that virtually drapes selected outfits on you, reminiscent of online eyeglass trials.
Your shopping finale unfolds in another Echelon vehicle, equipped with a plush changing room. Try on your chosen attire, and if it captures your heart, step out wearing it.
Buzzar is more than shopping; it's an immersive, bespoke journey, optimizing brand engagement, inventory, and customer experience. Dive into 2040, where shopping seamlessly marries transportation and curated retail indulgence.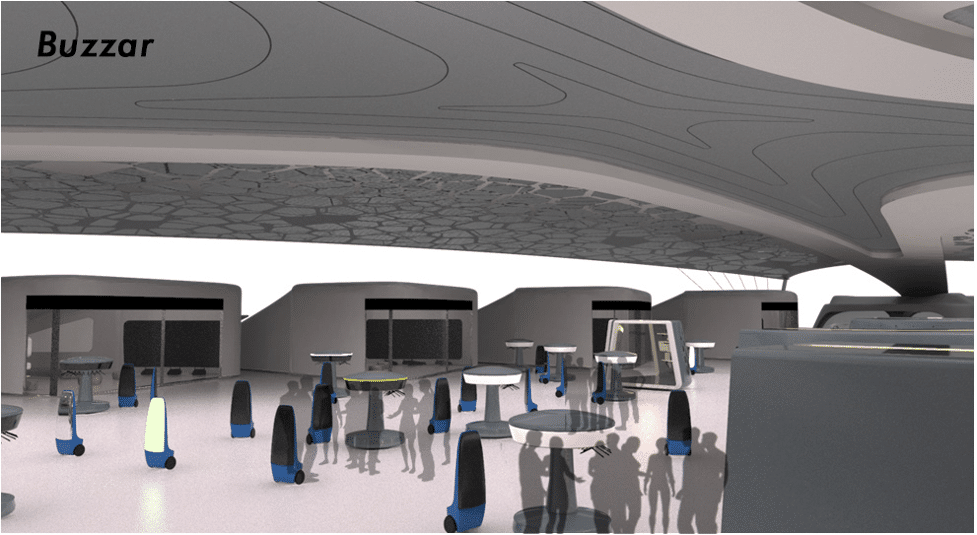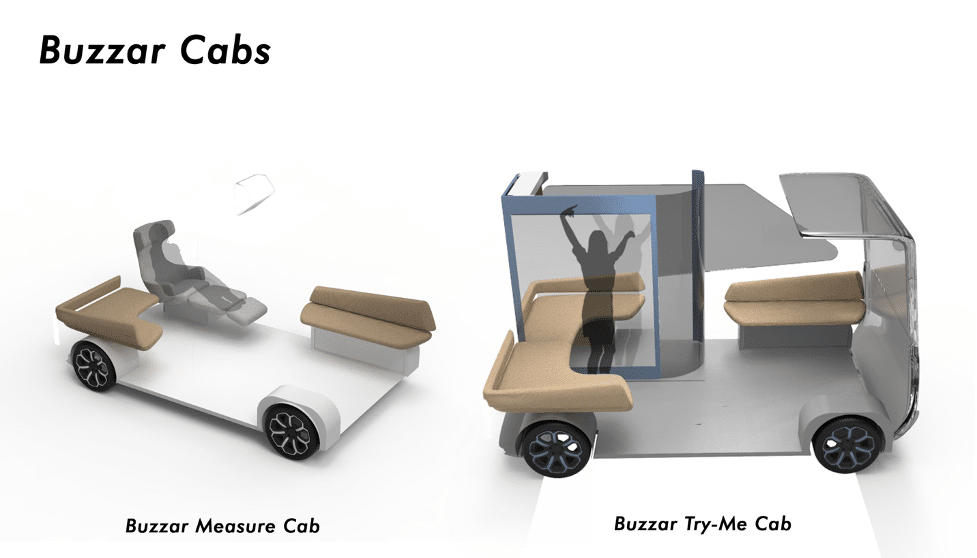 ModPop
Welcome to ModPop: the future of adaptive retailing. These modular pop-up stores, as the name suggests, dynamically adjust to shifting crowd densities and customer demands. Picture small autonomous store units on wheels that interlock, crafting ever-changing layouts from smooth arcs to complex alcoves. While the evolving design captivates shoppers, its functionality shines brighter. ModPop's adaptability provides a consistently fresh shopping experience, optimizing space and costs. On busy weekends, more units merge to accommodate crowds, while calmer weekdays might feature only essential shops. ModPop isn't just a store; it's a revolution in flexible, immersive retailing.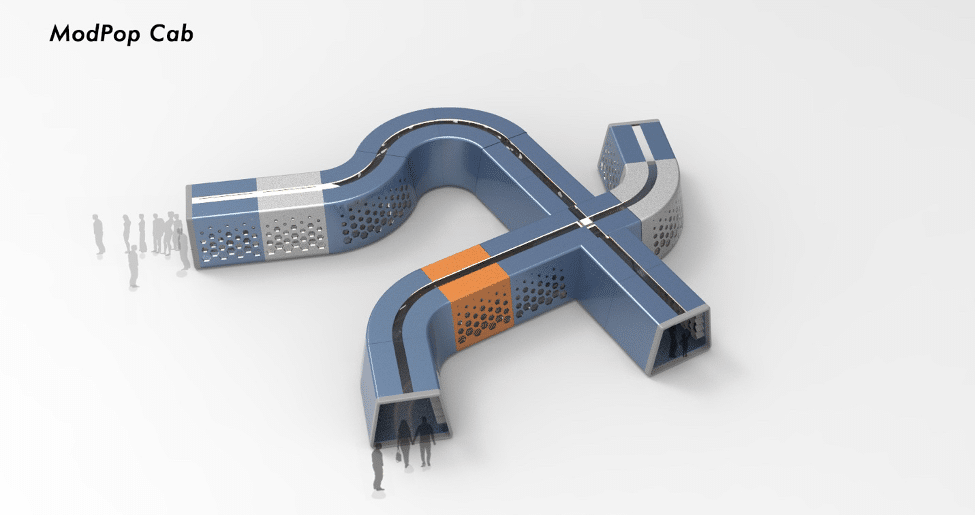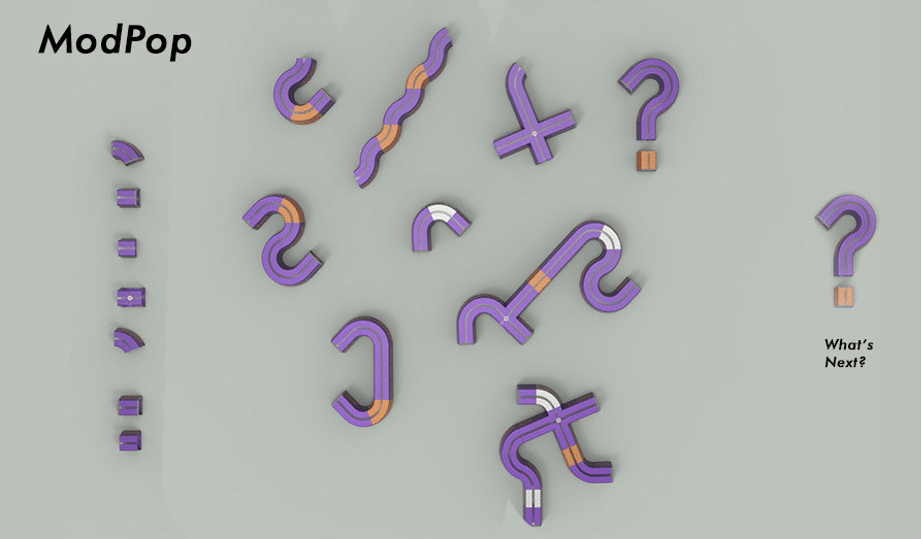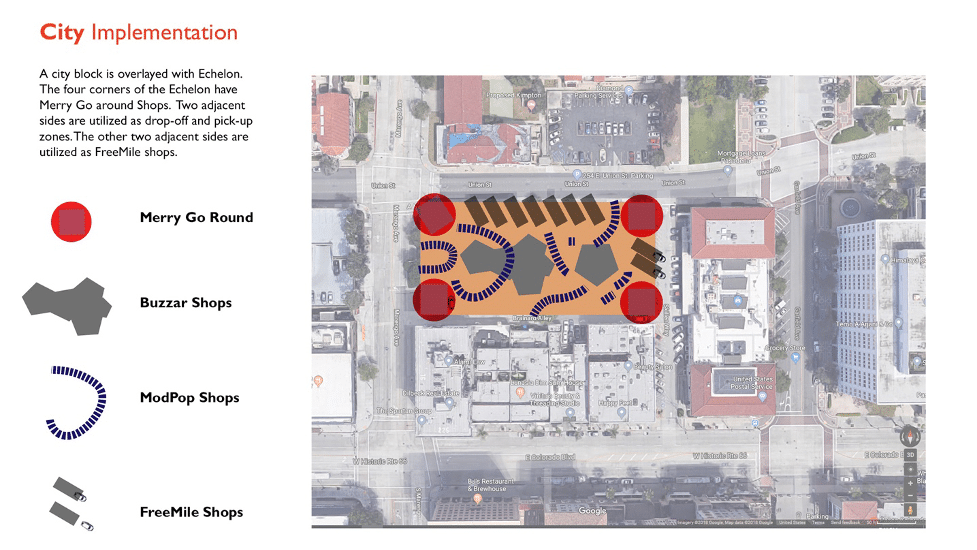 I am intrigued by your animated storyboards. Can you talk a bit more about your creative process of development of storyboards, sketches, and VR?
Storyboards are a cornerstone of the design process, serving not only as a tool to communicate user experiences but also as a window to uncover and bridge potential gaps. As I embarked on this journey of visual storytelling, my first steps involved crafting low-fidelity sketches that captured varied experiences across different Echelon segments. These were raw, hand-drawn images I created using a sketching tablet.
However, I yearned to infuse life into these static sketches. So, to elevate their impact, I cherry-picked certain key actions from these storyboards and breathed life into them using projection mapping. By placing these sketches on a wall and overlaying animated sequences via a projector, I transformed static drawings into moving narratives. This venture demanded painstaking precision, but the awe-inspiring results made the effort well worth it.
But why stop at mere animation? I plunged further into the immersive realm, crafting the entire Echelon experience in virtual reality. This enabled viewers to virtually navigate through every Echelon segment, offering a tangible sense of space and setting. More than just a visualization, this VR journey beckons viewers into the Echelon world, making the vision for 2040 not only palpable but irresistibly compelling.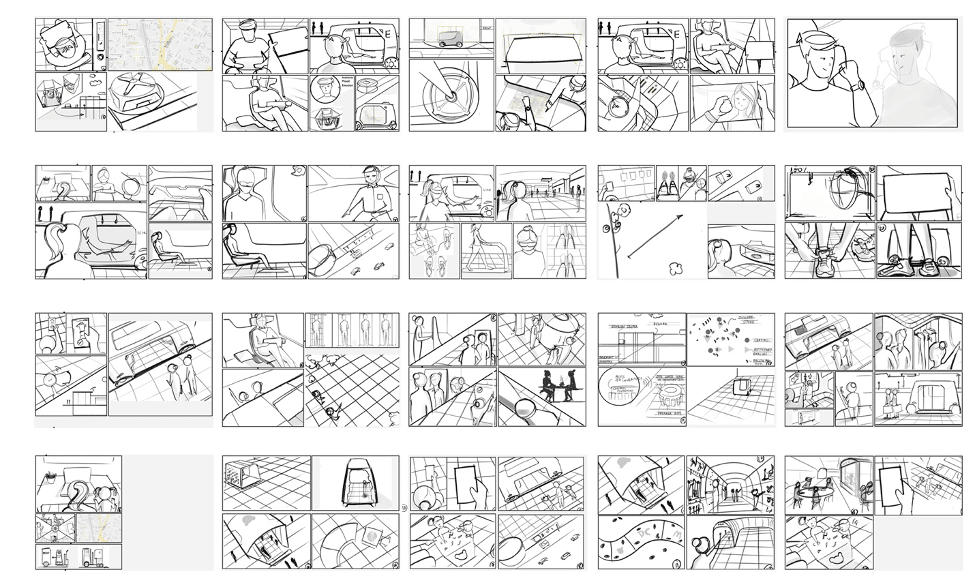 Certainly, one final question for you: What advice or suggestions would you offer to designers who are grappling with creative block?
Let's dispel the myth: creativity isn't a mysterious force; it's the product of discipline and relentless dedication. Mastery in design doesn't come on a silver platter; it demands your full investment—blood, sweat, and tears—to continuously learn, unlearn, and relearn. It's tempting to become enamored with your own creations or to overcommit to a single solution or skillset. Resist that temptation. Broadening your horizons and cultivating a diverse range of skills not only empowers you to make informed decisions but also serves as your best defense against setbacks.
–-
Saurabh Nimsarkar work can be seen on his website on – https://nimsarkar.myportfolio.com/work and on Instagram
Additionally, he can be reached at technimsarkar@gmail.com