In the start, digital devices did not have enough space for data storage; this lack of internal storage led to the invention of external ones. SD card is one of the means of external storage that supports devices to store user's data. However, the catch is that these SD cards are less reliable than people thought. SD cards can be corrupted by human or technical errors, resulting in data loss.
Humans have never left an issue unattended, so this modern problem requires a modern solution. Therefore, to resolve these issues, memory card recovery tools originated. In this article, you will learn how to recover data using a versatile data recovery tool. In addition, you will find a detailed review of some of its other functionalities in contrast to SD card data recovery.
Many tools compete for the role when it comes to data recovery for memory cards. However, they lack the efficiency or versatility to perform this task. Compared to other tools, Wondershare Recoverit is a multi-functional tool that assists in many data recovery tasks. In addition to SD cards, it can recover files from your hardware drives, Windows, MacBook, and USBs.
The tool can recover any data form, including videos and photos, while maintaining their quality. It supports 100 video formats and almost all image formats, including JPG, PNG, RAW, and more. Furthermore, it eliminates the complexity and lets you recover data with ease. Data recovery is a simple select, scan, and recover procedure.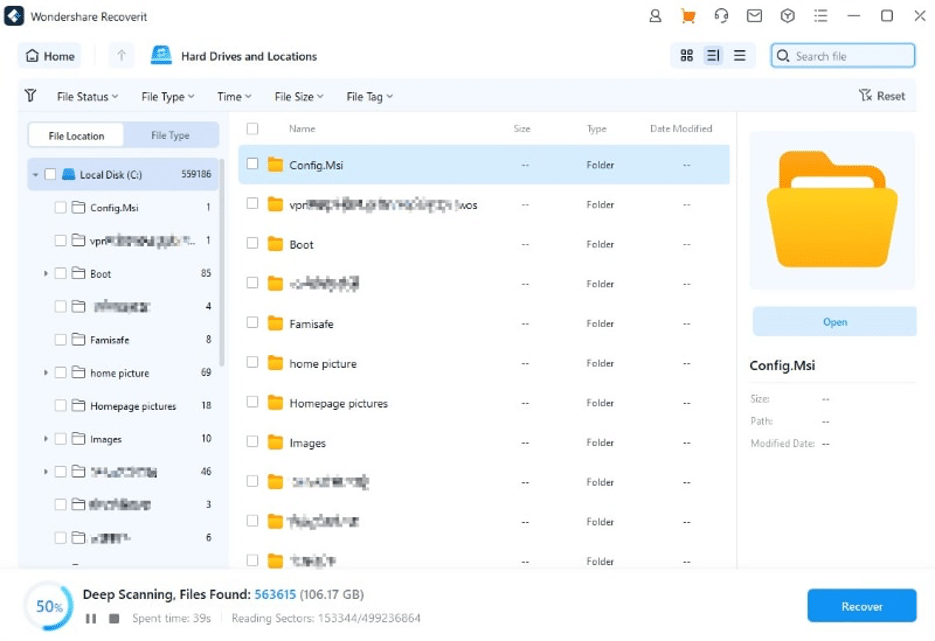 In addition, its high-end scanners can find a file in no time and recover it accurately. Whether you lost data because of a physical mishap or an internal error, this is your go-to tool. Moreover, it understands users' demand for secure data recovery as data can be of any matter, private or professional. Following that, it achieves its goal in a secure and efficient manner.
When it comes to using a tool, the first thing users look into is its utility. What does the tool have to offer? Is it multi-functional and can be relied upon in other situations? To address these issues, here are some key features of Recoverit:
1. Enhanced Photo and Video Recovery
When it comes to video or photo recovery, this tool supports as many formats as possible to recover data. In addition, users can recover videos without any damage to their audio. It is because the tool is also capable of supporting audio formats like MP3, WAV, and more.
Moreover, it recovers media in HD, Full HD, 4K, and 8K quality without any visual loss. It has a deep scanning option to find video files or pictures that cannot be recovered through ordinary software.
2. Hard Drives and Local Recovery
Hard drives, USB, or Flash drives are considered a massive form of data storage. However, they can catch viruses or be corrupted by the system. No matter the type of data loss, this tool can retrieve data lost in up to 500 such scenarios. In addition, the tool can apprehend popular hard drive brands like Samsung, HP, Toshiba, and more. Moreover, it supports 1000+ hard drive file formats.
3. System Crash Recovery
Windows crash is also one of the major reasons behind losing essential files. Whether using a laptop, computer, or any Windows version, this tool can recover data from all. It can handle data loss due to system shutdowns, unannounced updates, and black or blue screens. Moreover, this tool can retrieve data lost during virus interceptions, malware, and bugs.
4. NAS and Linus Recovery
Recoverit also extends its support to NAS drives and Linux devices to help you recover data without restrictions. This SD data recovery also handles multiple data loss situations for NAS and Linux, such as hard drive formatting, disk failure, system crashes, and RAID reconstruction failure. You just have to connect Recoverit remotely with your NAS drive and Linux device to initiate the data recovery process.
5. Corrupted Video Repair
Video files are relatively easy to recover. However, sometimes, the problems come after recovering. During data sharing across devices, the format or resolution of media files becomes unsupported. This either leads to bad quality of data or no access at all. With this tool, you can repair corrupted videos due to accidental formatting or operating issues.
The main focus of this section is how you can recover lost SD card files using this tool. The user interface is intuitive, and here is how you can perform SD card data recovery through it:
Step 1: Connect the SD Card and Locate It
Before recovering files from an SD card, you need to connect it to your device. Once you have connected it, launch Recoverit. Hover towards the left-side panel and click "Hard Drives and Location." Under the "External Drives" section, select the name of your SD card and hit the "Start" button.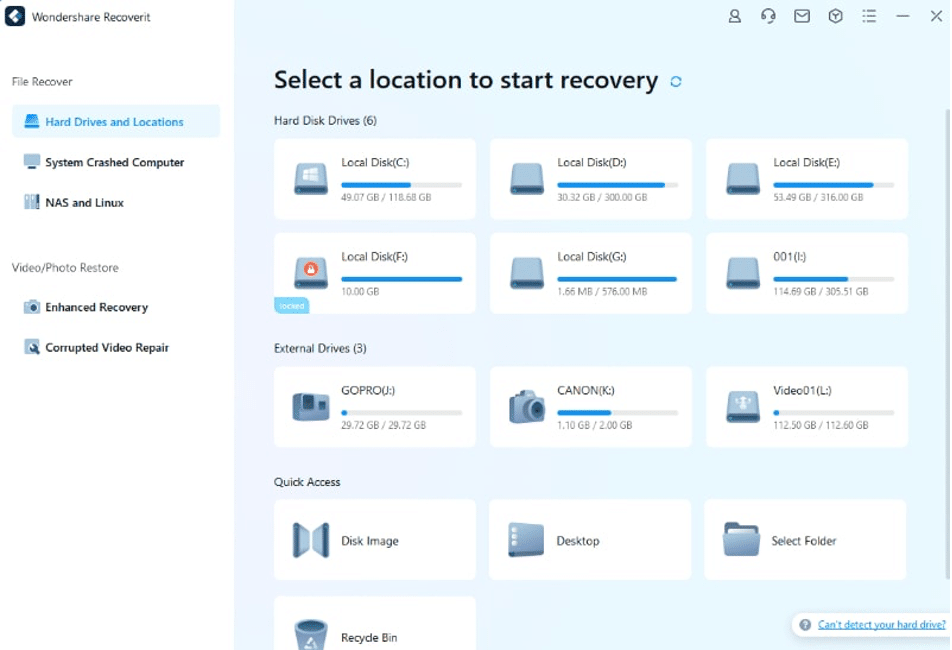 Step 2: Scan the SD Card Files
The scanning will start immediately; wait for the scan to complete. In the meantime, you can select the file you want to recover. You can also search for the file's name from the search bar at the top right.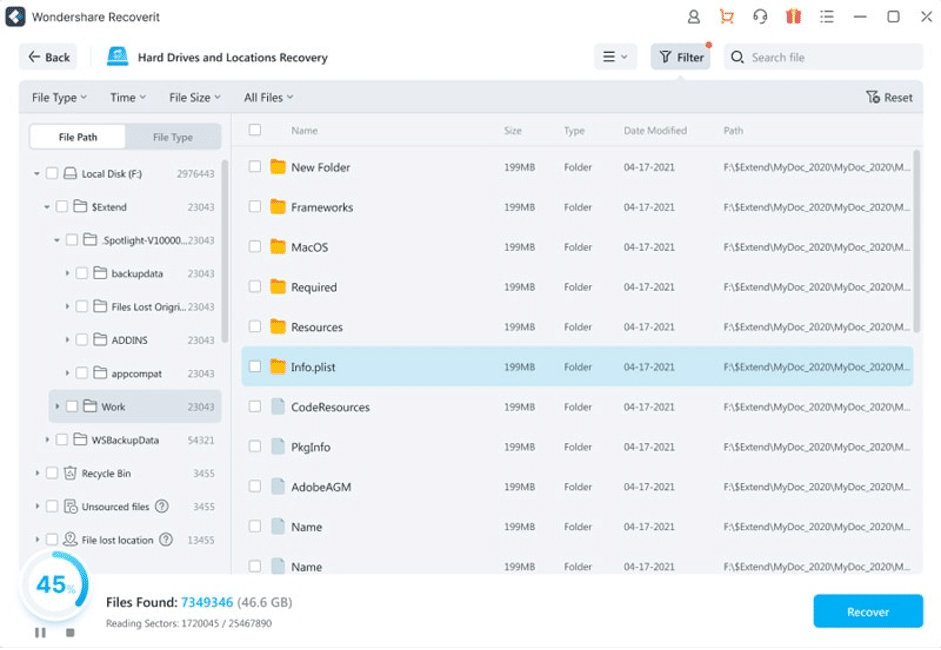 Step 3: Preview and Recover the SD Card Data
Once the scan is complete and you have selected your files to recover, you can also preview the files. This will give you an idea of how recovered files will look. In addition, you can customize some display filters for these files during the preview. Once you are satisfied with the preview, click "Recover" to recover the files.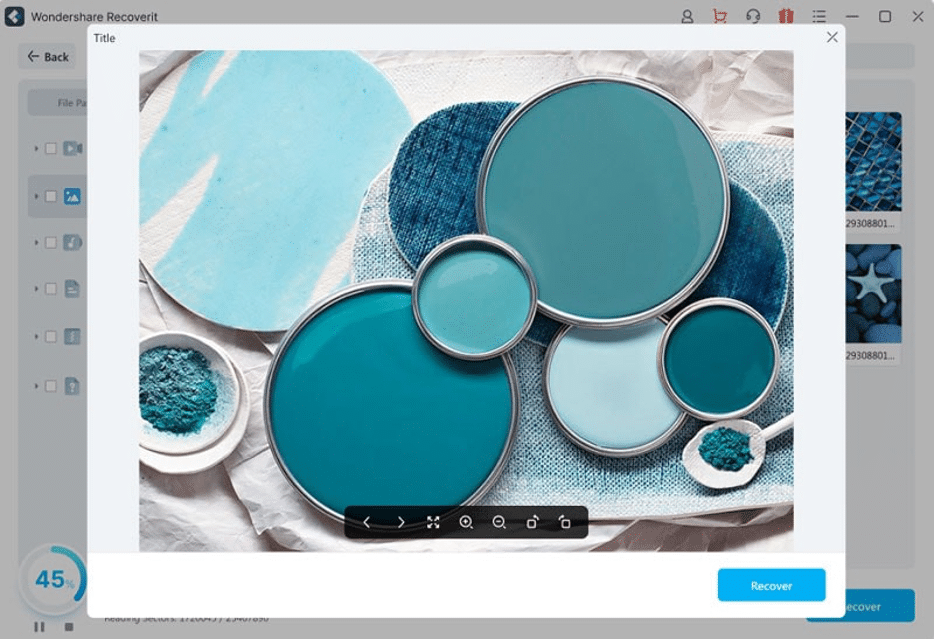 Part 4: Some Benefits of Recovering Lost SD Card Files with Recoverit
When we say this is a versatile and multi-purpose tool for data recovery, it is not wrong. Any such tool can retrieve lost files, but a tool that provides better incentives is preferred. Here is why users should prefer Recoverit:
Supported SD Card Types: A tool that keeps itself upgraded lasts in the long run. This tool allows users to recover files from standard and advanced SD cards. The card types include miniSD, microSD, SDXC, and more. In addition, it has the capability to support any new or vintage SD cards.
Supported Data Loss Scenarios: Whether you lost data because of physical damage to an SD card or an internal one, this tool can handle all. These scenarios include an error notification, rejection by the device, and missing or corrupted files.
Supported File Formats: Whether you are recovering a media file like photos, video, and audio or PDFs, office files, and other documents, it can recover all. It supports over 1000+ file formats to recover from SD cards.
Preview and Customize: With the help of this tool, users can have a sneak peek of their files before recovering. They can preview the files before recovering, add various filters, and alter different elements.
Closing Words
After reading this article, you have an insight into why data loss occurs and how to prevent it. In addition, you had a brief review of a data recovery tool, Wondershare Recoverit. With the help of this tool, you can not only recover SD card files seamlessly but other files as well.
Moreover, it supports multiple scenarios, multiple devices, and multiple file formats. In short, it is an all-in-one data savior for professional and personal issues.
Click below to download Wondershare Recoverit.