Monaco is known for its mix of quality living experiences, exciting weather, and amazing landscapes. There are different districts across the city that exude charm and innovation, which makes them great places to invest. The cost per square metre differs from one district to another. Here is a quick look at the price per square metre in different districts in principality with Michele Tecchia in Monaco.
Michele Tecchia : «My favorite to live : The Carré d'Or»
»The Carré d'Or is the most prestigious district in Monaco. Monte-Carlo and Carré d'Or are some of the areas that get the most customers and are therefore the most expensive in the city. The area is lively and not far from the sea, which makes it a dream location for anyone looking for a place to live and relax or a retirement home. Besides, the area has several luxury boutiques, restaurants, stores, and casinos. Some of the high-end buildings in this area include Les Floralies, Park Palace, Mirabeau, and Petite Afrique. The majority of the properties in this area are priced between €50,000 and €70,000 per square metre. The very expensive areas peak at about €100,000 per square meter. Those looking for a lower cost option should consider a ground floor or a penthouse with no view. These cost around €40,000 per square meter» says Tecchia.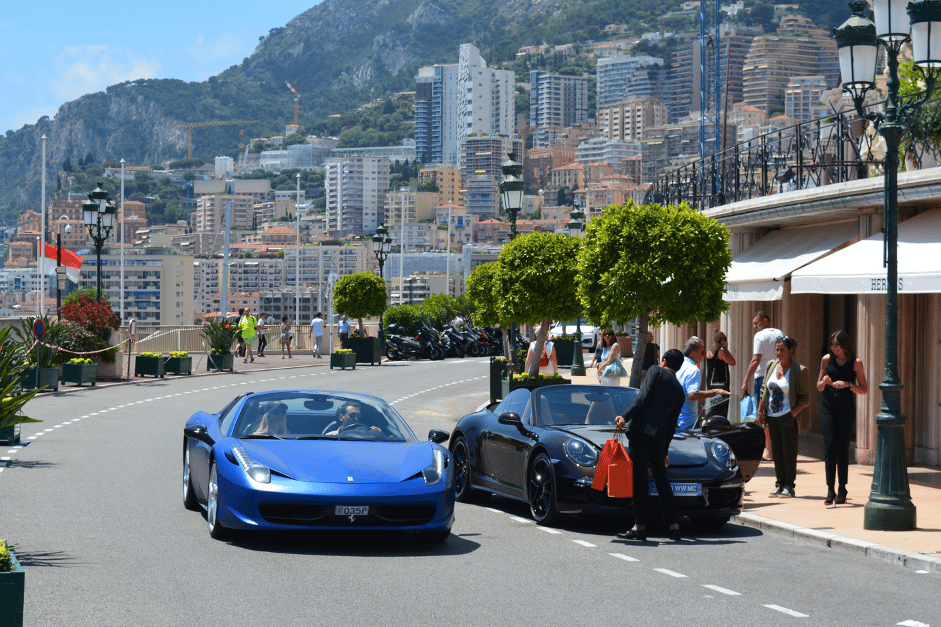 Districts of Moneghetti and Jardin Exotique
The Moneghetti and Jardin Exotique districts are located toward the centre of Monaco. This area is known for its exquisite views and quiet environment. Many of the properties in the location are located near Princess Antoinette Park and the famous Theatre des Muses. This neighbourhood is similar to that of the Carre d'Or only that prices are a little cheaper.
«Property prices in this location, says Michele Tecchia, range between €30,000 and €35,000 per square metre for most buildings that were built earlier than 1950. However, many newer buildings are priced at between €45,000 and €50,000. Some of the buildings in this neighbourhood are more expensive. If you would like to rent in this area, rents cost between €600 and €900 per square metre per year».
Michele Tecchia : «Frontvielle is charming»
Fontivielle is known for its mix of functional and residential buildings. This is why it attracts a huge number of would-be buyers. Part of the district was reclaimed from the sea in the 1970s. Most of the apartments in the location are spacious luxury apartments. Its little marina boasts English pubs and restaurants. There are also various amenities in the area that include Cap d'Ail tennis club, Louis II stadium and Marquet beach.
Home prices in this location range between €40,000 and €55,000 per square meter. However, buildings near the sea and those with high-end amenities such as a gym, pool and gym cost about €60,000 per square meter. If you are looking for a building to rent, a studio flat costs about €2,000 to €4,000 a month.
Monaco-ville
For people looking for a village atmosphere with little pretty houses, Monaco-Ville is the place to stay and work. It is close to the prince's palace. Most of the main institutions in Monaco are located in this district. Besides, you will find a diverse population that includes people from various backgrounds, including British, Russian, and American origins.
This area is less polluted and noisy, and people can walk around the area with ease. Homes in this location cost between €30,000 and €35,000 per square meter. On the hilltop, the buildings cost between €40,000 and €60,000 per square meter. Those that wish to rent a space can get a fully furnished home for about €20,000 a month.
Condamine
Condamine is a historic district that is loved for its authentic charm. It is also friendly, accessible, and has a mix of a rich history, a picturesque landscape, and pleasing neighbours. There are also several unpretentious places like Rue Caroline and Place d'Armes market. The area is also surrounded by schools, restaurants, bars, and shops.
The highest-priced locations in the area are located on the seafront. Residents in this location can watch the Formula 1 Grand Prix races from start to finish. There are also several luxurious buildings in the area. Most flats in this area go for between €35,000 and €40,000 per square meter.
However, many other buildings, especially in the upper floors, cost up to €60,000 per square meter. Those who would like to rent in the area should plan to pay about €2,500 a month for a two-room flat and €4,000 a month for a three-room space.
Michele Tecchia : «Quartier La Rousse : to watch your yacht!»
The Quartier La Rousse area boasts the tallest buildings in Monaco. It is also home to some of the most expensive spaces in the city. For example, apartments at the Tour Odeon skyscraper go for up to €50 million due to various high-end amenities. You will also find penthouses with things like infinity pools and water slides, which are some of the most expensive in the world.
There are several upcoming developments in the area that will appeal to new buyers from 2024 and beyond. The price per square metre in this location varies between €40,000 and €60,000 depending on the storey you pick. On the other hand, rents range between €800 and €1200 a year for a square meter.
Larvotto
Those that live at Larvotto have access to the beach a few metres away. Besides, the area is filled with entertainment hotspots, a Japanese garden and restaurants. Unfortunately, there are usually very few properties on sale at the seafront. If you are lucky enough to find one, be ready to pay between €50,000 and €80 per square meter. Again, the cost depends on the storey you choose to pick.
On the other hand, if you wish to rent a home in this area, you will be required to pay between €800 and €1,200 per square metre per year. Lower-priced homes are located close to Boulevard du Larvotto. There are several renovations happening in several parts of these districts that may see prices climb in the near future.
Michele Tecchia reveals Monaco Averages
In 2021, the mean price for a square metre of space was €51,912. This was about €4,000 less than the mean price in 2020. There was a slowdown in property intake in 2020, leading to a slight decrease in prices compared to 2019 and 2018. However, the market has rebounded and prices are likely to jump even higher in all of 2022 and beyond.
Statistics have also shown a steady rise in home prices per square metre throughout the decade. For example, the average mean price per square metre was €30 in 2012 and has risen to €51,000 today. 2021 was the year properties exceeded the €50,000 mark for the first time, and they may hit €54,000 in less than a year. Otherwise, Monaco remains a dream destination for people who love to live in luxury in a quiet, relaxed location.
Michele Tecchia's blog : https://www.micheletecchiamonaco.com/