In today's competitive business landscape, small businesses often work with limited office space. However, having a small office doesn't mean sacrificing productivity or comfort. With the right space-saving office design ideas for small business, small businesses can optimize their workspace and create a functional environment that maximizes efficiency. This article will explore strategies and solutions to help small businesses maximize their office space.
Mistakes to Avoid When Applying Small Business Office Design
When it comes to office design ideas for small business, there are certain common mistakes that you should avoid, as they can hinder your productivity and overall success. These include the following:
. Failure to Plan Ahead
Without a clear strategy and vision, small businesses may struggle with wasted space, lack of storage, inefficient layouts, etc.
. Overcrowding the Space
The temptation to maximize the number of workstations in your office space can be strong. However, this mistake can lead to a chaotic and cramped working environment that negatively affects employee creativity and productivity.
. Poor Lighting
Harsh or insufficient lighting negatively affects the mood and energy levels of employees. To maximize productivity, you should prioritize natural light and utilize artificial lighting to create an inviting and well-lit workspace.
Effective Small Office Interior Design Ideas
Office design ideas for small businesses are key to fostering a positive work environment. Here are some ideas that can greatly benefit your business operations:
. Open Layouts
Open layouts in an office space promote communication and collaboration among staff. By creating shared spaces and removing physical barriers, you can encourage a sense of teamwork and unity.
. Multipurpose Spaces
You can maximize your office space by designating multipurpose areas. Flexibility in design allows for adaptability to different needs.
. Natural Lighting
It is one of the most effective office design ideas for small business. By introducing ample natural lighting into the office, you can reduce dependence on artificial lighting, reduce costs, and improve your employees' energy, mood, and well-being.
. Right Color And Decor
Choosing the right color scheme and decor is crucial for creating a spacious atmosphere in a small office. Here are three recommended colors:
. Soft White:
Reflects light, brightens the room, and creates a sense of openness.
. Pale Blue:
Calming and soothing, it can make the office feel more expansive.
. Light Gray:
Versatile and sophisticated, it visually expands the room and serves as a neutral backdrop.
Space-Saving Furniture Solutions For Small Offices
Space-saving office design ideas for small business are an integral part of effective office design ideas for small business as they can optimize workspace, create a productive and comfortable environment for employees, and improve organization. Here are some recommended solutions:
1. Workstation Table For Office
Opt for compact and functional workstation tables that provide ample workspace while minimizing the footprint. Look for workstation tables that feature built-in storage compartments and adjustable functions. In this way, the office space will be more organized and clutter-free.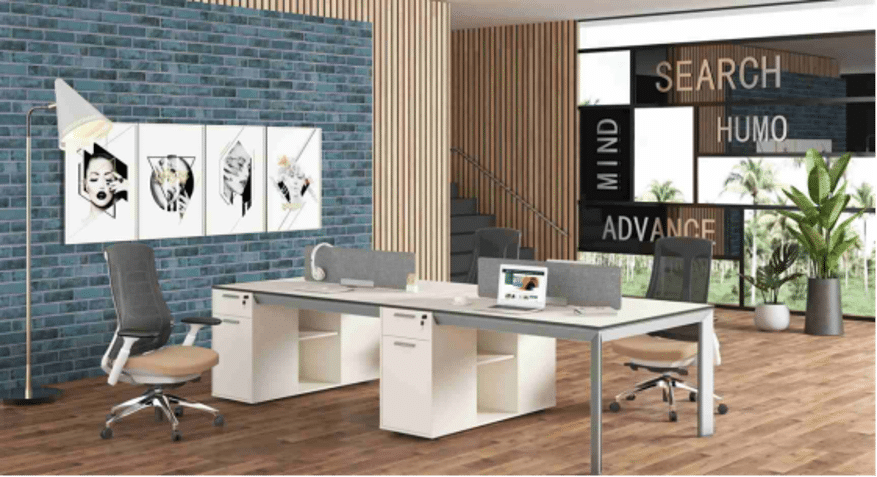 2. Office Storage Cabinet
Choose office cabinets that provide vertical storage options, e.g., overhead compartments, tall shelves, etc., to keep essential documents, equipment, and supplies easily stored and accessible. Choosing cabinets with folding or sliding doors can also save on floor space.
3. Ergonomic And Flexible Chairs
The comfort of your employees should be your top priority. Investing in ergonomic and flexible chairs can help ensure that. Look for chairs with swivel, lumbar support, and adjustable height capabilities.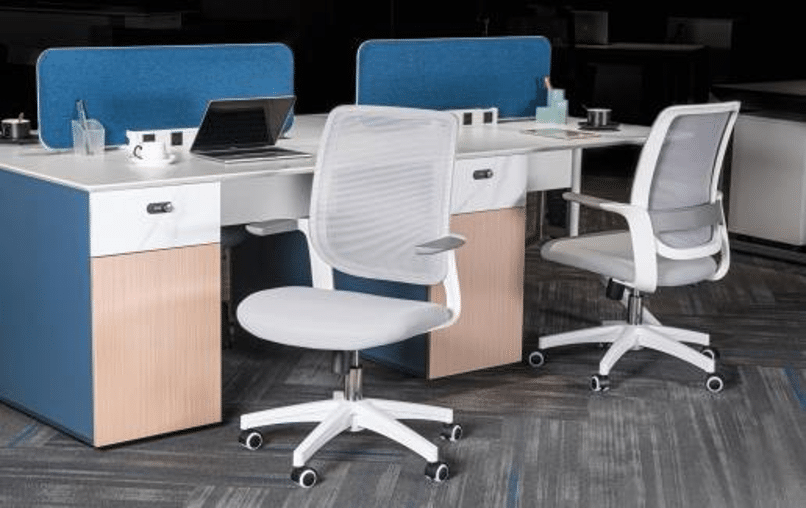 Dious Furniture Supplies Dependable Office Furniture Solutions
Established in 2005, Dious Furniture is a reliable office furniture supplier specializing in R&D, manufacturing, and sales of high-quality furniture designed with premium-grade, eco-friendly materials and prioritizes comfort and functionality. With a strong reputation in the office furniture industry, Dious Furniture manufactures and supplies products that cater to diverse preferences and needs. The company's key strengths lie in its attention to detail, commitment to craftsmanship, and focus on customer satisfaction.
With years of industry experience, Dious Furniture understands the evolving demands and trends and ensures its products are aesthetically pleasing and functional. The brand is trusted by small businesses looking for reliable space-saving office furniture solutions. Visit Dious Furniture's official website to explore their offerings and find the perfect furniture solutions for your small office design needs.