When you see the same amazing movie for the tenth time, it is unlikely to be as thrilling as the first time you watched it. Similarly, even the most fascinating and engaging email can lose its allure and cease to be as successful as it once was. That is why email marketers must strive to surprise their subscribers every now and then. Gamification is one great technique to do so.
We'll discuss what gamification is and how to utilize it in email marketing in this article. In addition, we'll show you some gamification ideas that are sure to spice up your email marketing campaigns.
What Is Gamification In Emails
Gamification is the application of game-like ideas and principles to non-game situations. Gamification is defined as the use of game features (such as scoring points or competing and collaborating) to activities that aren't traditionally structured as games. Listed below are a few ways in which you could implement gamification in email marketing:
Of course, you may not find free email templates for gamification-based outreach, so you would probably need to develop customized ones.
Gamification aims to increase engagement by incentivizing it on different levels. It's a wonderful approach to make things more enjoyable for your customers while also ensuring that your brand is remembered as much as possible.
Why Does Gamification Produce Results
Lead magnets, freebies, and discounts are all excellent tactics. However, they do not always work in practice. Many people join email lists only to receive these perks. Any further marketing emails are then ignored or unsubscribed from.
Gamification can help you capture the attention of your audience and improve engagement without actually offering tangible bait. People will be more inclined to interact with your brand and make purchases if they are engaged with your communications.
Gamification in email marketing isn't always intended to increase sales. It increases engagement. Increased sales are a natural result of increased engagement.
How To Make Your Emails More Gamified
There are several methods to persuade visitors to interact with your email in a way that makes it feel like they're playing a game. The following are some of the most common and efficient ways to include gamification in your emails:
Give Awards The Right Away
The initial gamification concept is to reward users as soon as they complete a task. You may build a scratch card and attach it to an email using dedicated plugins.
Other games don't require any specific features to be included in an email; all you have to do is include a hyperlink next to the call to action button. Remember that people will only play the game if the prize is worthwhile. If your prize is tiny and symbolic, the game should be simple.
A discount wheel is similar to game shows in which contestants spin a wheel to win a prize. It's an engrossing game with a high level of anticipation. And now you can incorporate that into your email! It gives consumers the feeling that they have a good possibility of winning something big.
This encourages users to play with a discount wheel. On each slice of the wheel, you may give discounts, coupons, or a gift. You can even get a slice with the words "Better luck next time" written on it.
Hold Contests That Attract Engagement
A contest is something that grabs people's attention right away and encourages them to interact with your company.
To attract more email subscribers, you may design an entertaining contest that is relevant to your business and your target demographic. Contests allow people to win something valuable while risking nothing. You can use it as a means to connect with folks who might otherwise be unaware of your business.
You may use competitions to grow your email list in a short period without extensively spending on outreach. This is accomplished by holding contests in which users must register to participate i.e., submit their email address.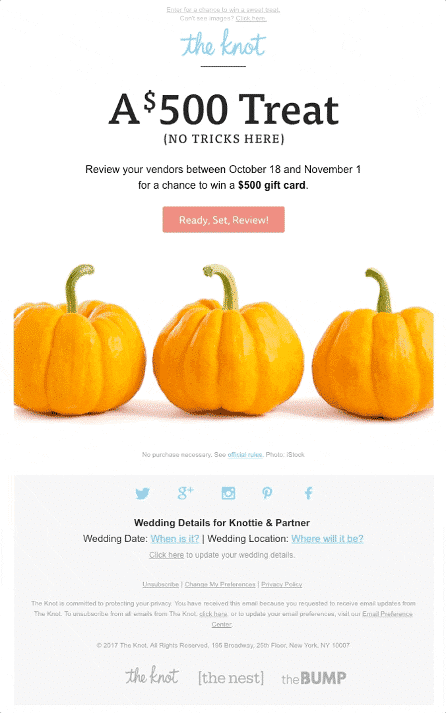 Leverage Quizzes And Tests
People are quite interested in flaunting their command over a subject and learning something new as long as they are enthusiastic about it. They also enjoy being involved and challenged. Set up an engaging personality test instead of regular marketing emails because self-discovery and a bit of flattery is a great way to stir up engagement.
Users receive a reward that makes them feel good. This may be the outcome of the personality test, which provides them with some data and insight. It might also be the sense of accomplishment that comes from a high quiz score. Through improved engagement, tests, and quizzes, you can build an affinity towards your brand, which increases your email conversion rate by leaps and bounds.
Including a simple crossword puzzle like the one below is an excellent gamification strategy too. However, it requires a lot of coding and renderability testing:
EXAMPLE 2
When Should You Use Gamification In Emails
Here are a few scenarios when gamification in digital marketing might be beneficial.
In The Intervals Between Big Holidays
On important events, you could be tempted to utilize gamification. And it is a good idea but I suggest reserving gamification mailings for around the holiday season. Especially on crucial eCommerce holiday seasons like Black Friday or Cyber Monday, your customers anticipate (and prefer) discounts above all forms of catchy content.
Instead, consider sending gamification emails in the weeks leading up to key holidays. Gamification may be a useful technique for breaking up the monotony of the year.
In Your Incentive Programme
To add a twist to your rewards system or loyalty program, use gamification email marketing. Customers are accustomed to receiving traditional incentives like a modest discount on a future purchase. However, for many customers, playing games to win prizes is a novel and thrilling experience.
Create a rewards system where the more your consumers connect and engage with you, the more points or incentives they receive. That's a win-win situation for both of you, and it is a great conversion booster as well.
Summing Up
Because gamification is a relatively new tool in email marketing, the only method to determine its efficacy is to put it to the test.
To get the most out of gamification, employ a data-driven strategy and research your audience- figure out what subjects and activities would pique their interest and include those in your emails.