Modern design trends have started to view the garden as an extra room of the house rather than as a separate space, with it often being referred to as a "fifth room." There are good rules to live by when creating a seamless transition between your interior and exterior spaces, from creating decking areas, seating areas with outdoor furniture to entertain guests, to even adding lighting. With some imagination and some creativity, you can easily create a fifth room for everyone to enjoy using just a few steps. In this article, we have taken our favourite ideas to both inform and inspire you. Let's take a look…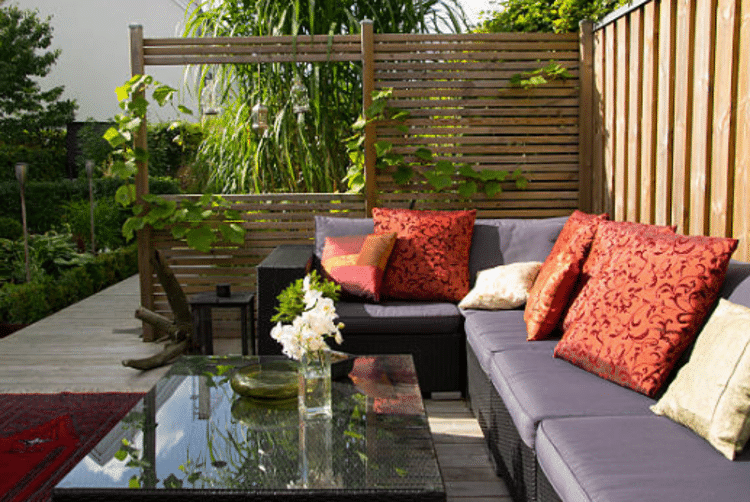 Incorporate Plants
Gardens are made for planting, and plants act as a great form of natural decoration. Raised beds can really block out different sections of your garden lending, creating individual garden "zones." A current trend is growing wildflower patches, as they can really evoke the feeling on a wild English meadow in the countryside.
When incorporating garden fixtures such as furniture, think about where your eye is drawn to, and this can help to plan your space accordingly. You can add texture with the use of climbing roses on a trellis, or if you are looking for a more contemporary approach, instead decorate fencing or cladding with jungle plants to bring a tropical feel to your garden, giving it a unique sense of individuality.
Creating Some Shelter
Adding a shelter to your garden is a great way to enjoy your outdoor space for when the rain is pouring, or if you just need some respite from the glaring summer sun. There are many options for the garden shelters, such as parasols, which come in many different shapes, sizes and styles. These include table parasols which are held up with a weighted base, or hanging parasols, which hang from a bar and can be moved anywhere on your patio.
Other options include pergolas, which again come in many different styles and sizes, and are mainly made from metal or timber. The more long-lasting ones are cemented into the ground for added stability. If you are looking for something that is less permanent and more seasonal, flat pack options are available, and can be easily put together within your space.
Decorating your Space
There are endless possibilities when decorating your fifth room. These include slabbing, composite decking, porcelain tiles, gravel, and polished concrete. To make this outdoor area feel more like a room rather than a garden, it is important to dress the space like you would your interiors.
Bringing elements such as cushions, hanging egg chairs, outdoor seating, rugs, and tables are perfect for adding character, bringing those home comforts to the outdoors. Similarly, bordering these separate areas with interesting planting is a great way to breathe more life and character into your space.
Light it up
Adding lighting is a great final finishing touch to adorn the perimeter of your garden space. Like outdoor digital signage in public spaces, lighting can really transform a garden, particularly when the nights begin to close in. It can help you to achieve a classic, ambient, soft look to your space, helping it to transition effortlessly from the indoors to the outdoors.
Using candles or lanterns can add a soft, natural flicker, whilst hanging lights, such as string lightbulbs, can hang across from pillars above you, creating the artifice of a starry night. You can even buy garden lights that are solar powered, which effectively charging themselves in the daytime.