It is not an odd phenomenon to encounter injuries and come across different infections. One of the most important phenomena in coping with these situations is to have a proper oxygen supply. Hyperbaric chambers are devices that are designed to deliver oxygen. It is done to aid the body in different conditions that require increased oxygen supply such as chronic wounds, sports injuries, and anti-aging therapies. It is important to understand here that this is not a form of treatment but it is an aid to the normal defense and healing mechanisms.
The use of hyperbaric oxygen can be traced back to the year 1600s but the first proper use of pressurized hyperbaric oxygen to help manage different conditions was not reported till the 1920s.
What is Hyperbaric Oxygen Therapy (HBOT)?
This is a special form of therapy where high purity oxygen is given to the user under pressurized conditions. The practice is mostly carried out in specialized chambers where the pressure can be raised to a certain level easily. This enables the blood in the lungs to carry more oxygen, this increased amount of oxygen helps the body heal from wounds, and injuries and recover from infections rapidly.
There are two common methods of using hyperbaric oxygen therapy.
• Personalized chamber for a single person, called monoplace
• A room that can accommodate multiple people at a time, called multiplace
What are the benefits and uses of Hyperbaric Oxygen Therapy?
There are many uses of HBOT https://oxyhelp.com/hyperbaric-oxygen-therapy-treatments/. Many of the uses have been approved by the FDA and some are under the process of trials, so as to see the efficacy and effectiveness of this therapy. Some of the common uses that have been approved by the FDA are as follows:
• Crush injuries
• Carbon monoxide poisoning
• Air embolisms (gas or air in blood vessels)
• Gas gangrene
• Decompression sickness
• Bone and skin infections
• Sudden hearing loss without any traceable cause
• Chronic non-healing wounds
• Radiation injury
• Vision loss
In addition to the above-mentioned uses, there are some non-medical uses of hyperbaric oxygen therapy as well. These are as follows:
• Beauty and wellness salons
• Orthopedic rehabilitation centers
• Chiropractic services
• Home use remedies
• Centers for professional athletes
• Fitness and sports centers
How does HBOT work in different scenarios?
The working of hyperbaric oxygen therapy is different in different scenarios. However, the principle remains the same in every condition. The principle by which it works is that in hyperbaric oxygen therapy the oxygen is given in high concentrations and under high pressures to breathe. This allows maximum absorption of oxygen from the blood vessels of the lungs. This increased oxygen delivery is then used to combat different conditions.
Role in mental health conditions:
There have been multiple studies and researches on the relation between different mental health conditions. Most of the studies have shown that there is a positive relationship and there is an improvement in the condition of people suffering from mental disorders such as post-traumatic stress disorders. The proposed mechanism is that increased oxygen supply enhances the activity of the neurons thus there is an improvement in the mental condition of the users.
Role in maintaining health and anti-aging:
Oxygen when delivered at high pressures to the body via HBOT in hyperbaric oxygen chambers helps in the formation of new blood vessels. The blood vessels in turn improve the blood supply to the tissues. It also helps in the deposition of collagen and the formation of new tissues.
Role in CO poisoning:
Oxygen when given in high concentrations reverses CO poisoning. CO when inhaled in large quantities binds hemoglobin in the body and reduces the delivery of oxygen to tissues. Its affinity to bind hemoglobin is more as compared to oxygen. Oxygen when delivered to the body via HBOT competitively displaces carbon monoxide from hemoglobin and thus reverses CO poisoning.
Role in the healing of chronic wounds and ulcers:
Oxygen via hyperbaric oxygen therapy helps to remove the poisons and toxins from tissues. Oxygen improves the blood supply and provides nourishment to the tissues thus boosting the immune response. In addition to this, it also helps and promotes the action of white cells in the blood thus further boosting the immune response. These steps help to combat infections and also help to heal chronic wounds and ulcers such as bed sores, diabetic foot, etc.
How to choose a hyperbaric oxygen therapy for private use?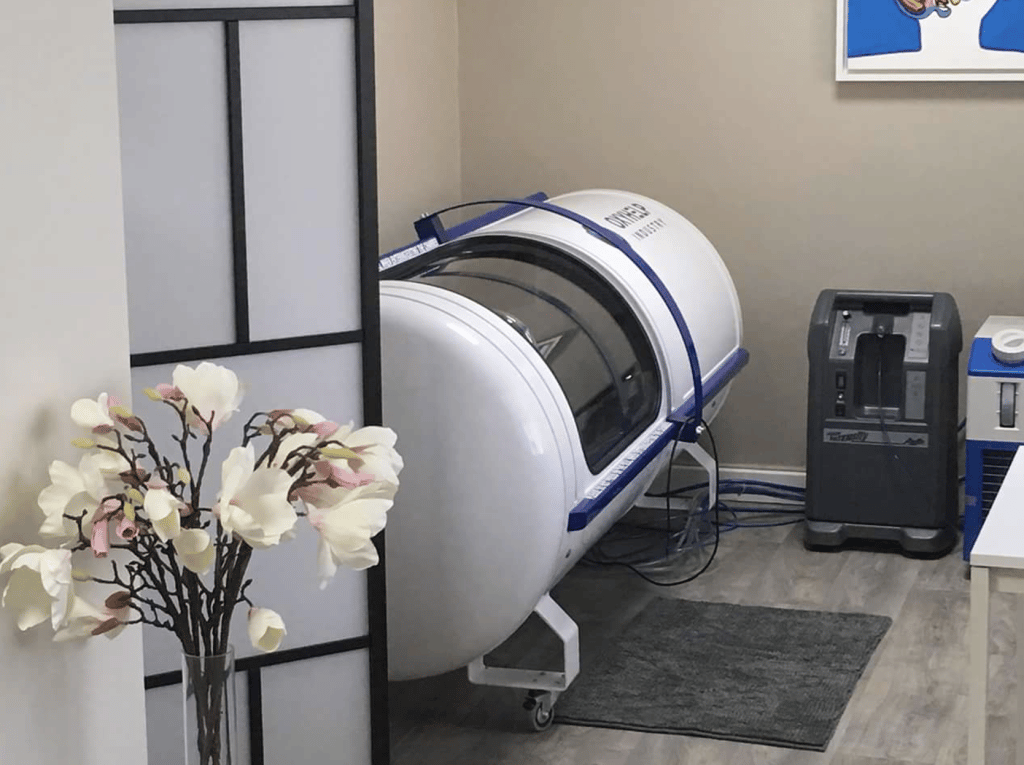 Multiple points need to be considered before buying a hyperbaric oxygen therapy chamber. For example, one should have a clear vision of the exact reason for using and buying hyperbaric oxygen therapy. It is important to know how many people are going to use the therapy. If a person wants to use this therapy for personalized and home use. The person then should look for chambers. These devices are the best when it comes to personal use. There are different types of chambers as well. The chambers are a good fit for personal use because they are portable, adjustable, and can be used for home use by different users.
Why Oxyhelp chambers?
When it comes to choosing the best hyperbaric oxgen chambers the Oxyhelp chambers are undoubtedly the go-to choice. There are multiple reasons for one to choose Oxyhelp hyperbaric oxygen chambers. Some of the reasons are as follows:
These are premium easy-to-use chambers. The chambers serve a person in the long run with minimum running costs. The Oxyhelp chambers are one of the best when it comes down to efficacy and efficiency.
These chambers are not only helpful for the aforementioned conditions but are also fit to be used by people of all ages. The doors of the chamber are pressure sealed and there is no risk of friction loads on the users. The interior of the chamber is made entirely out of air which enables smooth heat dissipation. There is a user-friendly control unit. It also controls the amount of oxygen being delivered as 100% oxygen needs very careful management so only 95% oxygen is used in these chambers. This then reduces the risks of oxygen poisoning but despite this precautions should be kept in mind.