The main problems with reading PDFs
PDF files are widely used in our work and life, but there are still many problems in reading PDF documents, such as:
1. Marking and Exporting notes:
In the process of reading documents, we often need to highlight or annotate some critical points in the document for future reference or even export these notes. It's difficult to do these things with general PDF readers.
2. Translation:
Sometimes we need to translate PDF documents into other languages. It's cumbersome without a professional tool.
3. Comparison:
When we need to compare the differences between two documents, it's not convenient to do it manually.
4. More reading modes:
We sometimes need more reading modes when reading PDF files on different devices. For example, night mode is necessary when we read PDFs. Generally speaking, PDF files can only be read in one-page mode, and it is not convenient to flip pages when reading long articles.
5. Screenshot:
When we encounter something interesting in the PDF document, we want to take a screenshot for sharing or collection, but it is also troublesome without a good tool.
6. Searching and extracting content:
It is not an easy task without a professional tool when we need to quickly find some specific information in many PDFs or extract text from them.
It is usually straightforward to edit PDF but nevertheless need some special attention when it comes to aspect management. These difficulties must be addressed with specialist Wondershare PDFelement software. This article focuses on how Wondershare PDFelement overcomes these issues as a free PDF editor and reader.
How PDFelement solves the problems of reading PDFs
1. Annote PDFs: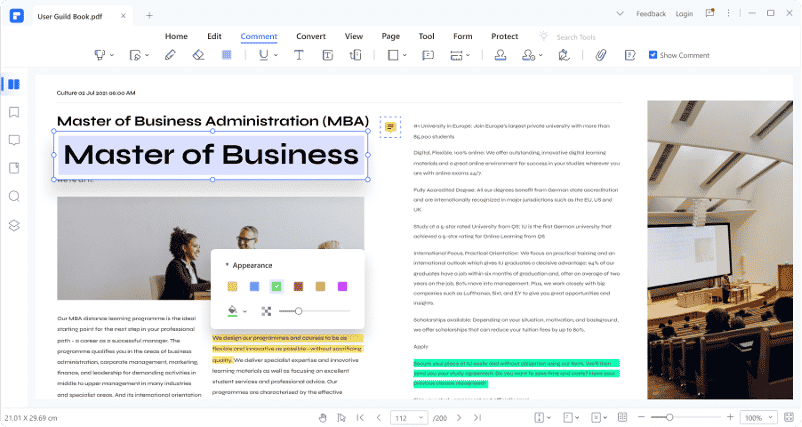 Anyone who has ever tried to read a PDF on their computer knows how frustrating it can be. The text is often tiny and difficult to read, and the pages are not always easy to navigate. PDFelement 9 is a game-changer when it comes to reading PDFs. Not only does it allow you to increase the font size and change the page layout, but it also supports various types of annotations. With PDFelement 9, you can highlight important passages, make notes in the margins, and even add your own comments and questions. As a result, PDFelement 9 makes it easy to read and understand even the most challenging PDFs.
2. Translate PDF:
You can easily translate PDFs into your native language with just a few clicks. And if you come across a word you don't know, PDFelement 9 also supports word-marking translation, so you can quickly look up the meaning of unfamiliar words. As a result, PDFelement 9 makes it easy to read PDFs in any language, making it the perfect tool for professionals,students and anyone else who needs to view foreign documents.
3. Compare PDF:
PDFelement is a powerful PDF tool that has many features to make working with PDFs easy. One of its most valuable features is the ability to compare two documents side-by-side. This is particularly helpful when reviewing long documents or when trying to spot differences between similar documents. With PDFelement, you can open two documents in separate tabs and then quickly compare them side-by-side. This makes it easy to see any changes or discrepancies between the two documents. In addition, PDFelement also allows you to highlight changes and add comments, making it an essential tool for anyone who needs to review PDFs on a regular basis.
4. Screenshot function:
This software comes with a screenshot function that allows you to take screenshots of any part of the PDF and then draw on it or pin it to the screen. This is very useful when you want to focus on a certain part of the PDF or when you want to keep track of something. You can also use this function to annotate the PDF or make notes on it. This is a very powerful tool that can help you read PDFs more effectively.
Imagine you're in a meeting and want to quickly jot down a few key points from a colleague's presentation. Or maybe you're trying to capture a recipe from your favorite cooking blog. PDFelement makes it easy to take snapshots of any PDF document with just a few clicks. And if you need to mark up the image, no problem – PDFelement lets you add highlights, arrows, and text annotations. So whether you're taking notes or sharing feedback, PDFelement has you covered.
5. Larger reading area:
If you've ever tried to read a PDF on your phone, you know how frustrating it can be. The small screen size makes it difficult to see the text, and if you zoom in too far, you lose the context of the page. PDFelement solves this problem by offering a larger reading area. The app gives you a wider view of the page, making it much easier to read PDFs on your phone. In addition, the app offers an immersive reading experience that is not disturbed by ads or other distractions. This means you can focus on the task at hand and not be interrupted by outside noise. As a result, PDFelement provides a much better experience for reading PDFs on your phone.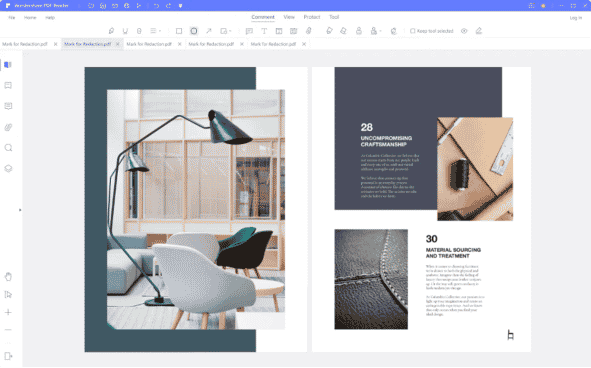 Few things are as frustrating as trying to open a PDF document only to find that you don't have the right software installed. Even if you do have a PDF reader, they can be slow and clunky, making it hard to get the information you need from your documents. That's where Wondershare PDF Reader comes in. PDF Reader by Wondershare is the complete solution for anyone who needs to work with PDFs. It allows you to view, comment, and print PDFs, as well as protect them from unwanted changes. The user interface is clean and straightforward, making it easy to find the features you need. And with support for all major operating systems, PDF Reader is the ideal choice for anyone who needs to view and work with PDFs. This completely free PDF reader offers all the features you need to view, comment on, and print PDFs with none of the headaches. And because it's free, there's no reason not to give it a try. So why wait? Download Wondershare PDF Reader today and see for yourself how easy it is to use.
Conclusion
PDFelement is a powerful PDF editor and reader that can solve the common problems with reading PDFs. Its annotation, translation, comparison, and screenshot features make reading PDFs much easier and more efficient. And it also provides a larger reading area for users to read comfortably without any disturbance. With its easy-to-use interface, you can get the most out of your PDF documents in no time.