Since 4G Solar Security Cameras don't need modem for connections, they're becoming more and more popular. Solar 4G Security Cameras don't only operate using the 4G network. They also get charged by the solar power resources; they use solar panels to change sunlight into direct current electricity and charges the batteries. Solar energy has been proved to be one of the most reliable power sources and this energy-efficient power source has been implemented as part of the security camera. So, if you are interested in upgrading your security cameras to 4G solar security cameras you can keep on reading to find more about 4G solar security cameras.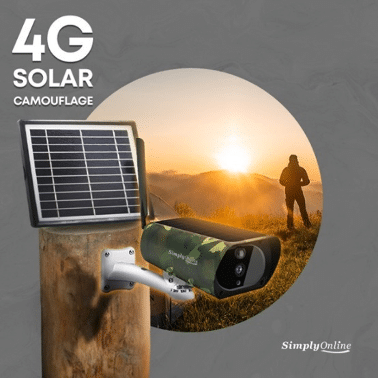 Solar Or AC Powered Camera?
Security cameras, like any other types of electronic device, need to be charged. In other words, they all need a power source to run. AC powered CCTV cameras are connected to an electric power source through cables. If you are getting a solar one, then the sun recharges the batteries in solar security cameras. The solar panel on these cameras helps to ensure that the batteries are refilled.
And that helps the camera to run over night or when the sun is not that bright. These batteries last for 1 to 3 years before they need to be changed and replaced.
What exactly are 4G Solar Security Cameras?
The shift from wired to wireless security cameras is a significant improvement in CCTV security systems. The invention of 4G security cameras is even a better achievement and development. These cameras use the 4G mobile network and therefore they do not require a wired or wireless (Modem) connection. The footage is automatically recorded on a MicroSD card in these cameras. The functionality of 4G security cameras differs depending on their model. Many of them have could record into cloud, FTP and some can only record into local SD card.
What is suitable for me?
Consider this a guide to assist you in selecting among the many options available on Simply Online website. This is primarily to assist you in making a better decision based on the available cameras, features and characteristics. Here is their top four 4G Solar Security Cameras:
 4G Solar Camera PTZ White
Mechanical parts of pan-tilt-zoom (PTZ) cameras allow them to rotate, tilt up and down, and zoom in and out of a scene. They're usually used to monitor main gates and they're usually installed in guard stations where active employees may manage them via a remote camera controller.
Pros:
It is small and easy to install.
It has 12m sensor with a clear 3mp lens
It is very suitable for main gates and where you have average traffic
It is typically employed to assess areas that would be too costly or difficult to cover with fixed cameras.
It is very easy to use.
It can digitally zoom in on objects or intruders while they are moving.
It is solar-powered so it is wire-free.
It can deliver high-quality colored and detailed pictures even in low light.
It allows 24*7 surveillance with little power consumption.
It is supplemented with 8W power, 177mm*267mm solar panel, which can work under 30 degrees to 60 degrees with >91% power outlet conversion rate.
Like all of our products, our PTZ camera is also weatherproof.
Has cloud option
Cons:
It is unable to record areas that the camera is not explicitly looking at.
It cannot record 24/7
It does not have optical zoom
4G Solar Bullet Camera + Extra Solar Panel 
Due to its shape, the bullet camera is very noticeable. That is its visibility can act as a double-edged sword. Intruders and thieves will notice it and therefore crimes are less likely to happen. But since it is noticeable, thieves may also break them.
In terms of functionality they are similar to the PTZ models mentioned. But they cannot Pan or Tilt.
4G Solar Bullet Camouflage Camera + Extra Solar Panel
This model is the same as the previous one so it has the same advantages. However, the only reason it was added to this list is because of its color and pattern.
Camouflaged colored cameras can be a good choice if you need to hide your security camera. Because they are camouflaged cameras, they can easily blend in. therefore, they are less noticeable. It is a good choice for people who are worried about aesthetics because they don't stand out.
Massive Range 5MP or 8MP
These 15KG setups are great choice if you need to monitor a location 24/7.
They come with 60w or 120w panel and a lot bigger battery than other models (40 or 60ah batteries).
Pros:
24/7 Monitoring
Optical zoom up to 200m
Tracking option
Great Night Vision
Siren
FTP upload
Schedule recording time
Cons:
Does not have cloud option
Need better structure as it is very heavy