"Design is the lens through which we reimagine reality, challenging existing values to ignite transformative futures," says Saurabh Nimsarkar, a sought after physical and digital designer working at the nexus of speculative design, creative research, and transportation systems strategy, and design.
Currently shaping the future of electric air taxis at Wisk Aero LLC, Nimsarkar previously lent his expertise to the Mayor's Office Los Angeles Mobility Innovation team and other top-tier firms.
"Picture a recreational vehicle that you can rent out for a weekend getaway. But you are living in the future of self-driving cars. Would you still 'drive' your RV?"
Designers strive to create bold futures that offer such new possibilities, lifestyles and functions that cross pollinate technology and human desire for the people who end up embracing them, but that's no easy task.
Explore ModLiv: not just a cutting-edge RV, but a window into the evolving tapestry of travel, lifestyle, and tech. Below, designer Saurabh Nimsarkar shares his vision for the future of mobile living."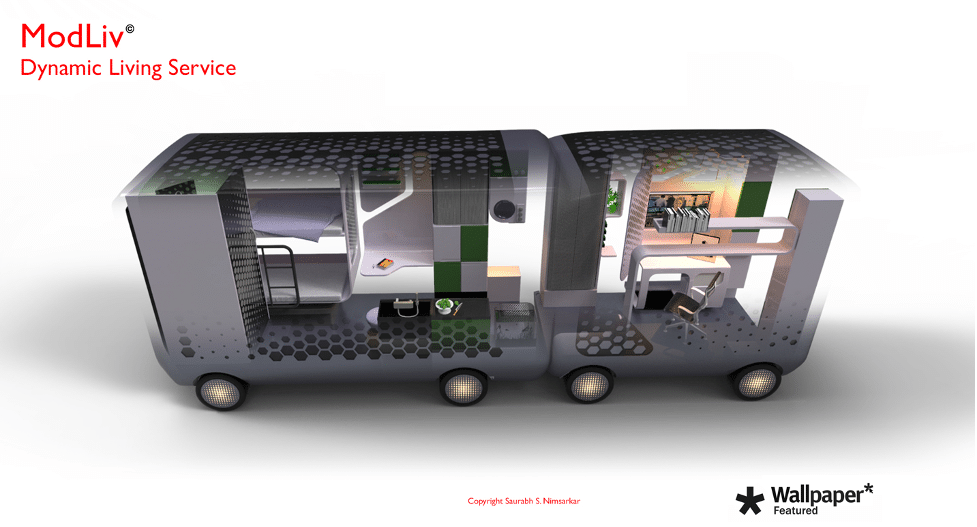 Hello, "Let's delve into ModLiv. Could you begin by discussing its origin story and the specific challenge it aims to address?"
For the sake of clarity, ModLiv is not in production and is not for sale. ModLiv was conceived during my Master's program to rethink how people's dynamic lifestyle congeals with the inevitable world of autonomous car landscape.
In an age of rapid lifestyle evolution, traditional norms are yielding to a preference for flexibility, experiences over possessions, and minimalism. Simultaneously, rapid technological advancements like AI, autonomous vehicles, and smart devices are reshaping our daily lives. This shift is reflected in the rise of movements like vanlife, tiny houses, and staycations. In this dynamic context, Modliv emerges as an innovative solution—an autonomous recreational vehicle for those who choose non-fixed living by choice, not necessity.
"In our dynamic world, where lifestyle and technology continuously evolve, designers have to stay ahead. As the creative mind behind ModLiv, can you detail the design process of this innovative vehicle?"
The journey to conceive ModLiv began with the fundamental principles of design: observation, research, and empathy. I personally engaged with van life enthusiasts, RV owners, and tiny home dwellers through interviews, immersing ourselves in their experiences and challenges.
Notable revelations included the persistent concerns of RV users regarding parking, the desire for social interaction in confined living spaces, and the intricate maintenance of compact interiors. I even pondered the conundrum of what to do with seasonal winter clothes in such limited spaces.
These insights served as the cornerstone of my creative expedition, igniting the vision for ModLiv. Below is the in-depth research process to find creative ideas.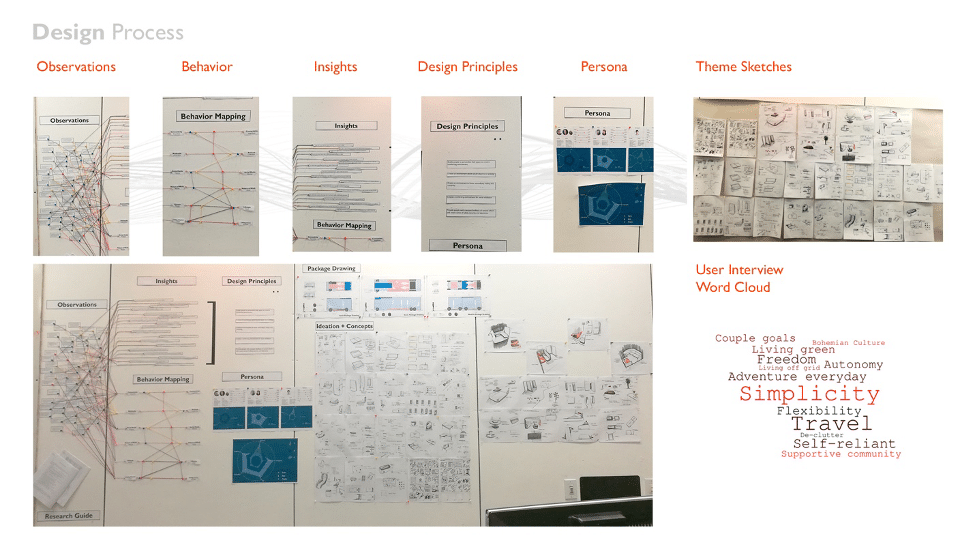 "Could you delve into the inspiration and strategic thinking behind ModLiv's unique design configuration and features?"
In the realm of RV design, I uncovered a paradox: the more versatile an RV aims to be, the more complexity, cost, and maintenance it entails, often requiring size compromises.
Driven by a vision of adaptable living, I created ModLiv—an electric, autonomous vehicle with a Mercedes Sprinter-sized footprint, minus the cabin driving component.
At its core, ModLiv houses a standard home module, carefully designed to include a battery pack, water and sewage storage, sleeping quarters, furniture, kitchen amenities, a bathroom, washing machine, and a closet. Crafting this cohesive unit resembled solving a complex puzzle, facilitated by innovative VR technology.
ModLiv doesn't stop there. It offers modular add-on units like an office, kids' playroom, meeting room, medical pod, and food truck, all autonomous and dockable to the home module. This adaptability ensures that ModLiv remains your ever-flexible companion, suited to your life's changing phases.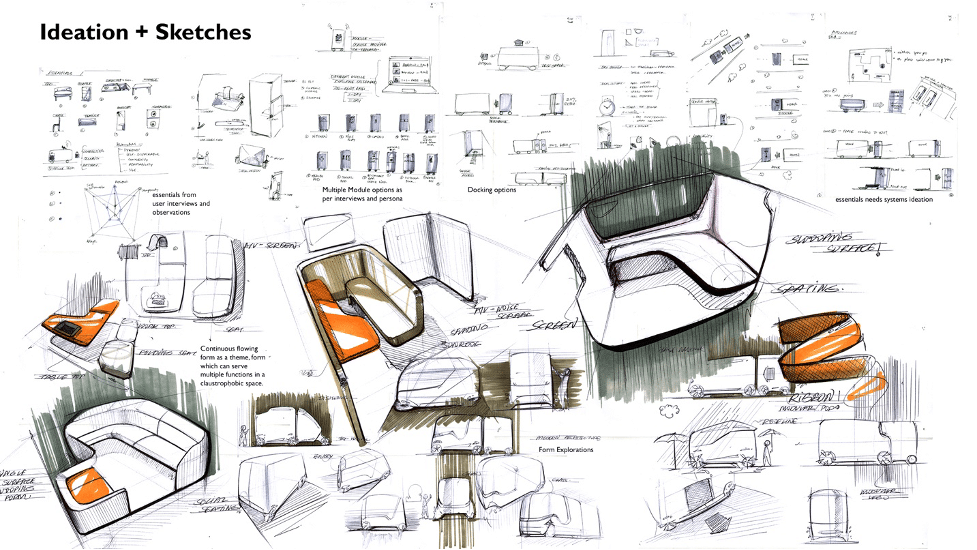 "Living in an RV presents its own set of challenges, but ModLiv aims to redefine the experience. Can you walk us through the day-to-day life inside ModLiv? 
At the core of ModLiv lies a versatile base unit thoughtfully designed to cater to various needs. This unit includes a bed with two bunk cots, a shower area, a storage and table unit, and a well-equipped kitchen space. You access this space from the rear of the vehicle.
The overarching theme of ModLiv is biophilic and monolithic. It seeks to bridge the gap between the indoors and outdoors, providing occupants with a connection to nature. To achieve this, ModLiv features a bed space with a sunroof, allowing for stargazing or simply basking in the sight of swaying trees. The monolithic design philosophy ensures a clutter-free and visually pleasing aesthetic within the confines of the vehicle.
One of the key insights I gathered during my research was the challenge of getting a good night's sleep when the RV is in motion. To address this, ModLiv incorporates an air suspension bed, ensuring a comfortable rest even while on the move.
In addition, ModLiv employs smart storage solutions that keep track of your belongings, letting you know where items are located and identifying those that haven't been used for a while. This proactive space management approach is akin to how our phones prompt us to delete old files and unused apps.
Practicality meets safety in ModLiv's kitchen, where magnetic strips keep utensils and cutlery securely in place while in motion, preventing them from flying around. Finally, the bathroom space is efficiently designed to accommodate a folding washbasin, optimizing space utilization when needed and clearing up room when not in use. This comprehensive approach to design makes ModLiv an adaptable and comfortable living space on wheels.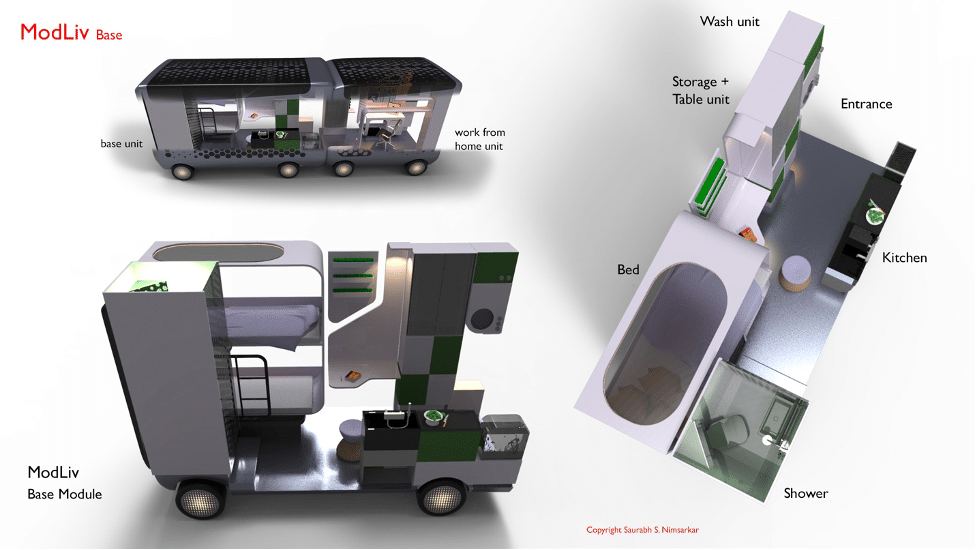 "Could you delve deeper into the strategy you envisioned for the implementation of ModLiv? Additionally, I'm interested in understanding the projected timeline and the business model for this project."
ModLiv's business model centers on flexible subscriptions, freeing users from ownership concerns. Both base and add-on units can be subscribed to for various durations. For instance, a social meeting unit for a weekend or a kids' play unit for three years.
Implementation poses challenges in diverse areas like Los Angeles County, with 46 cities and varying rules. To address this, I propose a three-step approach: testing, evaluating, and scaling.
Testing begins with corporate partnerships, offering short-term subscriptions to employees for learning without heavy commitment. Next, social integration includes schools, colleges, communities, and the elderly.
Commercialization involves partnering with hotels and BnBs in tourist spots and unused spaces to create revenue.
The city-wide expansion comes after learning and policy formulation, ensuring an inclusive and equitable service.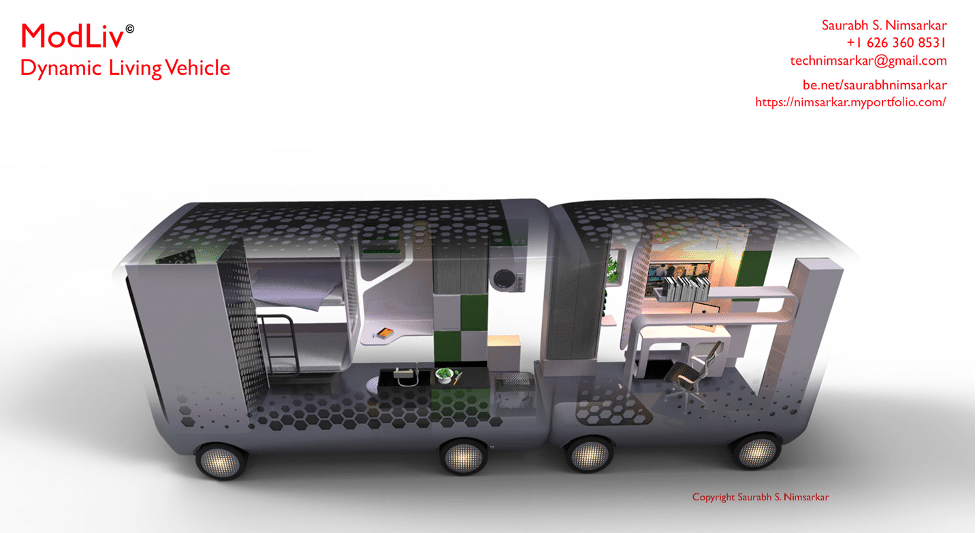 "What's on your creative horizon at the moment? For those captivated by your work, where can they discover more, and what's the best way to connect with you?"
"I'm currently pioneering creative approaches to make electric and autonomous air taxis accessible for people with disabilities. For a deeper look into my work, you can check –