Fewer than one in a thousand gaming apps offer giveaways. Is playing for freebies really more fun than playing for peanuts? Prize Fiesta is one of those rare games that offer prizes to be won. But how does it work?
Players of these games meet in official Facebook groups or in small private groups. Let's talk to an experienced Prize Fiesta player to understand how exactly a game with real prizes works.
What kind of Prize Fiesta player are you?
I am Carole, 39 years old, I work in a doctor's surgery and I have two children. I am not what you would call a "gamer". I have been playing Prize Fiesta since 2017. I like to play to relax. Before that I played Candy Crush, but I switched to Prize Fiesta for the freebies.
I had a terrible time with the lockdowns. I had to keep going to work, where I was face-to-face with the patients, and I was really worried about catching Covid. There were a lot of potentially infected patients who came to the surgery where I work. At the time, I was not vaccinated and I was very scared. In my spare time, I took the opportunity to play a game of Prize Fiesta. The game gave me a break … But in fact, in the end it gave me a lot more than relaxation. I am happy to share my experience with you.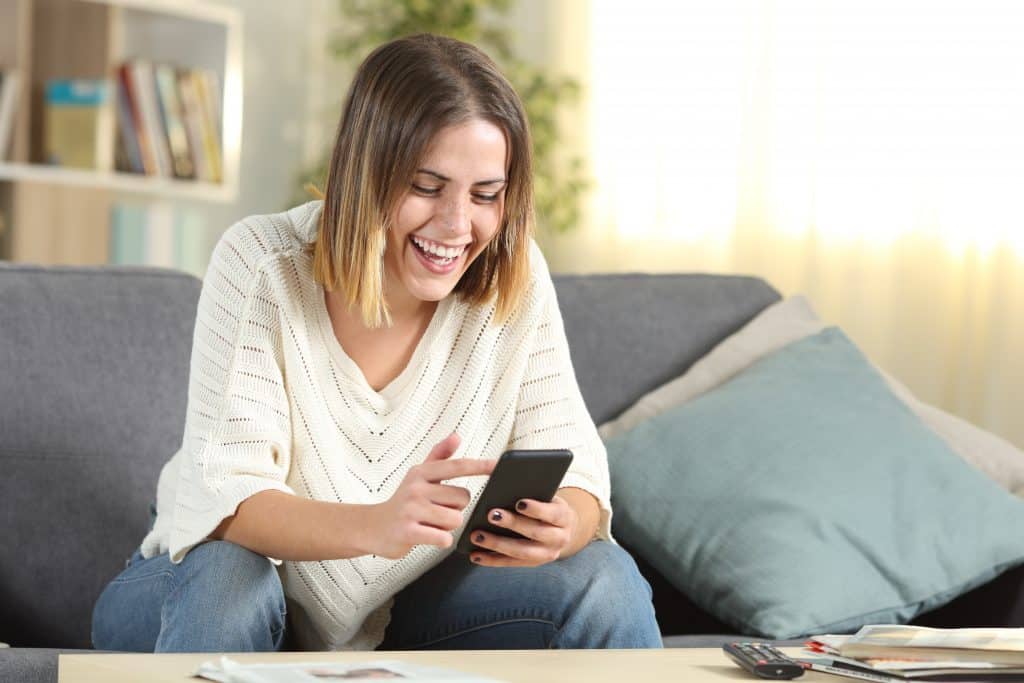 How did you find Prize Fiesta?
Even though I never click on ads, the Prize Fiesta commercial caught my eye because the slogan said I could win prizes. The game was described as a "Candy Crush": One of those colorful games where you have to line up objects to make combinations. It fit in well with the games I like to play. And above all… there were some great gifts to be won.
How did you get on with Prize Fiesta at first?
I downloaded Prize Fiesta from the store. It downloaded quickly. Unlike other apps, it is pretty memory efficient and my phone's battery does not run down quickly when I use it. Later, I also installed it on my tablet because I prefer to play on a bigger screen when I am at home.
When starting the game for the first time, I found the graphics to be very well done. The style is like a cartoon. The colors are full of contrast. Usually, games where everything is tiny annoy me because I have poor eyesight. But the game elements in Prize Fiesta are big and detailed. I think the game has been adapted for all types of vision.
The game recommends playing with the sound on. And it's true that Prize Fiesta offers more than just elevator music: The music is melodic, with a driving rhythm. The sounds motivate you. With the quality of the graphics, the wide variety of the soundtrack, and the flow of the game, you can see that the company that created Prize Fiesta worked hard to develop it.
What does the world of Prize Fiesta look like?
The first level looks like an amusement park in a village with mushroom-shaped houses (like the Smurf village). There are cheerful dwarves who welcome a busty blonde dressed in red … It's an extravagant and quirky world. You wonder where the creators of the game want to take you.
Then, you find yourself at sea, then in the wild west or in the desert. The game pays no attention to time. The worlds here are welcoming but strange – I think this dreamlike approach is designed to increase the feeling of escape. This allows you to switch off more quickly from reality in order to fully enjoy your moment of relaxation. There are 14 original worlds in Prize Fiesta. Each world introduces its own visual and audio theme.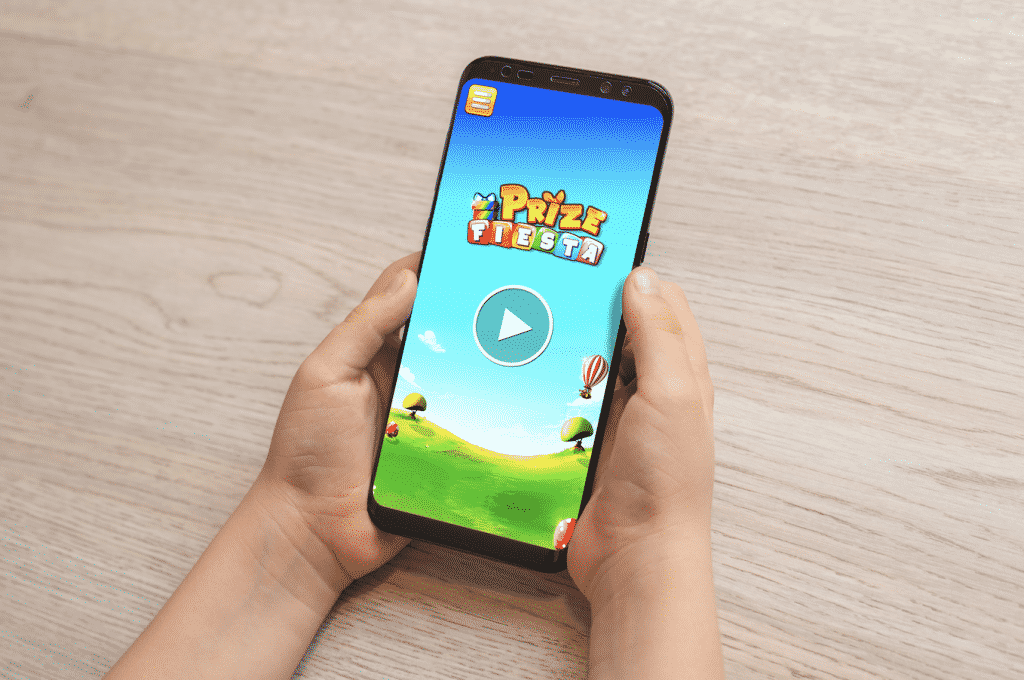 How do you play Prize Fiesta?
Prize Fiesta is easy to understand. It works like Candy Crush. I found the levels flow together well. But it's more challenging than other games of the same type. The difficulty is progressive and the game gradually becomes more complex. I guess the difficulty increases quickly because of the gifts that can be won in the game. If it were too simple, the game would not be able to stick to its promise of delivering prizes. This means the game is well-balanced to ensure it keeps its promises. This embeds the legitimacy of the Prize Fiesta giveaway model.
What are the main combos in Prize Fiesta?
Prize Fiesta combos are spectacular and make progression easy.
– Four identical pieces in combination produce a magic piece, which can eliminate an entire line.
– Five identical pieces generate a multicolor joker bonus that can vacuum up any color.
– Combining super pieces with jokers produces various effects full of colors and fireworks. This kind of combo helps you win more quickly.
– You can also combine two elements of the same type for a rainbow explosion. Perhaps this represents symbolic support for the LGBTQIA + cause. The game logo is also a rainbow, so it's a natural question.
What is the aim of Prize Fiesta?
You have to understand that Prize Fiesta is a game with several interwoven goals:
– Goal 1: Winning levels.
– Goal 2: Coloring all the boxes with pink goo.
– Goal 3: Collecting as many mushrooms as possible.
– Goal 4: Filling your piggy bank.
– Goal 5: Opening the prize cave.
– Goal 6: Using your piggy bank.
– Goal 7: Receiving gifts in the real world.
The seventh goal is the ultimate aim for many Prize Fiesta players.
Can you tell us more about the Prize Fiesta piggy bank?
This little pink winking pig is the hallmark of Prize Fiesta. The Prize Fiesta Piggy Bank is an animated logo that sticks in the memory. It is also found in other games from the publisher Full Game Ahead.
What is really surprising when you discover Prize Fiesta is how quickly this little pig fills up. After only an hour of play, I had already won forty dollars. The little pig leaps happily in all directions, which makes me laugh. I think that's why it has been given such an iconic role in all this publisher's games.
When you reach $750, you can open the gift cave. You keep your $750 when the cave opens.
How are prizes awarded in Prize Fiesta?
I went to the gift cave to find out what I could win.
I started with the smartwatch, which was the most accessible prize. Winning takes place in two steps:
1. Step 1: Unlocking
To unlock the prize, I needed 59,994 gift points or to fill the gauge corresponding to the value of the watch ($90).
Using the gift points to unlock prizes is faster than using the piggy bank. Otherwise, the dollars are spread across all the gifts.
I got to know the six dwarves who can give you gift points.
2. Step 2: Filling the table.
You use your gift points by clicking to fill the table (coloring it pink) until you win. I already knew that the next time I was going to aim for the Samsung S20, which represents 592,320 gift points ($600).
Prize Fiesta immediately sent a message, asking me to send a few supporting documents for the delivery and to confirm my identity. This is all treated confidentially and clearly explained.
The customer service team are lovely and gave me the chance to personalize my reward. I was able to choose the strap for my watch (blue), which is much appreciated.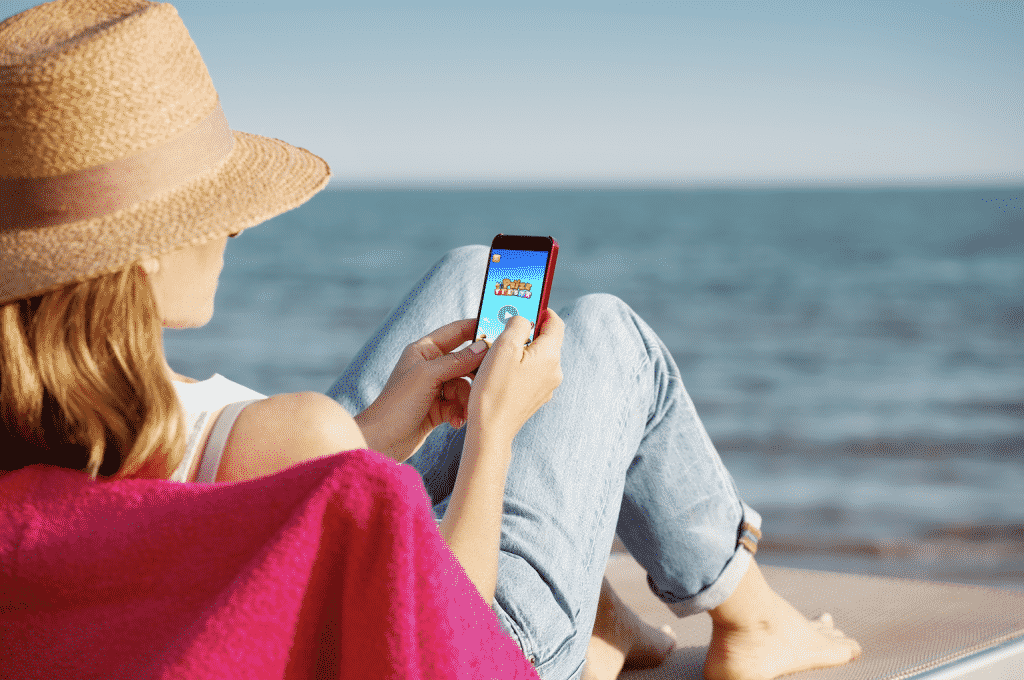 How did the delivery of your prize from Prize Fiesta go?
Once the formalities were completed, the logistics department wrote to me immediately to confirm the procedure for delivering my gift. They also informed me that it would take between six and 60 days.
The team were very professional and followed up every step of the delivery process.
The package arrived at my door in 10 days. It was in very good condition. A quick note was attached from the game team to congratulate me.
Some winners take a picture of themselves with their gift when they receive it and send it to the team to appear on the winners page.
I hardly ever use social media and wasn't comfortable with that idea, so I decided not to.
But when you go on the Prize Fiesta app you can see lots of winners who have shared how happy they are.
Is Prize Fiesta worth it?
Winning gifts on Prize Fiesta is definitely worth it, based on my own experience. I won my second prize, the Samsung S20, for less than I would have spent in the shops. Of course, it takes longer.
I spent between $3 and $10 a month. Never a lot. I could have spent nothing at all, but I chose to pay a little to go faster.
I also used Google Opinion Rewards. This is separate from the game, but you can get paid for answering surveys. This gave me an extra budget for my prize in Prize Fiesta.
This playing strategy meant I could win my phone for less than the shop price. And best of all, I had fun the whole time!
Do you know any other Prize Fiesta players?
I've had several opportunities to meet other Prize Fiesta players, such as through competitions.
The Full Game Ahead moderators are very dynamic, and they organize regular competitions. Whether you play on your own, against your friends or against the whole world, you can win gems and bonuses.
The players get together on Facebook. You can talk to previous winners and share game tips.
Prize Fiesta has a social dimension through these discussions in different online communities.
In fact players have even gone on to meet up in real life. That tells you a lot about the general atmosphere in these groups.
The community managers contribute a great deal with their presence and their involvement with the players.
Do you have any other tips for Prize Fiesta?
There are a lot of tips in Prize Fiesta, starting with the Spin. This is always a chance to win something. It might be gems, mushrooms or dollars for your piggy bank.
To take part, you need tokens, which you get via Facebook. Other players can send you tokens, and you can send them to your friends.
Another offer I have used comes from the dwarves. The charming Puffy gives it to you for free if you have less than $5 in your piggy bank!
Other offers from the dwarves become available as you move through the game, helping you build up your gift points.
Using as many of these offers as possible helped me progress.
The competitions I was talking about before are also an important part of the Prize Fiesta experience.
Playing on my own, I did really well and reached the maximum reward – 2,600 mushrooms, 1,400 gems and $100 for my piggy bank.
In the friends competition, you have to win as many cups as you can to climb the rankings. Friends who were below me in the rankings had to pay me three gems each.
The weekly global competition is also an unmissable challenge for me. I've been ranked several times, and once I even finished 78th in the world!
Do players recommend Prize Fiesta?
On the Google Play Store and the Apple App Store, you can see that Prize Fiesta is already popular and players recommend it.
The figures speak for themselves – on Google, the satisfaction rating is 4.426 out of 5, with 95,103 votes.
Many of these players took the time to leave a comment, and this enthusiasm says a lot.
I've seen the same thing on the Apple Store, where Prize Fiesta has an average rating of 4.6 out of 5 with 5,007 votes.
I've read a few comments from haters who say it's a scam, but they're very much in the minority, and it's not true. The ratings and comments, as well as my own experience, prove that.
I find Prize Fiesta very entertaining, and it's a relaxing game that has already given me two gifts in four years. I'm still advancing well, and it won't be long before I win my third prize!