Does your official website have an EV SSL certificate installed? For most people who do not have a hard-core technical background, SSL/TLS certificates may seem confusing. To make things worse, there are so many options out there — Domain Validated (DV), Organization Validated (OV), and the Extended Validated (EV) certificates. Not to forget the "free SSL Certificate" that came bundled with your shared web hosting plan.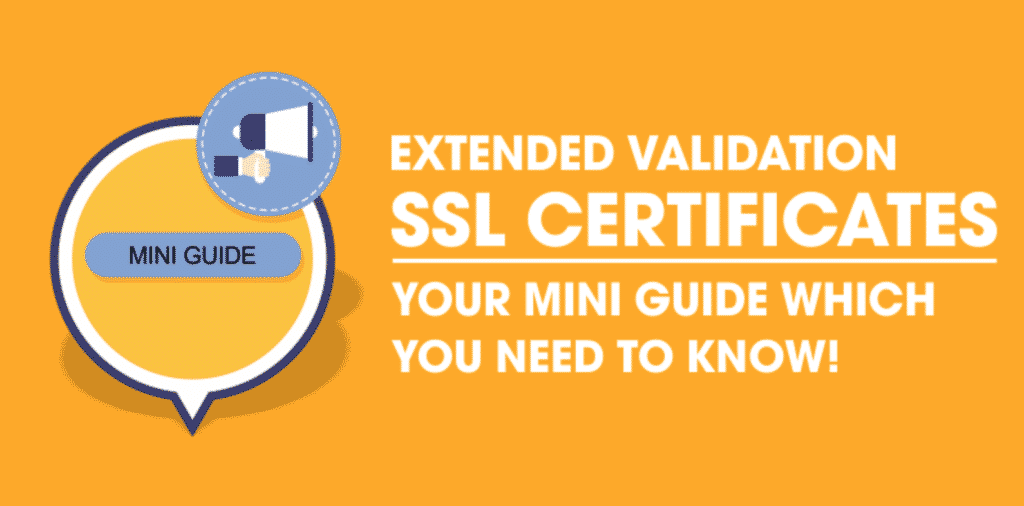 Now, you may be tempted to stick to the freebie, but doing that could damage your conversion rate and allow imposters to clone your website and cheat your customers. The free SSL certificate is usually a DV SSL certificate that only confirms the domain's ownership. Moreover, it only encrypts the domain, but not the subdomains or add-on domains. Now, this might be okay for a hobbyist's non-commercial blog but is inadequate for a business entity.
Businesses need a higher level of validation, and that is only possible through the Extended Validation SSL Certificate. In this mini guide about EV SSL certificates, we will tell you everything about what an EV SSL certificate is, how to get an EV SSL certificate, and most importantly, who should use an EV SSL certificate. We shall also discuss the various types of EV SSL certificates and help you decide which one to pick, so let us get started.
What is an EV SSL Certificate?
An Extended Validation (EV) SSL Certificate is an advanced SSL certificate that is exclusively designed for business entities. Its purpose is to provide superior encryption and comprehensive validation to uphold the integrity of businesses in the virtual world. So, when a business applies for the EV SSL certificate, a third-party known as the certificate authority (CA) verifies the legitimacy, existence, physical presence, etc. of the business before granting it. So, getting an EV SSL certificate helps genuine businesses establish their credibility by showcasing the entity's name in the certificate as shown in below image.

This sort of validation instills trust in the average internet user, as it helps distinguish between credible business websites and scammers. This ability to differentiate between a genuine and a scam site can help reduce the chances of a clone phishing attack.
Types of Cheap EV SSL Certificates
Now that you know what is an EV SSL certificate, it is time to explore the two types and pick the one that is best suited for your business model. This depends on how many regions you operate in, the number of subsidiaries your business has, and the sort of website architecture you use.
Single Domain EV SSL Certificate
As the name implies, a single domain EV SSL certificate lets you validate a single domain name against your business credentials. This is the cheapest EV SSL certificate and is ideal for small and mid-sized businesses having limited requirements.
Multi-domain EV SSL Certificate
Multi-domain Extended Validation certificates allow the user to encrypt up to 98 domains (depends upon provider) and are best suited for businesses operating in several countries. As such businesses prefer to buy country-specific domain extensions, they can minimize their overall costs by using a single EV SSL certificate across all their websites.
Who Should Use EV SSL Certificates?
Businesses of all sizes can benefit from an Extended Validation SSL certificate because it conveys to the user that the business is authentic and reliable. It, therefore, gives the user a sense of security, which ensures better user engagement and higher conversions. Below listed are some businesses that cannot afford to skip installing an EV SSL certificate.
E-Commerce Websites
Businesses involved in all types of e-commerce activities such as online retail, drop-shipping, print-on-demand, etc. need to buy a trusted Extended Validation Certificate and ClickSSL is one destination for cheap price.
Service Providers
Professional firms involved in providing legal, financial, or any other services can also benefit by installing the EV SSL certificate on their website. As such professionals offer online consultations and accept payments, installing one is essential.
Other Businesses with e-Stores
If your business has an e-Store or has recently started selling online post-pandemic, then installing an EV SSL certificate is highly recommended.
Restaurants and Doorstep delivery websites
Businesses like restaurants, grocery delivery, wine shipping, etc. that accept online payments must install an EV SSL certificate.
How to Buy an Extended Validation (EV) SSL Certificate
If you run an online business that must stand out in terms of security, then you must get an EV SSL certificate for your website. It offers the highest level of validation and makes use of extremely powerful encryption to keep in-transit data secure. In order to buy a trusted Extended Validation Certificate, you need to go through a comprehensive validation process. Although the process may slightly differ based on where you get the EV SSL from, the most common requirements are listed below.
Your business must be a legal entity such as a registered firm, company, etc.…
The entity must be operational and not dead
The entity's registered address would be confirmed
Must have a verifiable business website and phone number
The applicant must own the website's domain
Usually, it takes the CA's representative five days or more to confirm the above listed. However, you can speed up the process by providing documents supporting the above-stated requirements. Once the CA is satisfied, the EV SSL certificate would be approved and the applicant would be able to install it.
Before buying an EV SSL certificate, you must check the warranty provided by the certificate authority. This refers to the amount for which the end-user is insured, and in case of a breach, your business will not have to worry about it. This reduces your legal obligations and lets you focus more on your business and that's why you must not settle in for a cheap EV SSL certificate but one that prevents phishing and MiTM and in the worst-case scenario protects your business from its consequences.
Conclusion
In 2020, e-commerce and online consultations have skyrocketed and so has cybercrime. According to reports, the year 2020 has witnessed a significant increase in security breaches. Experts predict that by 2021, the total cybercrime costs incurred by businesses would exceed $6 trillion. Such estimates reflect the mindset of an average user, who is probably looking out for websites with credibility indicators.
So, not having an EV SSL installed on your official website could very well be a deal-breaker. On the flip side, having an EV SSL certificate installed can help prevent packet sniffing attempts, man in the middle attacks, and much more. It also helps you comply with data privacy laws and regulations and come across as a trusted business that cares about its customers.