Hand-foot-and-mouth disease (HFMD) is a contagious viral infection that commonly affects young children. The incubation period of the disease is 2-10 days, and the course of the disease is 7-10 days in general. HFMD is often caused by enteroviruses(EV) such as coxsackievirus(CoxA16) and enterovirus 71(EV71). HFMD caused by CoxA16 and EV71 has attracted great attention because it is more likely to cause severe complications, such as viral meningitis, encephalitis, polio-like paralysis, and even death.
Due to its extremely fast contagion, outbreaks of the virus usually occur in schools or kindergartens. It caused large-scale outbreaks in Malaysia in 1997, Taiwan, China in 1998, and mainland China in 2009. This article introduces the HFMD's symptoms, the cause of transmission, and the molecular diagnosis of HFMD.
Hand-foot-and-mouth disease symptoms
The initial symptoms of HFMD are usually fever, sore throat, and loss of appetite. One or two days after the fever started, small red spots appeared on both sides of the children's mouth, gums and tongue. These red spots may develop into blisters or sores. Children may also develop a rash of red spots and blisters on the palms, arms, feet, and buttocks.
Symptoms of HFMD are usually mild and resolve spontaneously within seven to ten days. But on the other hand, HFMD can cause serious complications in some rare cases, including meningitis, encephalitis, poliomyelitis, and myocarditis. These complications are serious conditions that can be fatal.
The transmission of Hand-foot-and-mouth disease
HFMD can be transmitted in many ways. It is mainly transmitted through close contact with feces, herpes fluid, and respiratory secretions of infected persons. The HFMD virus can survive on environmental surfaces for a long time. If a child touches infected objects, such as towels, toys, feeding bottles, and bedding, and then touches the eyes, nose, or mouth, the child may get infected. Children may also be infected with HFMD by contact with respiratory droplets after an infected person coughs or sneezes.
In rare cases, if the water is not properly treated with chlorine and becomes contaminated with the feces of someone with HFMD, children can also be infected by swallowing recreational water, such as water from a swimming pool. Furthermore, patients with HFMD are most likely to infect others during the first week of illness, but they can still infect others several weeks after the symptoms disappear.
Molecular diagnosis for Hand-foot-and-mouth disease
Molecular diagnosis refers to diagnosing certain genetic materials in the body through molecular biological detection methods. At present, molecular diagnostics can provide more accurate and faster examination results. The technology can detect infectious diseases and identify variable genes that affect medicines.
Virus isolation in cell culture has been the traditional method for detecting enteroviruses. Cell culture is relatively slow and has limitations to a certain extent, so it is unsuitable for routine clinical testing. However, traditional methods are gradually being replaced by reverse transcriptase polymerase chain reaction (RT-PCR) as a selection method. In the detection of HFMD, RT-PCR can simultaneously detect three HFMD viruses, CoxA16, EV71, and EV, in a single tube.
RT-PCR technology has significant advantages in specificity, sensitivity, and detection time. This technology can reduce the contamination risk of amplification products, which is of great significance to the control and treatment of diseases.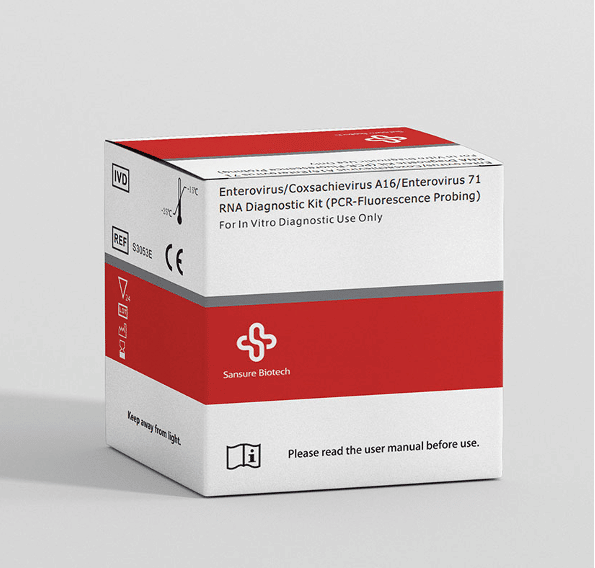 Sansure: S3053E EV/EV71/CA16 – Enterovirus/Coxsackievirus A16/Enterovirus 71 RNA Diagnostic Kit
HFMD is a common intestinal disease that is easily infected and develops into a severe disease, causing death in children. For this reason, HFMD has been highly valued by all sectors of society and patients' families. Rapid detection is significant for treating HFMD and saving children's lives. In order to diagnose HFMD accurately and quickly, it is crucial to have a reliable test method. Recently we heard many times the name Sansure. Sansure Biotech Inc. has developed an RNA Diagnostic kit for detecting HFMD. S3053E RNA Diagnostic Kit is designed to detect EV, Cox A16, and EV 71 in throat swabs by real-time quantitative PCR. The advantage of this product is its high sensitivity and specificity, the test results can be obtained quickly, and the test results can be used to distinguish CoxA16 from EV71.
You may visit Sansure's official website for more information about their product!