Artificial Intelligence (AI) is quickly becoming a cornerstone of e-commerce. AI technologies are being used to automate processes, improve customer experience in the UK, and even increase sales. With the right implementation strategy, AI can be an invaluable asset for any business looking to take advantage of modern technology.
In this article, we'll explore some of the key benefits that come with implementing artificial intelligence in e-commerce operations. By using AI solutions such as automated chatbots and natural language processing (NLP), businesses can offer customers more efficient online shopping experiences while they gain valuable insights into customer behavior.
Furthermore, AI can also help optimize product recommendations and pricing strategies leading to increased conversions and revenue growth. We'll look at each benefit in more detail so you can understand how your business could leverage these powerful new tools.
Automating Processes
Automating processes with artificial intelligence can be hugely beneficial for e-commerce businesses. AI helps streamline and automate tedious tasks, like customer service inquiries or product categorization, that would usually require human input. This means more time saved and more resources freed up, allowing companies to focus on other aspects of their business.
AI can also automatically analyze data in real time and provide valuable insights into a company's operations. With access to this kind of information, companies may make better decisions about how they manage their products, customers, and marketing campaigns.
All in all, there are many potential benefits to implementing AI in an e-commerce setting. Companies should take advantage of the technology to remain competitive and keep up with industry trends.
Optimizing The Customer Journey
One of the greatest advantages of implementing AI in e-commerce is the ability to optimize customer experiences.
By leveraging machine learning algorithms, businesses can use data collected from customers to create a personalized experience that caters specifically to each user's needs.
This can be done by providing tailored product recommendations and ads based on their past purchases and browsing history, as well as automated chatbots that are capable of answering any inquiries they may have quickly and accurately.
With this level of customization, shoppers will find it easier to navigate through web pages and find what they need faster than ever before.
Moreover, contextual search results help ensure users always receive relevant information when looking up anything related to their current purchase or query.
All these features make for a more enjoyable shopping journey which ultimately leads to higher sales and revenue for companies.
Are you familiar with Cleever website?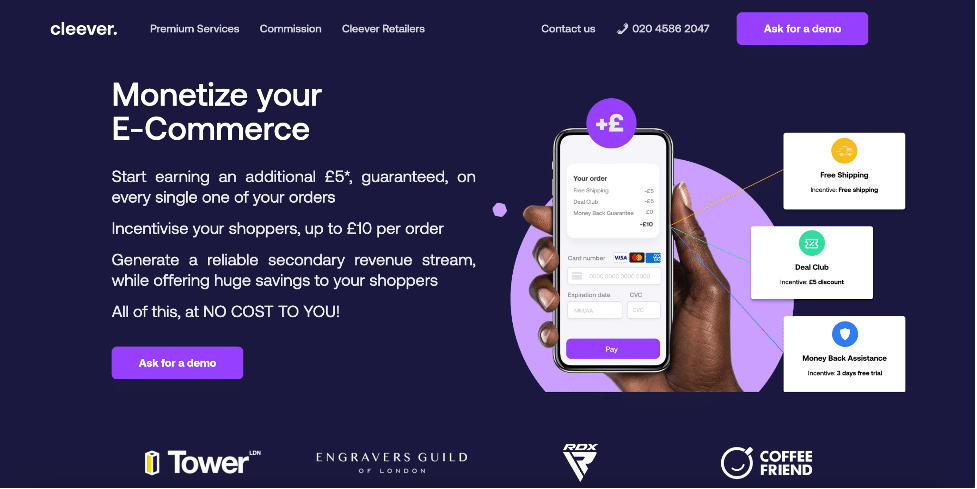 Cleever London is a cutting-edge online platform designed to seamlessly boost revenue for e-commerce businesses. By offering customized premium services, such as free shipping, membership to a discount club, and brand-matching guarantees, businesses can earn up to £5 commission per transaction.
Smoothly integrating into the checkout process, Cleever empowers UK businesses to have complete control over their online shopping experience. Instead of traditional upselling methods, Cleever employs a more effective approach by presenting customers with financial incentives, like discounts and complimentary shipping, to encourage additional purchases. Moreover, Cleever's consistent commission structure ensures that businesses earn the same commission regardless of the order value.
Cleever has garnered praise from users for its flawless integration with its website design, streamlined checkout process, and secure payment handling, fostering customer loyalty and trust. In summary, Cleever proves to be an indispensable tool for e-commerce businesses seeking to increase revenue and improve their customers' shopping experiences.
Personalizing Experiences
With the introduction of artificial intelligence, e-commerce businesses have been able to unlock a new level of customer experience. By leveraging AI technology, companies are now able to optimize every step in their customer's journey – from product discovery and purchase decisions to post-purchase support services.
This has enabled them to personalize experiences for each shopper and deliver more tailored product recommendations.
AI can also be used to analyze consumer data such as buying patterns or reviews, allowing retailers to get better insights into customers' interests and preferences. With this data, they can create targeted campaigns that increase conversion rates and build loyalty among shoppers.
All these capabilities lead to improved customer satisfaction and ultimately higher sales revenues.
Analyzing Customer Behavior
As online shopping continues to grow, understanding customer behavior is essential for e-commerce success. Artificial Intelligence (AI) tools provide the perfect opportunity to analyze customer data and increase engagement.
AI can help businesses gain deeper insights into customers' likes and dislikes, allowing them to personalize experiences in a way that was never possible before. Using AI, companies can easily track customer purchases and preferences over time – something that would have been incredibly difficult with manual methods.
This allows them to tailor their marketing campaigns accordingly and create more targeted promotions for specific groups of customers. Furthermore, by leveraging AI technology, companies are better able to predict future trends and adjust their product offerings accordingly.
With accurate predictions comes improved sales forecasting capabilities—a crucial component of any successful business strategy.
Delivering Targeted Promotions
AI-driven e-commerce platforms can deliver targeted promotions and discounts to customers, resulting in more sales. By leveraging customer data such as purchase history and current browsing behavior, an AI system can optimize which offers are presented to each individual, increasing their likelihood of conversion.
This is especially useful for businesses that offer multiple items or services, as it helps them customize their product offerings based on user preferences. Not only does this approach help increase revenue by targeting specific products for various audiences, but it also increases customer satisfaction by providing relevant deals and discounts.
In addition, using AI tools allows companies to gather insights from customer behaviors so they can make better decisions about how best to serve their target market. All these advantages mean that implementing AI into e-commerce is a smart decision for any business looking to boost profits while improving customer experience.
Automating Mundane Tasks
In today's tech-driven world, artificial intelligence (AI) has become an invaluable asset to the e-commerce sector. AI is capable of taking mundane tasks off the hands of humans and allowing them to focus on more complex duties. This automation can have a wide range of benefits for both companies and customers alike.
For businesses, automating processes through AI frees up time and resources which can be put towards developing other aspects of the business such as customer service or marketing endeavors. Additionally, it reduces labor costs associated with manual tasks, allowing companies to save money in the long run.
Customers also benefit from automated processes by receiving faster responses and services from online retailers due to fewer human errors and mistakes being made during checkout or ordering processes. Furthermore, with AI's ability to store large amounts of data, customers are provided with personalized recommendations that generate better shopping experiences while helping increase sales conversions.
In essence, using AI technologies within e-commerce generates tangible efficiency improvements which positively impact both employees and consumers alike.
Increasing Efficiency
In addition to automating mundane tasks, the implementation of artificial intelligence in e-commerce can also increase efficiency.
AI can help businesses identify and narrow down target customers more quickly and accurately than ever before. This allows companies to save time and money when it comes to marketing campaigns, as they can focus their efforts on just those who are most likely to purchase their product or service.
Additionally, AI technology is capable of analyzing customer data such as buying habits, demographics, location, and other important factors that influence purchasing decisions. With this information at hand, businesses are better equipped with the knowledge necessary to make informed decisions about pricing strategies and inventory management.
Furthermore, AI can automate many processes related to order fulfillment which significantly reduces labor costs while increasing the speed of delivery for customers.
All these benefits add up to increased sales for e-commerce business owners and improved satisfaction among customers alike.
Reducing Costs
One of the major benefits of implementing artificial intelligence in e-commerce is reducing costs. This can be achieved through automating tasks like customer service, inventory management, and order fulfillment processes. AI technology such as chatbots can respond quickly to customer queries, freeing up employees' time for other activities.
Automated systems also reduce errors associated with manually inputting data and help prevent fraud by using advanced analytics tools that detect suspicious behavior patterns. Additionally, AI technologies can optimize pricing strategies which makes it easier for businesses to adjust their prices according to market changes without having to spend too much money on research or analysis.
AI-powered automation helps streamline operations, leading to cost savings in labor, energy, and materials used during production processes. For example, machine learning algorithms enable robots to perform repetitive tasks more efficiently than humans do. They also allow companies to better manage demand forecasting so they can anticipate when customers will need products and services before orders come in, thus avoiding costly overstocks.
All these features make artificial intelligence an invaluable tool for e-commerce businesses looking to cut down costs while improving efficiency.
Helping Businesses Make Informed Decisions
The potential of AI in the e-commerce space is clear. AI can provide businesses with insights and solutions that help them make informed decisions, reduce costs, increase efficiency, and more importantly improve customer experience.
By leveraging data to identify patterns, trends, correlations, and anomalies across myriad sources, AI enables organizations to develop better strategies for their business operations. With the help of AI-driven automation capabilities, businesses can process large amounts of data quickly and accurately. This helps them save time and money by streamlining processes such as order processing or inventory management.
Additionally, AI also helps companies personalize marketing campaigns to create targeted messages tailored specifically to each customer's needs and preferences. By using predictive analytics models to evaluate customer behavior, businesses can gain valuable insights into their target market which they can then use to further optimize their online presence and product offerings.
Ultimately, implementing artificial intelligence in e-commerce has enabled businesses to obtain up-to-date information on customers' buying habits while providing a higher quality of service at lower operational costs.
Improving Customer Engagement
The use of artificial intelligence in e-commerce has the potential to revolutionize customer engagement.
AI can be used to automate a variety of tasks, from analyzing customer feedback and preferences to recommending products that best fit their needs. This allows customers to get more personalized experiences with each interaction, making them feel valued and increasing their loyalty towards the brand.
Furthermore, AI can also help businesses create targeted campaigns tailored to individual users based on their browsing histories or past purchases, providing an even better customer experience than ever before.
By leveraging AI's capabilities for customer engagement, companies can gain valuable insights into how customers interact with their business, allowing them to make informed decisions about product offerings and marketing strategies that are sure to drive sales and grow revenue.
Conclusion
In conclusion, there are many benefits to implementing artificial intelligence in e-commerce. AI can automate tedious processes, create a more personalized customer experience, reduce costs, and help businesses make informed decisions.
It also helps optimize the customer journey by analyzing their behavior and delivering targeted promotions. Furthermore, AI has the potential to improve customer engagement, making customers feel valued and appreciated.
Overall, companies who choose to use AI stand to benefit from increased efficiency as well as improved customer relationships. Not only will they save time and money on labor costs but they'll be able to provide better services which ultimately result in higher profits.
With all these advantages, it's easy to see why so many businesses are turning to AI for assistance with their e-commerce operations. AI is revolutionizing the way we do business online and its impact on the industry cannot be overstated. By leveraging this technology, companies can gain invaluable insight into their customers' needs while providing them with an optimized shopping experience that keeps them coming back for more!