Finding good news articles on the internet has never been so difficult, partly due to the abundance of blogs and media outlets, users face problems in segregating worthy content from junk. Also on the flip side, many bloggers and media services also struggle to promote their content to users.
At times, a new content creator lags behind simply because of a lack of appropriate marketing opportunities. And so, the old players, regardless of their content quality, gain more traction.
Nonetheless, we now have a solution that addresses both issues – BlogsBunny.com.
It's an innovative platform that not only facilitates content creators and bloggers in publicizing their work, but also assures that readers are never barraged with junk.
But how does it do it all? Is BlogsBunny really a worthy platform to sign-up? Here is a quick review of it.
What Is BlogsBunny.com?
This is how the developers have described the service,
"BlogsBunny is a content sharing platform designed for bloggers and media outlets to gain user engagement from high-quality articles through our own ranking and machine learning algorithms.
In simple words, it is much like any content-aggregator service, such as Reddit. Here, bloggers, social media users, and all others can easily share links, pictures, and text posts.
While that's nothing new, the main feature where BlogsBunny stands out from others is that the site applies various algorithms to evaluate the worth of the content being shared.
Hence, while sharing content on BlogsBunny.com, users don't have to worry about being blocked. The platform isn't rigid towards its users. Rather it promotes content sharing while applying technology to rank the content, thereby presenting the best content to the readers.
Top Features
Encourage Content Sharing
The prime reason for the development of BlogsBunny.com is to promote and encourage content sharing. Hence, the platform allows everyone to share news stories, personal blogs, pictures, text posts, and other media that they think would attract other users.
Upon sharing, the site does not block any user for spamming or self-promotion. Thus, users do not need to limit their activities on the site. Rather bloggers and content creators can proudly share their work here to attract the right audience.
Use Algorithms To Rank Content
While BlogsBunny.com is open to content sharing, it doesn't promote junk content or fake news.
To maintain this check, the platform applies algorithms that evaluate the content based on the following factors.
Plagiarism
Linguistic errors
Readability
Source reputation
Upvotes and downvotes (the heat metric)
Using these parameters, the platform ranks the stories. It also displays an "Overall Score" with the content to let the users know its value.
Pulls New Stories Twice A Day
Aside from user sharing, BlogsBunny.com also caters to the needs of people searching for the latest news and updates. Hence, the platform pulls new stories every 12 hours. In this way, it ensures that the users remain up-to-date with the latest happenings.
Engaging Features For The Users
Aside from being a content-sharing platform, BlogsBunny offers numerous engaging features for users. These features let the users appreciate good content, express their support/refusal to a certain material, and motivate others.
Below we quickly list some of these,
Upvote/Downvote:
To enhance engagement as well as to know what people think about certain blogs, news stories, or articles, BlogsBunny lets users upvote or downvote the posts. These votes not only add to the ranking of the content but also reflect the general opinion about the post as the numbers appear right below it.
Award Carrots:
Since bunnies love carrots, users can express their support to a certain post author by awarding Carrots.
Cross-Platform Sharing:
Other than sharing your own content, you can also share other posts from BlogsBunny to different platforms, including Facebook, WhatsApp, Telegram, Twitter, and LinkedIn. Or you can simply copy the URL to paste anywhere you want.
Ease Of Use
The overall site layout is very easy to use. It categorizes the content into various niches so that users can subscribe to the niche they like.
On BlogsBunny, these categories are called 'Warrens', which further include subcategories or the 'Burrows' and 'Rabbit Holes'. You can subscribe to these Warrens, or even the Burrows or Rabbit Holes to get the news stories from your specifically chosen topics.
Moreover, you can also get a personalized feed that displays the stories from their subscribed warrens.
Likewise, you can click on the 'Following' drop-down menu to directly visit a specific warren from your subscription.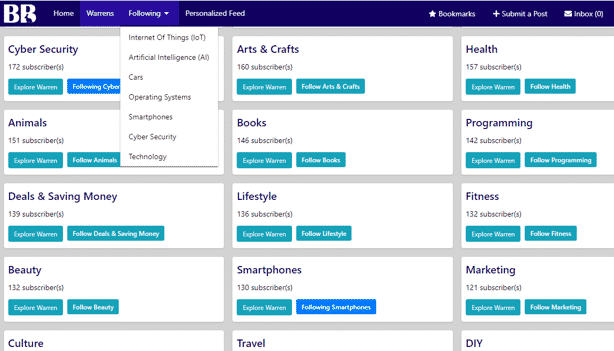 Though, at any time, you can visit the Home Page to go through the generalized feed of the day. You can also sort the stories by post type, date, or popularity, to view relevant posts only.
Using BlogsBunny.com
Subscribing to Warrens
All right, after discussing all the main features of BlogsBunny, let's head over to how to use the site.
After you visit https://blogsbunny.com/, you need to first create an account on the site. For this, click on the 'Register' button and enter your details.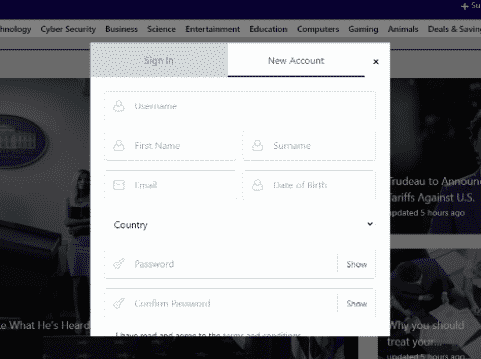 The site does not require you to enter any explicit personal information. It merely needs to verify actual users from bots and spammers, for which, it asks you to verify your email address right after signing-up.
Once done, you land on the first page of the site where you can choose your desired topics or 'Warrens. For example I subscribed to the Cars Warren as I wanted to stay updated around automotive news.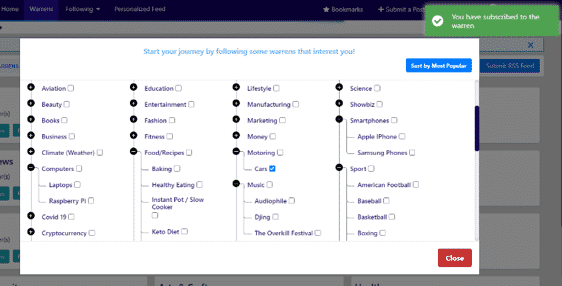 Once selected, you can click on the 'Close' button to complete subscribing to the Warrens.
If at this stage, you missed out any Warren, or want to subscribe to more Warrens, you can click on the 'Warrens' button at the top to get a list of all categories.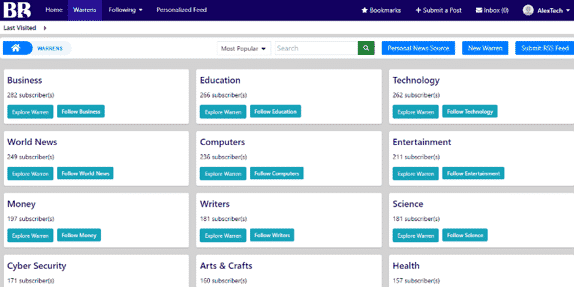 I selected a few warrens of my choice. Hence, I could get a 'Personalized Feed' from my subscribed Warrens.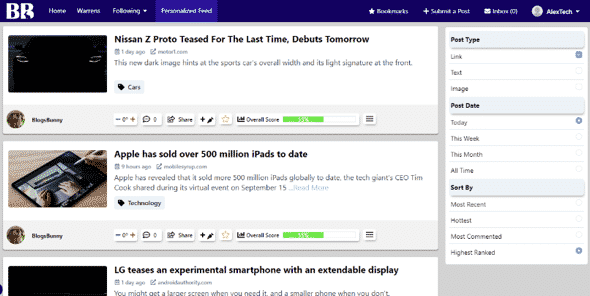 Through these subscriptions, you will stay updated as BlogsBunny pulls the latest stories.
You are also open to posting URLs, images, and texts to these Warrens as you like.
Posting On BlogsBunny
BlogsBunny.com lets you share three types of content: web links, pictures, and texts. So, from the links of your favorite article and blog posts to sharing images of your favorite quotes or memes, you can post here whatever you want.
The only thing you need to take care of is to post the content to the relevant Warren category. Anything posted to irrelevant Warrens won't be approved by the moderators.
For example, in the below image, you can see that I wanted to post a URL about BMW cars. So, I clicked on the 'Submit a Post' button at the top and then chose the 'Link' tab to post the URL.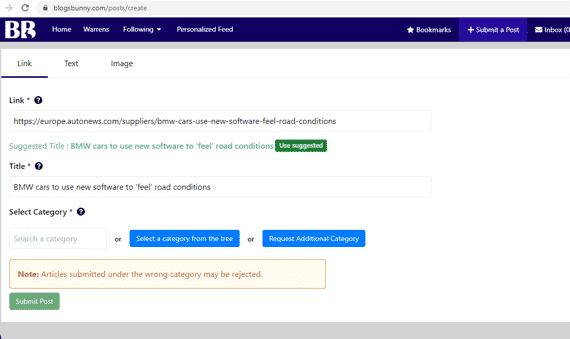 After that, I chose the 'Cars' Burrow from the Warren 'Motoring' after I clicked on the 'Select a Category from the tree' button.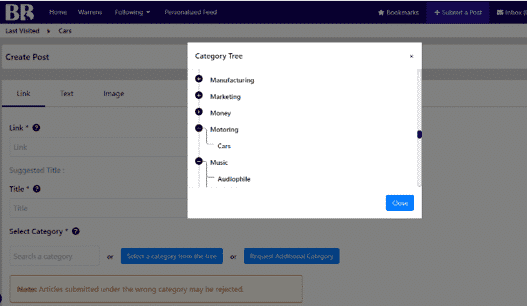 Alternatively, you can also visit your desired Warren where you want to share anything, and submit the post. In this case, you won't have to search for the desired category.
As soon as you're done posting, BlogsBunny.com begins analyzing your post. You will see how your post qualifies all the parameters.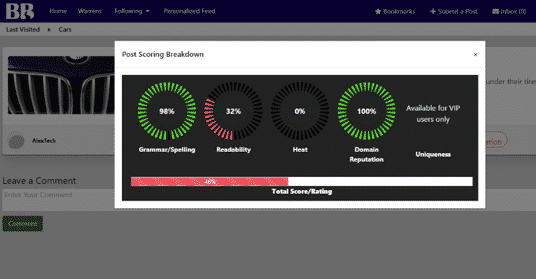 The first few posts for a new user are moderated before going live. After that, users' posts appear online immediately after posting.
On the whole, BlogsBunny.com is an innovative idea regarding content sharing. The way the site ranks content is impressive.
Final Word
So, this was all about BlogsBunny.com.
This new platform has certainly got everything to entice users – from readers to bloggers and content creators. I am sure the site will be immensely popular very soon as it further maintains its content quality with its smart ranking system.
To get a hands-on experience of this new platform, just visit https://blogsbunny.com/. Register yourself to start using it to its fullest with no cost.